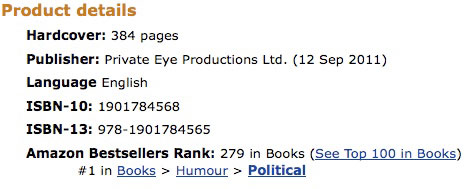 1 comment »
Private Eye: The First 50 Years, an A-Z will be in all good bookshops on 20th September, and bad ones a few days afterwards.
But you can pre-order your copy – and immediately render the title of this post out-of-date – at a special offer price from Amazon right now.
Here's what everyone [who's read the blurb on the back cover] is saying about it:
PRIVATE EYE is Britain's first, most successful and indeed only fortnightly satirical magazine.

Founded in 1961, it has somehow managed to survive for half a century during which it has consistently entertained, informed and irritated its readers.

Over five turbulent decades it has developed its unique mix of jokes and journalism, comedy and campaigning, gags and gossip, laughter and libel (that's enough alliteration – Ed) to cover the public life of the nation. From political plots to royal revelations, from City scandal to media manipulation, from legal lunacy to municipal madness. (I said that's enough – Ed)

This anniversary A-Z takes you through everything you always wanted to know about the magazine and its extraordinary roll-call of contributors. Here are the writers and reporters, the humorists and the hacks, the cartoonists and the columnists, the artists and the analysts (This is your last warning – Ed) including:

CHRISTOPHER BOOKER
CRAIG BROWN
PETER COOK
BARRY FANTONI
PAUL FOOT
MICHAEL HEATH
IAN HISLOP
BARRY HUMPHRIES
RICHARD INGRAMS
NICK NEWMAN
WILLIE RUSHTON
AUBERON WAUGH
JOHN WELLS
FRANCIS WHEEN
and many, many more…

With a wealth of never-before-seen photos, unpublished cartoons, archive material and exclusive interviews with contributors past and present, this is insider Adam Macqueen's view of a unique institution. Yes, Britain's funniest, foremost, fortnightly (You're Fired – Ed).
6 comments »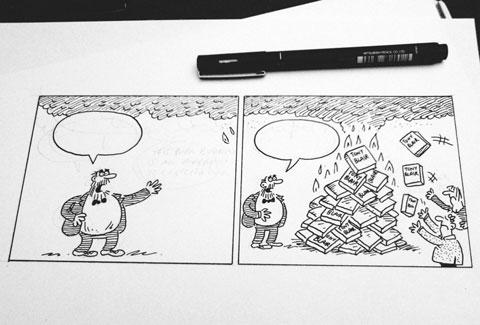 Well, here's an exciting announcement:
Private Eye: the first 50 years

18 October 2011 – 8 January 2012

The V&A will hold an exhibition celebrating 50 years of Private Eye. Since it was founded in October 1961, the magazine has distinguished itself from other titles with its unique combination of humorous cartoons and satire with hard-hitting journalism.

This display will explore the wealth of artistic talent that the magazine has fostered by showing the original artwork for some of the finest and funniest Private Eye cartoons. Over its 50-year history, Private Eye has published and promoted the work of more than 90 artists, many of whom started their careers at the magazine, including Gerald Scarfe, Ralph Steadman, William Rushton, Barry Fantoni, Nick Newman, Michael Heath, John Kent and Ed McLachlan. The illustrations will be shown in thematic sections on politics, royalty and social observation. They are richly varied in style and tone and take the form of single cartoons with captions, long-running strips and caricatures.

Ian Hislop, Editor of Private Eye, has chosen 50 of the best of the trademark front covers, one from every year the magazine has been published. The front covers will be arranged in a timeline, offering a graphic satirical history of the news over five decades.

Visually, Private Eye is renowned for its low-fi aesthetic. The cut-and-paste production technique and overall look have changed little in over 50 years, despite the switch from cowgum to computers and letraset to the internet.

Private Eye: the first 50 years will evoke the atmosphere of the magazine's Soho office, with a recreation of the editor's paper-strewn desk. There will also be seldom-seen ephemera from the magazine's past campaigns and court cases, as well as a life-sized cut out of Tony Blair, a stuffed dog, a flying Robert Maxwell and a giant inflatable banana.

Ian Hislop says: 'At last. Private Eye makes an art of itself.'
The exhibition, filling two rooms at the V&A in South Kensington, London, will be free, and feature many of the never-before-seen goodies I've ferretted out over the last few years as well as a wealth of original cartoons and artwork from the magazine which Nick Newman and Tony Rushton are gathering together.
Both Victoria and Albert were of course involved with the Eye in its earliest days: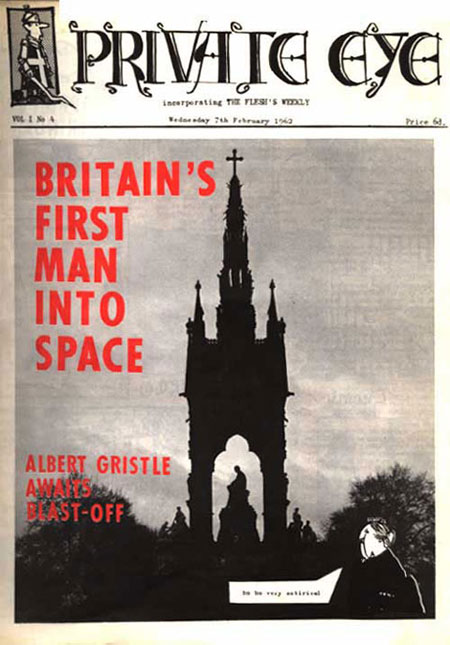 Cover of issue 4, February 1962
16 comments »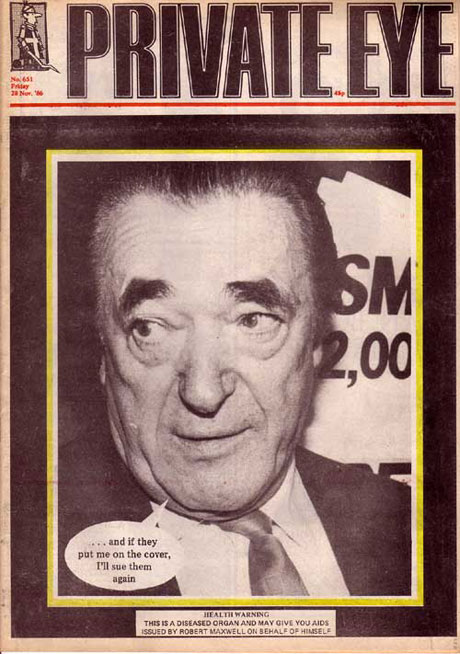 A side-note to Julian Assange's rather bizarre defence of his phone-call to Ian Hislop detailed in the edition of Private Eye out this week (£1.50 in all good newsagents right now!).
Rather than correct a smear, Mr. Hislop has attempted, perhaps not surprisingly, to justify one smear with another in the same direction. That he has a reputation for this, and is famed to have received more libel suits in the UK than any other journalist as a result, does not mean that it is right.
The Wikileaks leader's valiant attempt to ally himself with such victims of calumny as James Goldsmith, Robert Maxwell, Sonia Sutcliffe and John Condliffe involves a big dose of balls. In the three years I have spent working on the history of Private Eye I've never found anything to substantiate the "Ian Hislop is the most sued man in Britain" claim that's been floating around the web and press cuttings for a good while now. I asked him about it in one of our interviews:
AM: There's this fact floating around about you that you're 'the most sued man in history'…
IH: Says who?
AM: Says Wikipedia, I think.
IH: Yeah, yeah. Must be true!
AM: In terms of libel cases, would you say the Eye is below or above average?
IH: In terms of everyone else, or generally? Well, you know, libel collapsed completely. Members of the libel bar had to retrain! The great old days went. It was partly our fault, for whingeing about the need to change the law and then it got changed. Sutcliffe was the turnaround, it meant the court of appeal could cap libel damages, the judge was allowed to direct the jury as to amount, everything that had been mad about it started to be changed… It created a real sea change: there was a feeling that if you went to court you might lose. For most of the 80s, you just won, or you settled. So the actual number of libel actions went way down for us. And partly I feel because the journalism was more robust, and stouter. And we did a lot more telling people to fuck off at an early stage, and a lot more winning outside the court. I think at the moment we're all worried about injunctions and privacy, the whole new game seems to be occupying vast amounts of time and money. And libel has become, touch wood, less of an issue.
Sheila Molnar, the Eye's managing director, told me rather mournfully in January that she "can't remember when we last had a writ."
Still, it looks like that champion of the free flow of information Mr Assange is quite keen on bucking the general trend, judging by this tweet a month ago.
That wasn't true, either. Wikileaks have taken no legal action whatsoever over the book.
2 comments »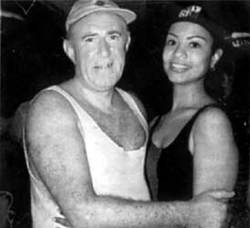 I finally managed to track down one of the people in this photo this week. Can you guess which?
Clue: it's not the one who's on telly every week, looking mysteriously younger than he does there.
Clue #2: it's not Pamella Bordes either – the Eye has never claimed the photo was of her, despite what Brillo himself seems to think.
EDIT: Link corrected – thanks Caroline!
8 comments »
Just to keep the Evening Standard happy (Third item down – they must have been REALLY desperate for stories after Christmas), the manuscript is finished, and has been read by the libel lawyer, and I'm meeting him tomorrow to find out which bits gave him the biggest palpitations. Which should be fun…
5 comments »
Radio silence likely to continue for some time because, as you may have guessed, I'm now quite heavily engaged in writing the actual book (18,000 words and counting), which doesn't leave me with much time for writing anything else.
In the meantime I thought you might like to see the noticeboard above my desk, which serves partially as inspiration, partially as reminder of what needs to be included, and largely as a set of really fantastic pictures to decorate the dark corner of a bedroom I call my office.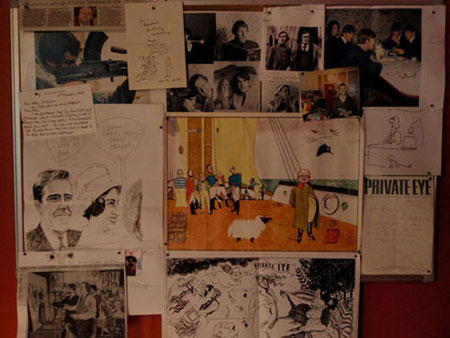 Extra marks for those of you who can spot:
a) the scariest Father Christmas ever
b) Ian Hislop with hair
c) Ian Hislop with wings
c) Ralph Steadman's infant daughter
d) A Barry Fantoni original with added abuse of John Wells
e) Mohamed 'Al' Fayed sending birthday greetings via Nick Newman
Extra, extra marks for those of you who buy the book next year and tick them off as they appear.
2 comments »
That photo of the Beatles reading Private Eye in the last edition? It got Hunter Davies very excited indeed. Craig Brown once accused Davies of labelling and storing his own toenail clippings, but it appears he actually restrains himself to number ones:
Sir,
Please say it's true, that you didn't fiddle or digitally alter that photo of the Beatles sitting at what appears to be a greasy spoon caff reading what clearly appears to be a copy of Private Eye (Letters, Eye 1247). As a collector of early Private Eyes, all the way back to Number One of October 25, 1961, one of the most valuable number ones of any national organ (now worth thousands, for only 500 were printed), and also of Beatles memorabilia, I was thrilled to see two of my collecting passions coming together.
I do hope it is genuine. If so, what was the date of the attractive-looking location?

HUNTER DAVIES
London
It must have been May 1963, given that the mag in question is issue number 37. Which means – rustles notes – they would have been reading a great deal of heavy hinting about Duncan Sandys, and that "the death took place quietly yesterday of Mr David Frost, one of the most brilliant and outspoken critics and commentators of his generation. The cause of death was believed to have been overstrain of the talent."
You can see the photo – and buy a copy – here.
2 comments »
Well, it won't surprise you to discover that the Ian Hislop on Twitter isn't our editor. But it may suprise you – hell, it surprised me – to discover that as of about 3 hours ago, @privateeyenews is the magazine's official, er, twitter thingy.
Not my department, so don't go asking me anything technical about it. I don't even know which end you put the paper in.
4 comments »
Given today's legal shenanigans over reporting of the question posed in parliament by Paul Farrelly MP about the (until now) secret injunction obtained by Trafigura and the Eye's old friends the solicitors Carter-Fuck – for details see here (the question in, er, question, runs in full in the issue of Private Eye out today as well) – it seems like a good point to reflect on some recent history.
On 5 May this year Eye editor Ian Hislop appeared alongside Twitter hero of the hour Alan Rusbridger before the Commons Culture, Media and Sport Committee, where they were questioned by – hey! – Paul Farrelly MP about the dangerous implications of just such injunctions. The transcript's here – you'll need to scroll down to Q849 to get to their bit.
On a slightly less depressing note, Peter Carter-Fuck, the late founder of the firm, once phoned Robin Shaw, the Eye's lawyer, and asked him if he could persuade the magazine to stop referring to him as Peter Carter-Fuck. They agreed. And started referring to him as Peter Farter-Ruck instead.
9 comments »