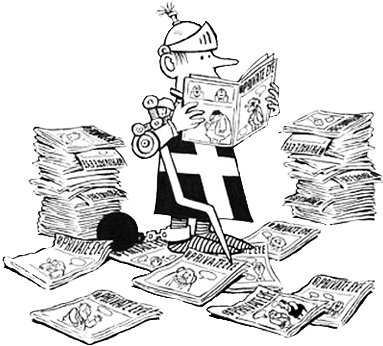 THE EYE AT 50 BLOG
Blows off dust, taps screen…
Posted by Adam Macqueen, 5th January 2011 | 5 comments
Just to keep the Evening Standard happy (Third item down – they must have been REALLY desperate for stories after Christmas), the manuscript is finished, and has been read by the libel lawyer, and I'm meeting him tomorrow to find out which bits gave him the biggest palpitations. Which should be fun…
Comments
Comment by James McAnespy

January 6, 2011 @ 1:08 am
Excellent! When's it getting released, and will you be on the Daybreak sofa shamelessly plugging it?
Comment by Adam

January 6, 2011 @ 3:36 pm
In time for the anniversary in October, James – so possibly not, given the chances of Daybreak still being going by then.
Comment by Mike Paterson

January 8, 2011 @ 11:51 am
I hope you give Great Bores of Today some deserved coverage. One of the best things ever in the Eye, inexplicably dropped.
Comment by Robert Mitchell

February 21, 2011 @ 3:24 pm
Will there be a tie in event at The Cartoon Museum for the 50th anniversary and the launch of the book? Will it be availalbe on Amazon?
Comment by Adam

March 2, 2011 @ 11:32 am
Robert – there's something slightly bigger than the Cartoon Museum planned. All will be revealed very soon…
And yes, the book will certainly be available on Amazon, as well as through this website.