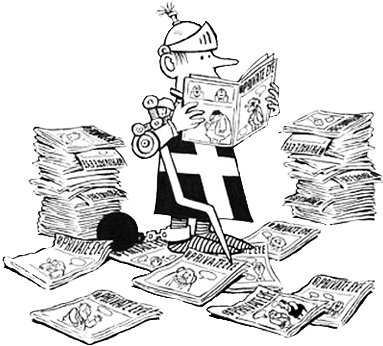 THE EYE AT 50 BLOG
Desktop wallpaper
Posted by Adam Macqueen, 3rd February 2010 | 2 comments
Radio silence likely to continue for some time because, as you may have guessed, I'm now quite heavily engaged in writing the actual book (18,000 words and counting), which doesn't leave me with much time for writing anything else.
In the meantime I thought you might like to see the noticeboard above my desk, which serves partially as inspiration, partially as reminder of what needs to be included, and largely as a set of really fantastic pictures to decorate the dark corner of a bedroom I call my office.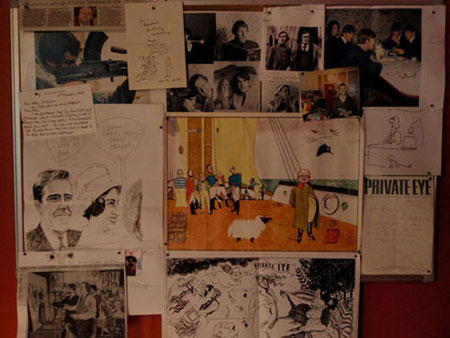 Extra marks for those of you who can spot:
a) the scariest Father Christmas ever
b) Ian Hislop with hair
c) Ian Hislop with wings
c) Ralph Steadman's infant daughter
d) A Barry Fantoni original with added abuse of John Wells
e) Mohamed 'Al' Fayed sending birthday greetings via Nick Newman
Extra, extra marks for those of you who buy the book next year and tick them off as they appear.
Comments
Comment by Matthew Davis

February 17, 2010 @ 3:59 pm
I recognise Ingrams as the camp Father Christmas from the December 1963 parody of "Quean" magazine.
But who's the woman in the centre of Rushton's parody of Botticelli's Venus with Booker, Ingrams and Hislop as attendants?
Comment by Adam

February 17, 2010 @ 6:24 pm
Liz Elliot, who worked on the front desk for many years when Richard was editor and also wrote the "Sally Deedes" column. She was one of many departing staff to receive an original Willie Rushton cartoon as a leaving present, several of which I'll be reproducing in the book.