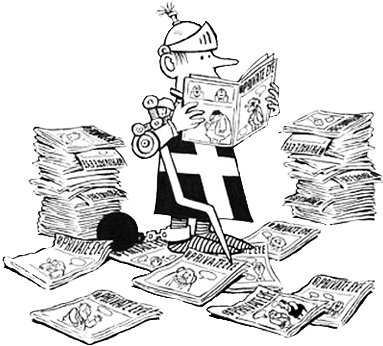 THE EYE AT 50 BLOG
What complete Ruckers
Posted by Adam Macqueen, 13th October 2009 | 9 comments
Given today's legal shenanigans over reporting of the question posed in parliament by Paul Farrelly MP about the (until now) secret injunction obtained by Trafigura and the Eye's old friends the solicitors Carter-Fuck – for details see here (the question in, er, question, runs in full in the issue of Private Eye out today as well) – it seems like a good point to reflect on some recent history.
On 5 May this year Eye editor Ian Hislop appeared alongside Twitter hero of the hour Alan Rusbridger before the Commons Culture, Media and Sport Committee, where they were questioned by – hey! – Paul Farrelly MP about the dangerous implications of just such injunctions. The transcript's here – you'll need to scroll down to Q849 to get to their bit.
On a slightly less depressing note, Peter Carter-Fuck, the late founder of the firm, once phoned Robin Shaw, the Eye's lawyer, and asked him if he could persuade the magazine to stop referring to him as Peter Carter-Fuck. They agreed. And started referring to him as Peter Farter-Ruck instead.
Comments
Comment by James I

October 13, 2009 @ 6:05 pm
I was actually at that hearing, and would have blogged about it at the time, but I had University finals looming so never got round to it. I still have my notes on it though, so it may be a pertinent time to revisit the issue.
Pingback by More Hansard quotes about #Trafigura

October 15, 2009 @ 3:56 pm
[…] here's a little more, courtesy of Private Eye's blog. Ian Hislop, the editor of the magazine, appeared with Guardian editor Alan Rusbridger at a select […]
Comment by Pragmatist

October 16, 2009 @ 9:39 am
Adam, as I just posted, this saga has demonstrated the Eye is a good source of news items that resonate with the Twittersphere. If you would only drip-feed choice pieces into Twitter, I fancy it would attract a lot of new online subscribers and achieve plenty of productive change at the same time.
No doubt, I am committing some howling error in the minds of the Eye's intelligentsia, but isn't this a real opportunity? It would be interesting to know the rationale for why the Eye won't tweet.
Comment by admin

October 16, 2009 @ 3:58 pm
Well, given the difficultly I've just had trying to persuade this blog to approve your comment to appear on the site, I'm certainly not the person to do it… bring back the abacus, I say.
To answer your question, with this one in particular, the Eye was taking a big legal risk in printing the question – and any indication, tweeted or otherwise, ahead of the mag being widely available would probably have only landed us with an injunction and an order to pulp all copies of the mag, and not had the question out there at all. This has happened in the past – both Cecil Parkinson and Robert Maxwell succeeded in having the mag taken off the streets post-printing but pre-distribution in the 1980s.
Do you think tweeting would actually persuade twits (is that the right term?) to go out and buy the mag? Or would they just refer each other to an online version which the Eye would be expected to provide for free? I'd be interested to see how much of the worldwide twittering about the Guardian this week resulted in actual sales of the paper, ie income to pay for such hugely expensive legal actions in future…
Adam
Comment by admin

October 16, 2009 @ 4:01 pm
Here, BTW, is a first: the editor in a web-only article about the whole affair: http://www.private-eye.co.uk/sections.php?section_link=street_of_shame&
Perhaps times are a-changing…
Adam
Comment by Pragmatist

October 17, 2009 @ 10:50 am
@admin: thanks for the explanation. I see the challenge relating to high profile 'scoops', but I was actually thinking of the smaller but nonetheless important stuff you expose. These may not be exposed to the same 'Maxwellian' risk of litigation and yet find and attract the 'long tail' of additional readers.
At any rate, running a trial is the only way to really know whether Tweeting some of your stories would drive incremental sales of the mag (or paid online subscriptions?)… ping me when you're up and running 😉
Comment by Pragmatist

October 17, 2009 @ 1:52 pm
Adam, here's and example:
Comment by admin

October 20, 2009 @ 1:51 pm
Here you go then Pragmatist. Have at it: http://twitter.com/privateeyenews
Adam
Comment by Pragmatist

October 29, 2009 @ 5:10 pm
Great job. Sorry to be late to the party, but have been extremely busy. I hope this works for you. I'd suggest tweeting some of the less prominent stories in the current mag.