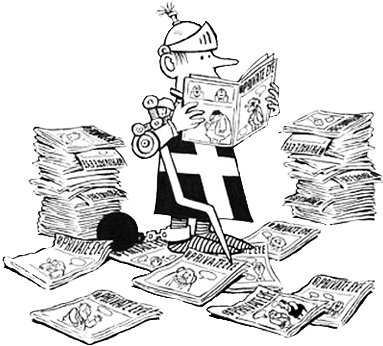 THE EYE AT 50 BLOG
What complete Ruckers
Posted by Adam Macqueen, 13th October 2009 | 9 comments
Given today's legal shenanigans over reporting of the question posed in parliament by Paul Farrelly MP about the (until now) secret injunction obtained by Trafigura and the Eye's old friends the solicitors Carter-Fuck – for details see here (the question in, er, question, runs in full in the issue of Private Eye out today as well) – it seems like a good point to reflect on some recent history.
On 5 May this year Eye editor Ian Hislop appeared alongside Twitter hero of the hour Alan Rusbridger before the Commons Culture, Media and Sport Committee, where they were questioned by – hey! – Paul Farrelly MP about the dangerous implications of just such injunctions. The transcript's here – you'll need to scroll down to Q849 to get to their bit.
On a slightly less depressing note, Peter Carter-Fuck, the late founder of the firm, once phoned Robin Shaw, the Eye's lawyer, and asked him if he could persuade the magazine to stop referring to him as Peter Carter-Fuck. They agreed. And started referring to him as Peter Farter-Ruck instead.
More blog posts here »