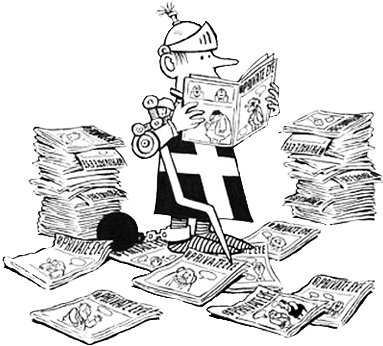 THE EYE AT 50 BLOG
Pre-order the 38,867th best-selling book in the UK RIGHT NOW!
Posted by Adam Macqueen, 15th August 2011 | 6 comments
Private Eye: The First 50 Years, an A-Z will be in all good bookshops on 20th September, and bad ones a few days afterwards.
But you can pre-order your copy – and immediately render the title of this post out-of-date – at a special offer price from Amazon right now.
Here's what everyone [who's read the blurb on the back cover] is saying about it:
PRIVATE EYE is Britain's first, most successful and indeed only fortnightly satirical magazine.

Founded in 1961, it has somehow managed to survive for half a century during which it has consistently entertained, informed and irritated its readers.

Over five turbulent decades it has developed its unique mix of jokes and journalism, comedy and campaigning, gags and gossip, laughter and libel (that's enough alliteration – Ed) to cover the public life of the nation. From political plots to royal revelations, from City scandal to media manipulation, from legal lunacy to municipal madness. (I said that's enough – Ed)

This anniversary A-Z takes you through everything you always wanted to know about the magazine and its extraordinary roll-call of contributors. Here are the writers and reporters, the humorists and the hacks, the cartoonists and the columnists, the artists and the analysts (This is your last warning – Ed) including:

CHRISTOPHER BOOKER
CRAIG BROWN
PETER COOK
BARRY FANTONI
PAUL FOOT
MICHAEL HEATH
IAN HISLOP
BARRY HUMPHRIES
RICHARD INGRAMS
NICK NEWMAN
WILLIE RUSHTON
AUBERON WAUGH
JOHN WELLS
FRANCIS WHEEN
and many, many more…

With a wealth of never-before-seen photos, unpublished cartoons, archive material and exclusive interviews with contributors past and present, this is insider Adam Macqueen's view of a unique institution. Yes, Britain's funniest, foremost, fortnightly (You're Fired – Ed).
More blog posts here »