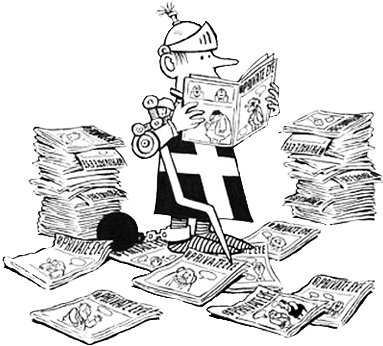 THE EYE AT 50 BLOG
Pre-order the 38,867th best-selling book in the UK RIGHT NOW!
Posted by Adam Macqueen, 15th August 2011 | 6 comments
Private Eye: The First 50 Years, an A-Z will be in all good bookshops on 20th September, and bad ones a few days afterwards.
But you can pre-order your copy – and immediately render the title of this post out-of-date – at a special offer price from Amazon right now.
Here's what everyone [who's read the blurb on the back cover] is saying about it:
PRIVATE EYE is Britain's first, most successful and indeed only fortnightly satirical magazine.

Founded in 1961, it has somehow managed to survive for half a century during which it has consistently entertained, informed and irritated its readers.

Over five turbulent decades it has developed its unique mix of jokes and journalism, comedy and campaigning, gags and gossip, laughter and libel (that's enough alliteration – Ed) to cover the public life of the nation. From political plots to royal revelations, from City scandal to media manipulation, from legal lunacy to municipal madness. (I said that's enough – Ed)

This anniversary A-Z takes you through everything you always wanted to know about the magazine and its extraordinary roll-call of contributors. Here are the writers and reporters, the humorists and the hacks, the cartoonists and the columnists, the artists and the analysts (This is your last warning – Ed) including:

CHRISTOPHER BOOKER
CRAIG BROWN
PETER COOK
BARRY FANTONI
PAUL FOOT
MICHAEL HEATH
IAN HISLOP
BARRY HUMPHRIES
RICHARD INGRAMS
NICK NEWMAN
WILLIE RUSHTON
AUBERON WAUGH
JOHN WELLS
FRANCIS WHEEN
and many, many more…

With a wealth of never-before-seen photos, unpublished cartoons, archive material and exclusive interviews with contributors past and present, this is insider Adam Macqueen's view of a unique institution. Yes, Britain's funniest, foremost, fortnightly (You're Fired – Ed).
Comments
Comment by Stephen Buckley

August 17, 2011 @ 10:29 pm
Ordered today.
Maybe the rest of the Eyelets can likewise declare their orders from Amazon or elsewhere or their intention to buy, here, in public solidarity with the Eye on its fiftieth anniversary.
Pity about the index – that is, lack thereof; the second edition, perhaps?
Any chance of us finding out, one way or another, what had to be left out for legal (and other) reasons?
Who's going to review PEAF for "Literary Review"?
Now PEAF is published, can we have the fully active website, please? (50 = 1961-2011 *2011*, *2011*, *2011* [contd p94]).
Thank you.
Comment by Adam Macqueen

August 18, 2011 @ 4:39 pm
Nothing at all was taken out for legal reasons.
We did, however, lose a co-publisher part way through because they weren't willing to take the libel risk, which is why it's now being published by Private Eye Productions alone!
Comment by Jacqueline Burke

August 19, 2011 @ 12:35 pm
I will be popping down to my local Bookseller to reserve my copy. Can't wait to read it. Roll on September 20th!
Comment by Stephen Buckley

August 21, 2011 @ 10:22 pm
Does this mean that names will be named regarding "Talking about Uganda", for example? – East Africa is waiting with baited breath for those revelations so can they be denied the truth after thirty-eight years?
Comment by Lin Dowse

September 3, 2011 @ 4:54 pm
Order placed, looking forward to a cracking good read. Well done one and all!
Pingback by Eye blog » Type Tuesday. Matthew Carter's timeless typographic masthead for Private Eye magazine

October 18, 2011 @ 8:25 am
[…] designed our logo for us and we've used it since 1962. Not quite the first issue. If you look in Adam's book you will see that there are a few different logos in the early […]