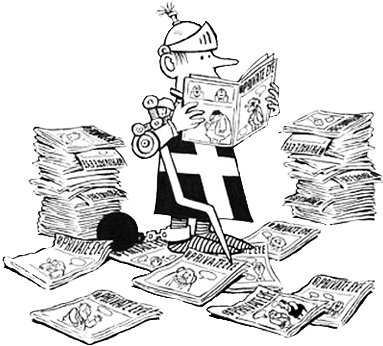 THE EYE AT 50 BLOG
Vest Friends Forever
Posted by Adam Macqueen, 21st January 2011 | 8 comments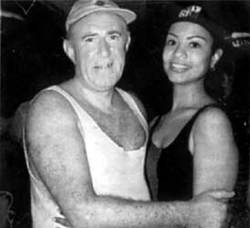 I finally managed to track down one of the people in this photo this week. Can you guess which?
Clue: it's not the one who's on telly every week, looking mysteriously younger than he does there.
Clue #2: it's not Pamella Bordes either – the Eye has never claimed the photo was of her, despite what Brillo himself seems to think.
EDIT: Link corrected – thanks Caroline!
Comments
Comment by Stephen Buckley

February 22, 2011 @ 12:15 am
Welcome back.
I hope everybody at the Eye's happy with the draft book – because that means that loads of people we all know about will be unhappy with it (any sign of the Anti-Eye volumes on the horizon I referred to, way back, yet?).
Please make sure that the published book has a full, comprehensive, accurate index.
Did you get a list of all the magazine merchandise issued over the half-century, afterwards?
Time now for the magazine to turn to planning Private Eye's all singin'. all dancin' inactive website with added Message Board and Forum (you all know you want one).
Comment by Adam

March 2, 2011 @ 11:30 am
1. No sign so far…
2. It hasn't! But it is in A-Z format, so it (hopefully) provides its own index
3. I started putting one together, realised it was going to take up a hell of a lot of space in the book that could be better used for other things, and put it aside as something for a possible website feature later. There is a full flexidiscography in the book, though!
4. Watch this space. Although I think I've been doing quite a good job of an "inactive website" of late…
Comment by Caroline Crampton

March 3, 2011 @ 11:37 am
The correct link for the Brillo quote is here http://www.totalpolitics.com/articles/4493/in-conversation-with-andrew-neil.thtml
Comment by Lyle

March 3, 2011 @ 1:00 pm
So who is the woman in the photo? I've never bought that it's Pamela Bordes; this woman looks not a thing like her. Whoever she is, I admire her apparent composure whilst in the, erm, grip of the Brillo's hairy, gingery arms!
Comment by Adam

March 3, 2011 @ 2:07 pm
I'm afraid you'll have to buy the book to find out!
Comment by Brian O'Farrell

March 16, 2011 @ 12:49 am
Adam, I travel to London in-frequently from Ireland, but I always book a bit in advance in order to get the cheaper Airline flights. Tell me, will there be any public events to mark the P.E. 50th.? And when can we get a Schedule of them? Thanks, Brian from Cork.
Comment by Adam

April 7, 2011 @ 3:40 pm
Brian – There will – the schedule is being finalised just now and there should be some kind of announcement fairly soon right here. I'd say the week of the anniversary itself (25th October) would be a good time to be in town. I know I will be…
Pingback by Private Eye: Looking good at 50 — thebloghorn.org

September 13, 2011 @ 10:40 am
[…] with key players in the Private Eye story, rare archive material and unseen photos. (There are some "seen" ones too.) And, of course, there is an abundance of the cartoons that are so central to appeal of the […]