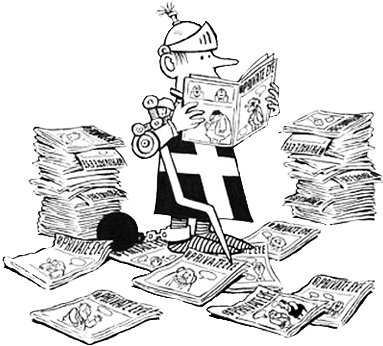 THE EYE AT 50 BLOG
Making an exhibition of ourselves
Posted by Adam Macqueen, 10th May 2011 | 16 comments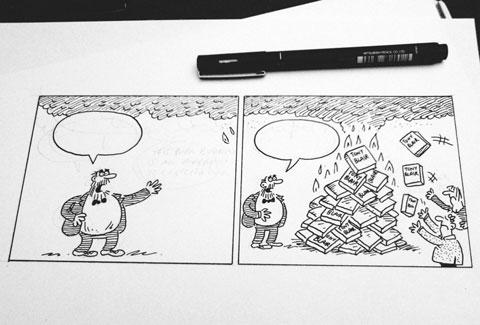 Well, here's an exciting announcement:
Private Eye: the first 50 years

18 October 2011 – 8 January 2012

The V&A will hold an exhibition celebrating 50 years of Private Eye. Since it was founded in October 1961, the magazine has distinguished itself from other titles with its unique combination of humorous cartoons and satire with hard-hitting journalism.

This display will explore the wealth of artistic talent that the magazine has fostered by showing the original artwork for some of the finest and funniest Private Eye cartoons. Over its 50-year history, Private Eye has published and promoted the work of more than 90 artists, many of whom started their careers at the magazine, including Gerald Scarfe, Ralph Steadman, William Rushton, Barry Fantoni, Nick Newman, Michael Heath, John Kent and Ed McLachlan. The illustrations will be shown in thematic sections on politics, royalty and social observation. They are richly varied in style and tone and take the form of single cartoons with captions, long-running strips and caricatures.

Ian Hislop, Editor of Private Eye, has chosen 50 of the best of the trademark front covers, one from every year the magazine has been published. The front covers will be arranged in a timeline, offering a graphic satirical history of the news over five decades.

Visually, Private Eye is renowned for its low-fi aesthetic. The cut-and-paste production technique and overall look have changed little in over 50 years, despite the switch from cowgum to computers and letraset to the internet.

Private Eye: the first 50 years will evoke the atmosphere of the magazine's Soho office, with a recreation of the editor's paper-strewn desk. There will also be seldom-seen ephemera from the magazine's past campaigns and court cases, as well as a life-sized cut out of Tony Blair, a stuffed dog, a flying Robert Maxwell and a giant inflatable banana.

Ian Hislop says: 'At last. Private Eye makes an art of itself.'
The exhibition, filling two rooms at the V&A in South Kensington, London, will be free, and feature many of the never-before-seen goodies I've ferretted out over the last few years as well as a wealth of original cartoons and artwork from the magazine which Nick Newman and Tony Rushton are gathering together.
Both Victoria and Albert were of course involved with the Eye in its earliest days: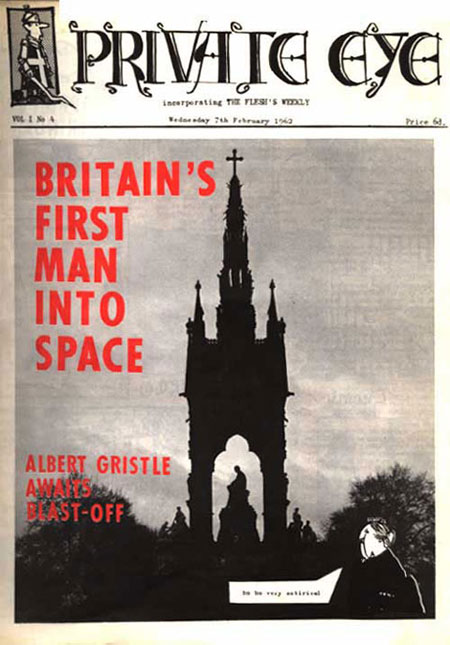 Cover of issue 4, February 1962
More blog posts here »