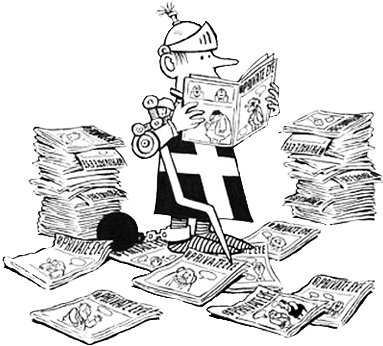 THE EYE AT 50 BLOG
Making an exhibition of ourselves
Posted by Adam Macqueen, 10th May 2011 | 16 comments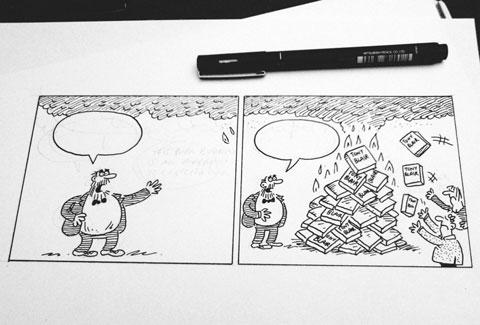 Well, here's an exciting announcement:
Private Eye: the first 50 years

18 October 2011 – 8 January 2012

The V&A will hold an exhibition celebrating 50 years of Private Eye. Since it was founded in October 1961, the magazine has distinguished itself from other titles with its unique combination of humorous cartoons and satire with hard-hitting journalism.

This display will explore the wealth of artistic talent that the magazine has fostered by showing the original artwork for some of the finest and funniest Private Eye cartoons. Over its 50-year history, Private Eye has published and promoted the work of more than 90 artists, many of whom started their careers at the magazine, including Gerald Scarfe, Ralph Steadman, William Rushton, Barry Fantoni, Nick Newman, Michael Heath, John Kent and Ed McLachlan. The illustrations will be shown in thematic sections on politics, royalty and social observation. They are richly varied in style and tone and take the form of single cartoons with captions, long-running strips and caricatures.

Ian Hislop, Editor of Private Eye, has chosen 50 of the best of the trademark front covers, one from every year the magazine has been published. The front covers will be arranged in a timeline, offering a graphic satirical history of the news over five decades.

Visually, Private Eye is renowned for its low-fi aesthetic. The cut-and-paste production technique and overall look have changed little in over 50 years, despite the switch from cowgum to computers and letraset to the internet.

Private Eye: the first 50 years will evoke the atmosphere of the magazine's Soho office, with a recreation of the editor's paper-strewn desk. There will also be seldom-seen ephemera from the magazine's past campaigns and court cases, as well as a life-sized cut out of Tony Blair, a stuffed dog, a flying Robert Maxwell and a giant inflatable banana.

Ian Hislop says: 'At last. Private Eye makes an art of itself.'
The exhibition, filling two rooms at the V&A in South Kensington, London, will be free, and feature many of the never-before-seen goodies I've ferretted out over the last few years as well as a wealth of original cartoons and artwork from the magazine which Nick Newman and Tony Rushton are gathering together.
Both Victoria and Albert were of course involved with the Eye in its earliest days: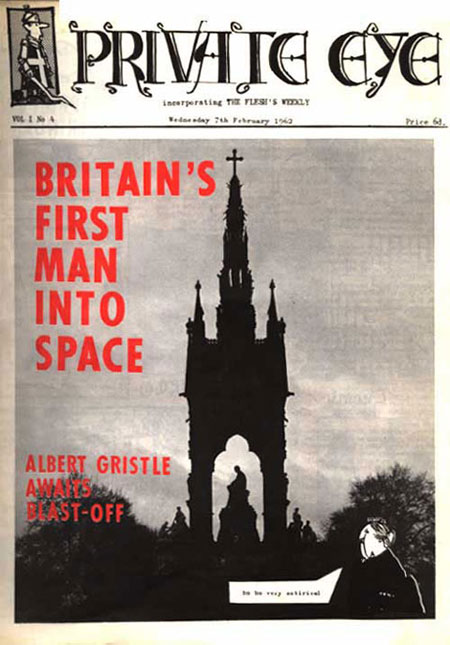 Cover of issue 4, February 1962
Comments
Comment by AstroGirl

May 10, 2011 @ 1:48 pm
Please do ensure that you produce a souvenir mug. The one I got from Private Eye Times at the NPG in 1996 has only just recently given up the ghost following 14 years of intensive use. My tea has never tasted quite the same since it ceased to come packaged in a cartoon of Thatcher and Major bickering with each other.
So, if you could just arrange for something equally entertaining and hardwearing to be on sale this time around, that would suit me very nicely 😀
Comment by ed charles

May 13, 2011 @ 12:04 pm
Mine broke many years ago – I dropped it. Life has never been the same since.
Comment by QuasiBob

May 16, 2011 @ 2:21 pm
I'll be fifty this year.. does it feel like I do?
Comment by David Kimbugwe

August 3, 2011 @ 6:08 pm
50, just like Obama…
Comment by Herbert

August 17, 2011 @ 1:45 pm
No 4 was the first issue I bought, in a newsagents in Camberwell Green. As a 14 year old I understood little of it, but felt very sophisticated carrying a copy. As a 64 year old I sometimes feel as ignorant, and far less sophisticated.
Comment by Tony Quinn

September 22, 2011 @ 11:27 am
I hope Scarfe's cover for le numero soixante-neuf (under Malcolm Muggeridge) gets the prominence it deserves. Looking forward to it.
Pingback by Tripewriter genius of Private Eye at the V&A « Magforum

September 22, 2011 @ 11:30 am
[…] But I note that the V&A is hosting a 50th birthday celebration exhibition for Private Eye in October. There's one not to be missed. Great journalism (with all its carbuncles), biting cartoons – and at the cutting edge of technology using Letraset, typewriter-produced text [though its enemies might describe it as tripewriter] and offset-litho printing in 1961. Its mode of production would be adopted 15 years later by the Punk fanzines. The magazine has its own page on the event, Private Eye at 50: Making an exhibition of ourselves. […]
Comment by Adam Macqueen

September 23, 2011 @ 12:15 pm
http://private-eye.co.uk/covers.php?showme=69
You'll find full details in the book, under the heading "PHALLUS, taken from Punch by Malcolm Muggeridge."
Comment by Danae Brook

October 7, 2011 @ 12:32 pm
I remember it all, right back to Willy Rushton's mother's kitchen in Scarsdale Villas when Candida and I spent days sending off this raggy little mag to all our parents' friends to see if anyone would come up with any money. Few did. I wish we'd kept all the letters! The Albert Memorial cover came just before the one I did, the first and probably only covergirl shoot, were I was asked to get into fishnet tights and a Father Christmas outfit for the 30th November issue, 1961. Well, this is quite an anniversary and it makes me feel quite old, but everyone from the beginning til now is to be congratulated for keeping the trusty sword of satire sharp! Danae Brook
Comment by Adam Macqueen

October 7, 2011 @ 2:49 pm
For those who want pictorial evidence: http://private-eye.co.uk/covers.php?showme=3
Lovely to hear from you, Danae!
Comment by danae brook

October 11, 2011 @ 4:15 pm
I just checked out the cover – that's rather high tech brilliant by Private Eye standards – very impressed. Thank you for leading me to it! Not so impressed by hearing the guest list to the 50th anniversary knees-up is closed to those – well one at least -who in a very minor way helped found the magazine!
Comment by roger gill

October 25, 2011 @ 7:19 pm
My first introduction to the eye
was in the spacious toilet of one of my more alcoholic com-padres of the early
sixties. The magazine covers were used as wallpaper, no, not bum wipes, gentle reader. This seemed to me at the time to be terribly bohemian having just come to London from a boarding school which was set up as "Providing a spiffing education for the sons of Gentry'. Only one up from the reform school as we all thought.
However, the one drawback was if there
had been an over indulgence in 'light and bitter' and a curry the previous evening there would often be cries of
'when did you learn to read you posh bastard' from the anguished crossed leged incumbents queing and spewing outside the lavvie, in the back passage. I later learned that my over indulgent wallpaperer was unable to read! The mind boggles!
Sorry, I spent the two and six I was considering forwarding to Danae
on the two thirty at Doncaster.
Comment by Bob Worley

October 27, 2011 @ 5:52 am
Does the V&A really want this exhibition? It is set in in two pokey rooms and with about 100 people in this poorly ventilated area last Saturday, it was claustrophobic and very uncomfortable. Another room of Post Modern furniture was empty. Nice memories though there from what I could see.
Comment by Stephen Buckley

October 27, 2011 @ 6:32 pm
"Pokey rooms…poorly ventilated…claustrophobic…very uncomfortable…nice memories though"- So a faithful representation of working conditions at the Eye over the last half-century (as recounted over those fifty years by staffers who work/worked there), then.
Comment by Darren W

February 13, 2012 @ 11:10 pm
A little gutted I missed it, I do find Ian Hislop a frankly remarkable man and always worth watching on Question Time. Hopefully something similar will come up soon?!
Comment by andy

May 28, 2012 @ 6:45 am
well, being a careful chap, I still have my Private Eye Orgy mug, made in 1965
a wonderful piece of political satire
I use it as a toothbrush mug to remind me not all teeth are the same