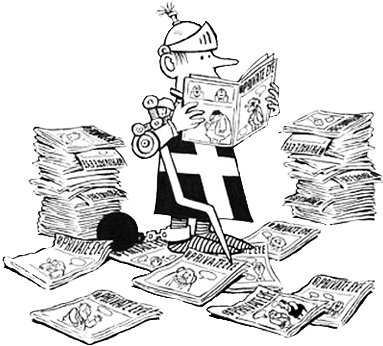 THE EYE AT 50 BLOG
Hunter Davies spontaneously combusts
Posted by Adam Macqueen, 27th October 2009 | 2 comments
That photo of the Beatles reading Private Eye in the last edition? It got Hunter Davies very excited indeed. Craig Brown once accused Davies of labelling and storing his own toenail clippings, but it appears he actually restrains himself to number ones:
Sir,
Please say it's true, that you didn't fiddle or digitally alter that photo of the Beatles sitting at what appears to be a greasy spoon caff reading what clearly appears to be a copy of Private Eye (Letters, Eye 1247). As a collector of early Private Eyes, all the way back to Number One of October 25, 1961, one of the most valuable number ones of any national organ (now worth thousands, for only 500 were printed), and also of Beatles memorabilia, I was thrilled to see two of my collecting passions coming together.
I do hope it is genuine. If so, what was the date of the attractive-looking location?

HUNTER DAVIES
London
It must have been May 1963, given that the mag in question is issue number 37. Which means – rustles notes – they would have been reading a great deal of heavy hinting about Duncan Sandys, and that "the death took place quietly yesterday of Mr David Frost, one of the most brilliant and outspoken critics and commentators of his generation. The cause of death was believed to have been overstrain of the talent."
You can see the photo – and buy a copy – here.
Comments
Comment by Stephen Buckley

October 27, 2009 @ 6:48 pm
Inevitably, I am drawn to "The Life And Times Of Private Eye" once again, where I see that on page 238, Hunter Davies is writing on "My faeces & I", so he was interested in number twos as well. Perhaps other blog readers can supply further references in the Eye to our Cumbrian chum (I almost wrote "Cuntbrien chump" – but he's on page 239).
Comment by Westengland

October 30, 2009 @ 11:58 pm
I've just seen Andrew Neil sitting next to Ian Hislop on "Have I Got News For You". A couple of weeks ago it was Alan Rushbridger who was standing shoulder to shoulder (more or less) with The Editor. Now Hunter Davies reveals himself as a "passionate" Private Eye collector.
So – who is the most masochistic subject of PE ridicule over the years?