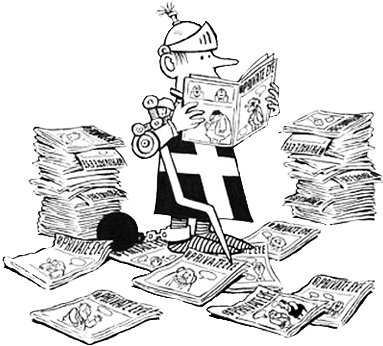 THE EYE AT 50 BLOG
Better than Tintin, basically
Posted by Adam Macqueen, 31st October 2011
Here's what BBC2's Review Show thought of the Private Eye exhibtion at the V&A last week.
1 comment »
For the Private Eye birthday party last week…
Posted by Adam Macqueen, 31st October 2011
… London's Guildhall was specially adapted: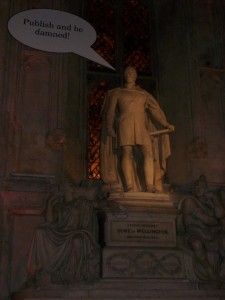 Photo courtesy of Monsignor Louis Barfe. Explanation courtesy of Wikiquote.
More »
Very sporting of them
Posted by Adam Macqueen, 28th October 2011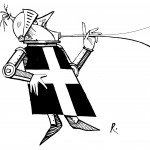 "Private Eye: The First 50 Years (£25), the spankingly appealing and classy new anniversary biog by Adam Macqueen – a rewarding must for any Eye devotee."
Frank Keating, Guardian, 26 October
1 comment »
The Private Eye Pub Crawl
Posted by Adam Macqueen, 25th October 2011
Looking for ways to celebrate Private Eye's 50th anniversary? Well, buy the book and go to the exhibition, then. But if you've already done both, you could always go on a piss-up/pilgrimage around the staff's favourite licensed premises over the years.
"Private Eye was virtually edited from a pub," recalled jokewriter John Wells of the early days. "The mood was rough, bluff, philistine and beery." When I interviewed him, Richard Ingrams used this to excuse the fact he can remember very little about the magazine's early years: "There was a certain boozy haze over Private Eye in those days."
1. The King's Head and Eight Bells, Cheyne Walk
This is where Andrew Osmond finally tracked the gang down to when he returned from Paris, cash for founding Private Eye in hand. "Willie Rushton and Ingrams were addicted to the pinball machine," recalls a friend.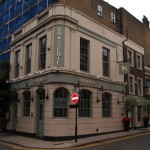 Note: Now a gurt posh brasserie.
2. 28 Scarsdale Villas, Kensington
"Willie Rushton's bedroom," recalls Booker fondly of the place where most of issues two and three were put together. "Me sitting at a battered old typewriter – my old Hermes – and then we'd stick down the pages." Rushton's mother kept them regularly topped up with "little trays of tomato soup and beer", for which she finally got her credit in issue five: "Thanks for help are also due to Mrs Rushton."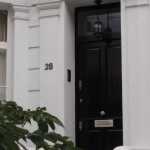 Note: You are unlikely to get a drink here. Bring your own beer and soup.
3. Neal Street, Covent Garden
Gareth Powell, a paperback publisher, picked up a copy of the new magazine and was wildly enthusiastic. He offered the Eye team free use of an enormous room in his warehouse in Covent Garden, then largely empty after the fruit and flower market's recent relocation to Vauxhall. "We briefly occupied that while we prepared the fourth issue of Private Eye, which came out in February '62," says Peter Usborne.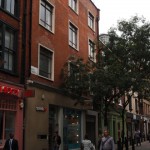 Note: Now that the whole of Covent Garden has been taken over by clothes shops, number 41 is part of a vast store selling Speedo swimwear. Console yourself with a pint in the Crown and Anchor on the corner, and try to picture when it was a spit and sawdust joint where the Eye team would play darts.
4. Establishment Club, 18 Greek Street
When Peter Cook and his business partner Nick Luard bought the magazine in June 1962, they moved it briefly into their Establishment Club. It was not ideal. "We worked in the waiters' changing room, and had to leave by the time they arrived to get changed," remembers art director Tony Rushton. "It was also where John Bird and Fortune would change too, for the performance in the evening."
It didn't last long. Three issues later, the magazine announced that "we have yet again been forced to change our abode, and are now settled (we hope) finally at 22 Greek Street."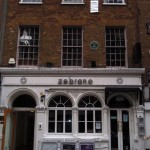 Note: It's now "Zebrano at the Establishment", a bar promising "smooth lounge sounds upstairs and noisy beats downstairs". Don't forget to look for the plaque on the wall commemorating Peter Cook, unveiled in 2009 by the inexplicable combination of Nicholas Parsons and Mike Read (after one of the Bee Gees dropped out).
5. 22 Greek Street
"It was a very small office," remembers Tony Rushton. It wasn't even big enough to fit all the boxwallahs in – the appropriately-named Dave Cash, who joined as an accountant in April 1963, stayed four doors down: "To get to my little office I had to go into the Establishment Club, up the stairs and across the stage and up a little windy staircase." The editorial team did, however, find room for a pinball machine (described by Ingrams as having "rather a swing to the left, like Claud Cockburn"). Cockburn himself recalled arriving at the office in 1963 to discover it "was located between a strip-tease and a betting-shop, into which some gangster had recently thrown a more or less abortive bomb."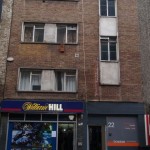 One wall of this office was entirely covered in a mural painted by artists including Barry Fantoni, Gerald Scarfe and Ralph Steadman, a reproduction of which is in the V&A exhibition.
Note: The building's chief attraction was that it was close to the restaurant Kettners, where Ingrams would bulk buy his booze "Richard would buy big bottles of wine which he'd put in this carrier bag to take home for the weekend," recalls a colleague.
6. The Coach & Horses
In 1969 the Eye settled even further down the road, at 34 Greek Street.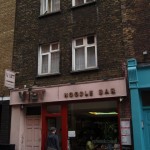 This was even handier for the Coach & Horses, the pub across the road run by legendarily rude landlord Norman Balon.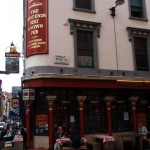 "It was our pub," says Ingrams. "Everybody used to go there at lunchtimes. Pretty well the whole staff of the Eye went to the Coach. We had our own table there, round the corner by the gents, which was very useful, because anyone who wanted to – they knew we would be there, and they would come in."

Eye staff from L-R: Tony Rushton, Tessa Fantoni, Martin Tomkinson, Richard Ingrams, Auberon Waugh and Nigel Dempster. Photo by Eric Hands.
It was here, in 1967, that Ingrams' drinking days ended, when he received what he describes as "a semi-death sentence." "I got to feeling very ill, and I was convinced that I was dying, and the doctor said my liver was several sizes too big and I should give up drink." Balon, who was behind the bar from 1943 until 2006, had noticed quite how much Ingrams had been contributing to his tills: "He used to be an amazingly large drinker. He'd put it down by the ton." But from that day onwards, Ingrams has never touched a drop.
Note: The Coach and Horses is still the venue for the legendary Private Eye Lunch, held once a fortnight in the upstairs room.
7. Carlisle Street
In 1984 the Eye decamped a couple of hundred yards up the road and took over the premises of "a firm of architects who were in financial trouble."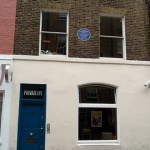 Conclude your pub crawl with a choice of establishments: for the ladies, the Candy Bar, "the UK's premier lesbian bar featuring the capital's hottest female talent: an all-star all-girl team of DJs, MCs and pole dancers." Gents should grab a can of Special Brew and head up the alleyway round the corner to the doorstep of the homeless hostel – re-branded the "Contemporary Urban Centre" as if just to annoy the Eye.
Have a drink at every stop, and by the end of it, you should ideally be looking like this.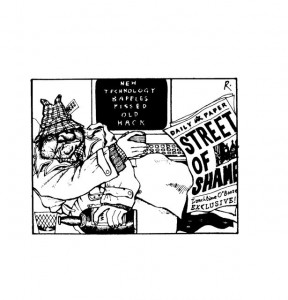 Happy birthday.
4 comments »
It was fifty years ago today…
Posted by Adam Macqueen, 25th October 2011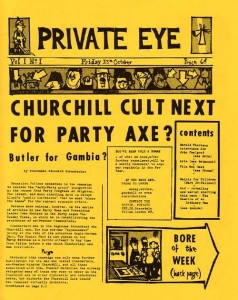 The very first edition of Private Eye, published on 25 October 1961.

Autumn, 1961. Beyond the Fringe is playing at the Fortune Theatre, earning such rave reviews that the prime minister himself has been tempted to come along and watch Peter Cook's impression of him. Harold Macmillan's smile is seen to falter slightly when his alter-ego veers off-script and proclaims that "when I've got a spare evening there's nothing I like better than to wander over to a theatre and sit there listening to a group of sappy, urgent, vibrant young satirists, with a stupid great grin spread all over my silly old face." Fresh from this triumph, the 24-year-old Cook is planning to open Britain's first satirical nightclub, The Establishment, to ape the political cabarets of 1930s Berlin which, as he points out, "did so much to prevent the rise of Adolf Hitler."
A year after the obscenity trial, everyone's wife and servants have long since finished Lady Chatterley's Lover and are now desperate to get their hands on Henry Miller's Tropic of Cancer. Kenneth Tynan has somehow managed to turn the job of theatre critic on the Observer into a position of national celebrity and cultural power. John F. Kennedy has taken over in America and failed to take over Cuba in the Bay of Pigs invasion not long afterwards. Britain has just sent George Blake to prison for 42 years for spying for the Russians, and let Jomo Kenyatta out. Adolf Eichmann is yet to find out the result of his trial in Jerusalem, but is probably beginning to suspect it won't end well. Yuri Gagarin is back on solid ground and juke boxes across the land are pumping out the hot hot sounds of Petula Clarke, Del Shannon and Helen Shapiro. And in various pubs around London, various combinations of Shrewsbury and Oxbridge alumni are talking about setting up some sort of magazine.
"I remember discussions with Willie and me, and Wells was involved," says Richard Ingrams. Willie was also party to discussions between Christopher Booker and his Liberal News colleague Bruce Page, though these seemed even less likely to come to fruition. "Page and I never really saw eye to eye on most things, it was never a serious proposition," says Booker. "He became editor of the New Statesman eventually. It's just a symptom of the fact we were all thrashing around. The key man was Peter Usborne. He knew that there was this loose chat, but he was determined to get on and do it. He was the man who said 'an end to pub talk, let's make it a proposition.' He deserves a huge pat on the back." Ingrams agrees: "Once Usborne got involved I thought it would happen. Usborne was a very dynamic character, and as soon as he got involved then it became possible. We needed a boxwallah to get things going."
Usborne – who still resents Ingrams' insistence on referring to him by the "colonial word for Indian chaps who slaved away at figures and didn't actually run anything" – had spent most of the summer doing odd jobs in America, "and I kept on thinking about this suggestion that maybe we should do [our student magazine] Mesopotamia in real life. And when I got back I had a job as a trainee in an advertising agency, and I wasn't terribly impressed with advertising as a way of life. I was starting effectively to do the research for setting up a new magazine in my lunch hours. I was going out to phone boxes and ringing up printers. I found a little printer and we discovered this new-ish technique called off-set litho which involved typing text on a typewriter and sticking it down and the printer would then photograph it, and that was it." This was a pivotal moment in two ways. Off-set litho bypassed the need for expensive and unwieldy newspaper hot metal techniques and made a magazine financially possible. And the "little printers" were located in NW2. Their contract might only have lasted until issue four, when the plant's owner Lord Rank found out about it and banned them, but without Huprint Private Eye would never have discovered Neasden. A mute inglorious Ron Knee there would rest, with Sid and Doris Bonkers guiltless of their country's blood.
Someone – Usborne thinks it must have been Rushton – told him he should talk to "a very good writer called Chris Booker who was at Cambridge." Booker had graduated from Cambridge to a job on official party paper Liberal News (he'd tried to get a job on the Evening Standard but failed to impress editor Charles Wintour when he fell asleep during his interview). He met up with Usborne, and quickly realised how seriously the young entrepreneur was taking things. "He sent me this very long memo, which I wish I still had, really setting out the business plan for how we were going to do it."
It had a rather glaring hole in it. The minimum amount that Usborne reckoned they could get away with to set a magazine up was £300. And they didn't have £300.
"I remember sitting in my flat in Kensington with Usborne and perhaps Willie, and we said 'where the hell are we going to get three hundred quid?'" says Booker. "And Usborne said 'I know! Andrew Osmond. His dad owns a supermarket chain in Lincolnshire and he's got a bit of money.'"
"That was the day my life changed," Osmond recalled. "I had gone to Paris to learn French before taking the Foreign Office exam. This telegraph arrived. It read, 'Mespot. rides again. Come home. Uz.'" And so he immediately did. "By the time I got back and had found which pub they had moved to, they had completely forgotten about the telegram. Anyway, I had £450 and I agreed to back them with it. I became the original Lord Gnome."
"It was enough to buy a car then," Uz points out. "It was enough to start a magazine. And Andrew, Chris Booker, Willie Rushton and me were enough to get the thing going. And we did some of it in my flat in Islington and most of it in Willy Rushton's mother's flat in Scarsdale Villas in Kensington. And we concocted this magazine."
This is part of the introduction from an early draft of Private Eye: The First 50 Years by Adam Macqueen. The version that made it into the book is much better. If you haven't bought it yet, you really should – not least because Amazon have it at a special birthday price today.
More »
T minus 24 hours and counting…
Posted by Adam Macqueen, 24th October 2011
Let's get ready for the celebrations with a look at how the world was commemorating the Eye's 25th anniversary, half a life ago. Here's Nigel Dempster in the Sunday Times, 19 October 1986:
"Private Eye is a magazine run by warped people running vendettas. It no longer has any virtue to it. It is playing a tune no one wants to hear any more on a very old and battered fiddle. I think it will last two more years."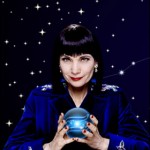 Tune in tomorrow for full instructions on how to celebrate the 50th anniversary in style, with *drumroll* the Private Eye Pub Crawl.
More »
Quick, before they correct it!
Posted by Adam Macqueen, 22nd October 2011
Three days to go till anniversary day proper and The Scotsman has an amazing revelation about the author of The Eagle of the Ninth:
Over the years the Eye, as with any publication, has got things wrong. It rarely wins law suits but still manages to wring a joke out of the proceedings. Hislop famously said: "if this is justice, I'm a banana" after the courts awarded Rosemary Sutcliffe, the wife of the Yorkshire Ripper, £600,000 for libel, (later reduced to £60,000).
(notes for those who haven't gone out and bought the book yet: The Yorkshire Ripper's wife was called Sonia Sutcliffe. Further notes: why the hell haven't you bought the book yet? Have you seen the reviews its getting on Amazon?)
2 comments »
How journalism works, part 94
Posted by Adam Macqueen, 19th October 2011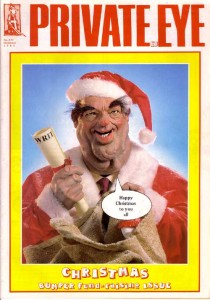 1. Nervous hack (me) sits in green room at literary festival with editor. Hack says "you are going to tell that story about Peter Cook leading the invasion of the Mirror office, aren't you?"
2. Editor spots clock at front of stage counting down to end of hour-long sessions, says "have I got time to tell the Cooky story?" Hack says yes. Editor tells Cooky story. Audience laughs, claps. Hack relieved.
3. Other hack in audience spends three days trying to sell story to someone, despite fact it is detailed at length in book first hack is plugging (pp. 189-191, fact fans!)
4. Story appears in Guardian media diary.
4 comments »
Sofa politics
Posted by Adam Macqueen, 19th October 2011
Have you always wondered whether Ian Hislop would mind being operated on by a robot surgeon, or [serious face] how he feels about the number of horses that died in the first world war? Now you can find out, courtesy of his appearance on last nights One Show on BBC1.
1 comment »
It's all kicking off…
Posted by Adam Macqueen, 17th October 2011
1. The V&A exhibition opens tomorrow: here's their film of how a Ken Pyne cartoon progresses from idea to page as a taster.
2. Ian Hislop interviewed in the Scotsman.
3. Our day of shame in full.
4. A very good piece by the BBC's media correspondent Torin Doulas that nearly makes up for it
5. And if you were one of the 1500 people who came to hear me interview Ian yesterday at the Cheltenham Festival of Literature – most of whom appeared to come and have copies of the 50th book or the 2011 Annual signed afterwards – thank you very much, and I hope you enjoyed it!
7 comments »
« Older Entries
Newer Entries »