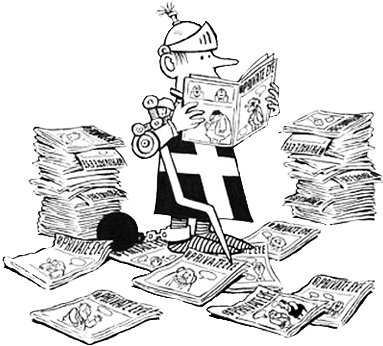 THE EYE AT 50 BLOG
It's all kicking off…
Posted by Adam Macqueen, 17th October 2011 | 7 comments
1. The V&A exhibition opens tomorrow: here's their film of how a Ken Pyne cartoon progresses from idea to page as a taster.
2. Ian Hislop interviewed in the Scotsman.
3. Our day of shame in full.
4. A very good piece by the BBC's media correspondent Torin Doulas that nearly makes up for it
5. And if you were one of the 1500 people who came to hear me interview Ian yesterday at the Cheltenham Festival of Literature – most of whom appeared to come and have copies of the 50th book or the 2011 Annual signed afterwards – thank you very much, and I hope you enjoyed it!
Comments
Comment by Stephen Buckley

October 17, 2011 @ 11:36 pm
Is there someway photographs of the Great & the Good – or, rather the Not-So-Great & the decidedly UnGood (Archer, Barclays, Evans, Fayed, Moron, Neill etc.)- visiting the exhibition can be taken and then printed in the Eye for our amusement?
Comment by Andrew Birch

October 18, 2011 @ 11:51 am
Oddly enough, Stephen, several of the people you mentioned were in fact at the exhibition: Piers Morgan was chatting to Ian in a very friendly fashion, and the Barclay twins arrived by helicopter in the V&A courtyard! Adam looked splendid, dressed in his customary Comme des Garçons suit.
Comment by Adam Macqueen

October 18, 2011 @ 7:05 pm
Oh come off it, Andrew, that was my Issey Miyake suit. Richard Desmond and Esther Rantzen specifically complimented me on it…
Comment by Andrew Birch

October 19, 2011 @ 9:16 am
That was due to the strangely shaped vegetable sticking out of it.
Comment by Adam Van Coevorden

October 19, 2011 @ 4:02 pm
Very good to see you at the lit fest Adam. Also good to see the editor is the same size as me.
I must have been one of the minority who didn't brave the signing, as I couldn't face paying RRP for the book (25 quid!) in the book tent.
I went on the Eye website and saw that you link to Amazon who are flogging it for only 15 pounds. Are your masters trying to ensure that you are out of pocket, or do you not lose out if the book is cheaper?
Comment by Adam Macqueen

October 19, 2011 @ 4:37 pm
I'm assured my cut is the same whatever price it sells at… but you have identified one of the reasons I was surprised to see such a long queue!
Comment by Adam Van Coevorden

October 19, 2011 @ 8:34 pm
That's a relief. Mine arrived in the post today, so I can now enjoy with my conscience salved.
Take that Waterstones!