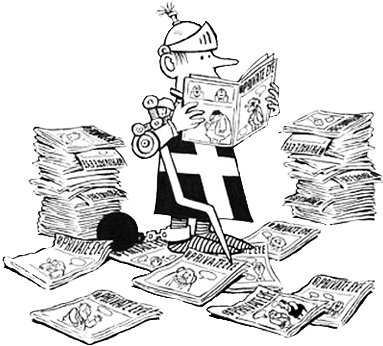 THE EYE AT 50 BLOG
Quick, before they correct it!
Posted by Adam Macqueen, 22nd October 2011 | 2 comments
Three days to go till anniversary day proper and The Scotsman has an amazing revelation about the author of The Eagle of the Ninth:
Over the years the Eye, as with any publication, has got things wrong. It rarely wins law suits but still manages to wring a joke out of the proceedings. Hislop famously said: "if this is justice, I'm a banana" after the courts awarded Rosemary Sutcliffe, the wife of the Yorkshire Ripper, £600,000 for libel, (later reduced to £60,000).
(notes for those who haven't gone out and bought the book yet: The Yorkshire Ripper's wife was called Sonia Sutcliffe. Further notes: why the hell haven't you bought the book yet? Have you seen the reviews its getting on Amazon?)
More blog posts here »