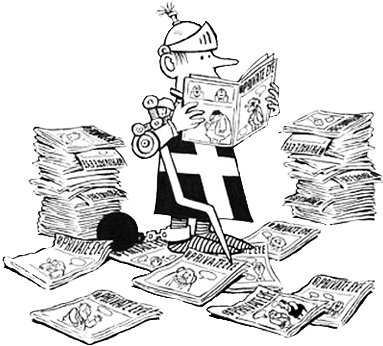 THE EYE AT 50 BLOG
November 2011
Little Atoms. As opposed to, you know, the big ones.
Posted by Adam Macqueen, 29th November 2011
Adam Macqueen was interviewed about the first 50 years of Private Eye, and indeed Private Eye: The First 50 Years on Resonance FM.
You can listen to the show here.
More »
Cambridge Winter Wordfest: so good we're doing it twice
Posted by Adam Macqueen, 25th November 2011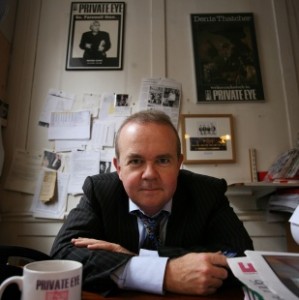 Diana Athill (cont. age 94) has dropped out of this Sunday's Winter Wordfest in Cambridge, so Ian Hislop and I will now be standing in for her in a second session at 1.30pm at the ADC Theatre. Our 9pm talk apparently sold out in half an hour, so if you'd like to come along it might be worth calling the ADC box office quite quickly…
Now either I've got to come up with a new set of questions, or he's got to come up with a new set of answers to keep things interesting…
1 comment »
Selflessness
Posted by Adam Macqueen, 9th November 2011
Well, Will Self can't have been that cross about being revealed as the most frequent visitor to Pseuds Corner in Private Eye: The First 50 Years – he's reviewed the book for the Guardian – to be precise, next Saturday's Guardian, although they've put it online to save you the trouble of having to give them any money for it.
You'll be pleased to know his review features the words "decal", "pedagogues", "pasquinades" and "epigone".
In other news, Ian Hislop's appearances on Five Live's Pienaar's Politics (about 48 minutes in) and Steve Wright in the Afternoon on Radio 2 (about 1 hr 38 minutes in) in the last few days mean that the Eye's anniversary has now been celebrated on every single national BBC radio station except Radio 1, not to mention BBCs One, Two, Online and the World Service.
It's a bit like Stockholm Syndrome, isn't it?
3 comments »
Us. Now.
Posted by Adam Macqueen, 3rd November 2011
The National Portrait Gallery exhibition also comes right up to date with one of the photos from this set of all the Eye contributors who regularly work from the office, taken this September by Muir Vidler.
Perhaps this – and former Eye hack Sarah Shannon's very good piece in this week's The Lady about the many women who have worked at Private Eye – will be enough to convince hacks and twitterers that the place isn't entirely staffed by public schoolboys.*
L-R, standing: Bridget Tisdall, Hilary Lowinger, Amanda Alcock, Heather Mills, Francis Wheen, Richard Brooks, Craig Brown, Tom Jamieson, Sheila Molnar, Tim Minogue, (up top) Nev Fountain, (horizontal) Richard Ingrams, Ruth Pallasen-Mustikay, Adam Macqueen, Ian Hislop, Andy Murray, Sue Roccelli, Megan Trudell, Mary Aylmer, Nick Newman.
Crouching: Jane Mackenzie, Solomon Hughes, Tristan Davies, Sally Farrimond, Tony Rushton.
*it won't.
1 comment »