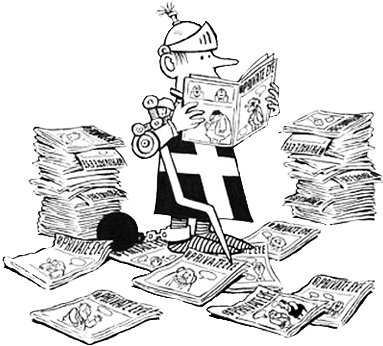 THE EYE AT 50 BLOG
October 2011
It's all kicking off…
Posted by Adam Macqueen, 17th October 2011
1. The V&A exhibition opens tomorrow: here's their film of how a Ken Pyne cartoon progresses from idea to page as a taster.
2. Ian Hislop interviewed in the Scotsman.
3. Our day of shame in full.
4. A very good piece by the BBC's media correspondent Torin Doulas that nearly makes up for it
5. And if you were one of the 1500 people who came to hear me interview Ian yesterday at the Cheltenham Festival of Literature – most of whom appeared to come and have copies of the 50th book or the 2011 Annual signed afterwards – thank you very much, and I hope you enjoyed it!
7 comments »
Exhibitionism
Posted by Adam Macqueen, 14th October 2011
Have spent most of this week at the V&A with my colleagues Megan Trudell, Nick Newman and Tony Rushton putting together the display for their exhibition "Private Eye: The First 50 Years", which opens next week.
Or as Megan and I decided we preferred to refer to it, "messy play".
We've been so busy it was only late this afternoon that I turned round and noticed that originals of most of the best cartoons from the last half-century had been quietly put up on the wall behind me. It's going to look amazing.
Here's a few sneak preview pictures.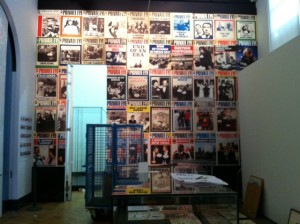 A wall of covers: specifically, Ian Hislop's 50 favourites (they look better with the door closed)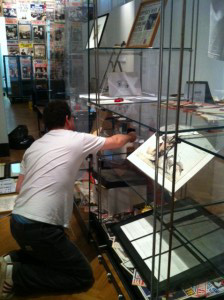 Me arranging the Libel showcase: that's the final writ Robert Maxwell served on the Eye, a fortnight before his death, in the bottom of the cabinet. There's also a cheeky selection of superinjunctions so you can play "Guess Who"…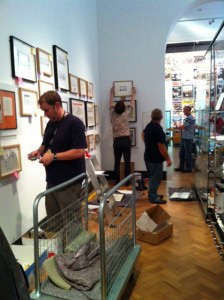 The best of the Strips, mid-hang.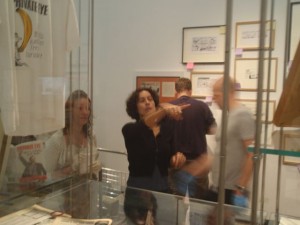 Megan tells the V&A exactly where they can shove a big banana.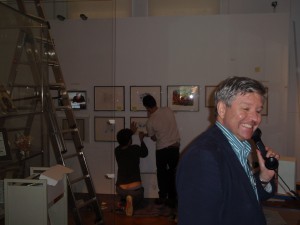 Nick discovers the secret treat that awaits anyone who picks up the editor's phone.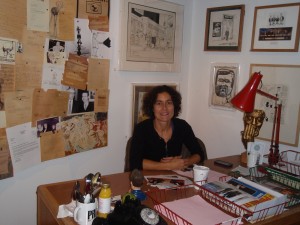 Ian Hislop's desk (replica). We junked the Ian Hislop replica on the grounds she didn't really look like him.
UPDATE: Here's Ian giving BBC Arts editor Will "Bill Nighy in a swimming hat" Gompertz a tour of some of the exhibition, part of a veritable Private Eye-fest on the BBC website today…
2 comments »
No! No! NOOOOOOOOOO!
Posted by Adam Macqueen, 14th October 2011
Have just watched this gushing BBC tribute to the Eye from David Cameron, Nick Clegg, Ed Miliband and Ken Clarke.

Am too depressed to get out of bed today.
1 comment »
Private Eye: The Grimsby connection
Posted by Adam Macqueen, 13th October 2011
A well-deserved appreciation of the first Lord Gnome, Andrew Osmond, from the Grimsby Telegraph here.
1 comment »
Abominable Radio Gnome*
Posted by Adam Macqueen, 8th October 2011
You can listen to Michael Crick's Radio 4 documentary about the Eye's anniversary here.
*the title of the Eye's fifth flexidisc, given away with the mag in December 1967, fact fans
More »
Foot on Foot
Posted by Adam Macqueen, 7th October 2011
Here's a review that means an awful lot to me. Paul Foot's son Tom on the Eye's 50th, and memories of his dad.
1 comment »
Today, and tomorrow
Posted by Adam Macqueen, 7th October 2011
The Today programme played a small extract from Michael Crick's documentary about Private Eye this morning.
The whole programme goes out at 10.30 on Saturday morning, on BBC Radio 4.
More »
Private Eye editor decides to try free magazine model
Posted by Adam Macqueen, 6th October 2011
…. but for one week only, and a different mag. Ian Hislop is the guest editor of this week's Shortlist, as thrust into your hands outside all good stations, and there's a taster of its contents here.
8 comments »
Wireless, but with plugs
Posted by Adam Macqueen, 3rd October 2011
I'll be on Shaun Keaveny's breakfast show on BBC 6 Music this Wednesday to talk about the book and the Eye's 50th anniversary: listen here if you like.
On Saturday, TV's gorgeous pouting Michael Crick will be presenting a whole documentary about Private Eye on Radio 4 at 10.30am: Lord Gnome Aged 49 and Three Quarters.
And you can still hear me giving Anne McElvoy a tour of the Eye office on Radio 3's Night Waves if you can work out how to "download" a "podcast" from here.
More »
Newer Entries »