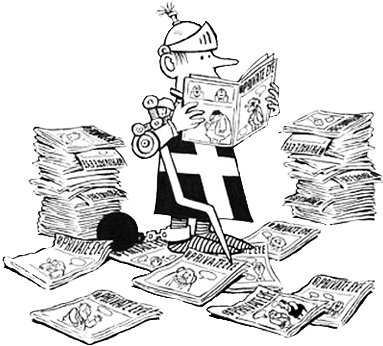 THE EYE AT 50 BLOG
Exhibitionism
Posted by Adam Macqueen, 14th October 2011 | 2 comments
Have spent most of this week at the V&A with my colleagues Megan Trudell, Nick Newman and Tony Rushton putting together the display for their exhibition "Private Eye: The First 50 Years", which opens next week.
Or as Megan and I decided we preferred to refer to it, "messy play".
We've been so busy it was only late this afternoon that I turned round and noticed that originals of most of the best cartoons from the last half-century had been quietly put up on the wall behind me. It's going to look amazing.
Here's a few sneak preview pictures.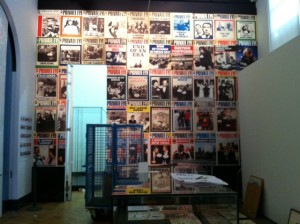 A wall of covers: specifically, Ian Hislop's 50 favourites (they look better with the door closed)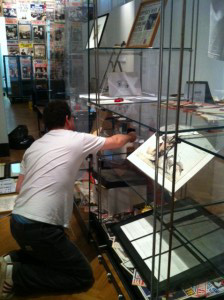 Me arranging the Libel showcase: that's the final writ Robert Maxwell served on the Eye, a fortnight before his death, in the bottom of the cabinet. There's also a cheeky selection of superinjunctions so you can play "Guess Who"…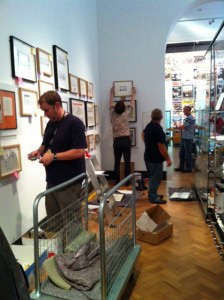 The best of the Strips, mid-hang.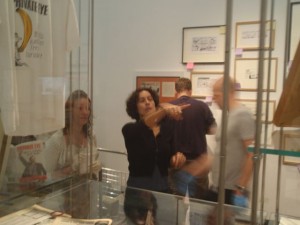 Megan tells the V&A exactly where they can shove a big banana.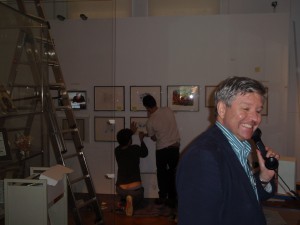 Nick discovers the secret treat that awaits anyone who picks up the editor's phone.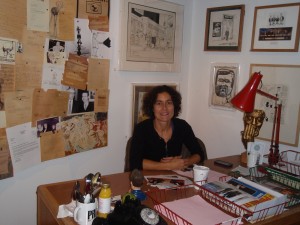 Ian Hislop's desk (replica). We junked the Ian Hislop replica on the grounds she didn't really look like him.
UPDATE: Here's Ian giving BBC Arts editor Will "Bill Nighy in a swimming hat" Gompertz a tour of some of the exhibition, part of a veritable Private Eye-fest on the BBC website today…
More blog posts here »