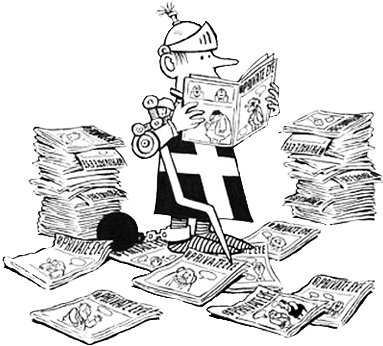 THE EYE AT 50 BLOG
February 2009
Private Eye at 50
Posted by Adam Macqueen, 17th February 2009
In October 2011 it will be 50 years since the first edition of Private Eye was published.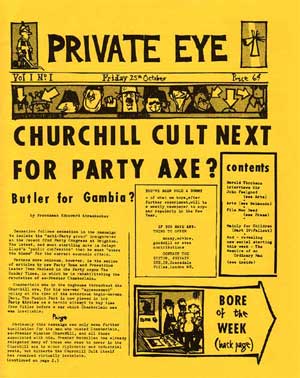 Adam Macqueen – an Eye hack since 1997 – is working on a definitive history of the magazine, to be published as a lavishly illustrated coffee table book in time for the anniversary. He – oh, alright, I – will be making occasional updates on my progress here (and trying to avoid, at any point, using "blogging" as a verb).
I'm keen to hear from the readers who have been such an important part of the magazine's history over the past 47-and-a-half years. Did you buy the first edition? Did you attend the Mass for Vass or campaign for Willie Rushton in the Kinross and West Perthshire by-election where he stood against Lord Home?
Did you purchase a Stuff Your Own Quentin Hogg Cushion Kit, as demonstrated by Peter Cook? Did you attend the Rustle of Spring or any of the other various legal-cost fundraisers over the years? Was your photograph used to illustrate a joke?
Or do you just have one fondly-remembered – or historically loathed – feature you feel ought to be featured in the book, and you think I might have missed?
I'd love to hear from you. Apparently you can leave a comment below.
17 comments »
| Tagged with
50
,
anniversary
,
cover