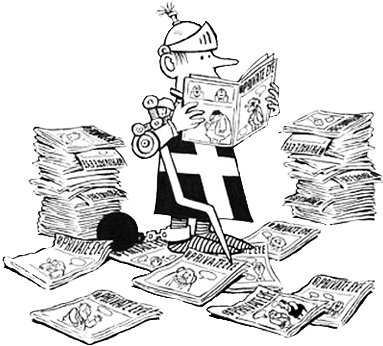 THE EYE AT 50 BLOG
Private Eye at 50
Posted by Adam Macqueen, 17th February 2009 | 17 comments
In October 2011 it will be 50 years since the first edition of Private Eye was published.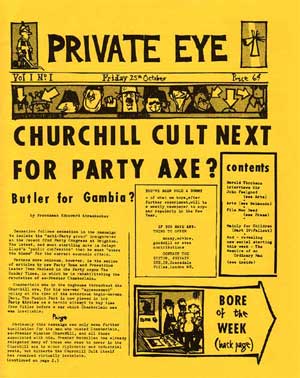 Adam Macqueen – an Eye hack since 1997 – is working on a definitive history of the magazine, to be published as a lavishly illustrated coffee table book in time for the anniversary. He – oh, alright, I – will be making occasional updates on my progress here (and trying to avoid, at any point, using "blogging" as a verb).
I'm keen to hear from the readers who have been such an important part of the magazine's history over the past 47-and-a-half years. Did you buy the first edition? Did you attend the Mass for Vass or campaign for Willie Rushton in the Kinross and West Perthshire by-election where he stood against Lord Home?
Did you purchase a Stuff Your Own Quentin Hogg Cushion Kit, as demonstrated by Peter Cook? Did you attend the Rustle of Spring or any of the other various legal-cost fundraisers over the years? Was your photograph used to illustrate a joke?
Or do you just have one fondly-remembered – or historically loathed – feature you feel ought to be featured in the book, and you think I might have missed?
I'd love to hear from you. Apparently you can leave a comment below.
Tagged with
50
,
anniversary
,
cover
Comments
Comment by Dave

February 17, 2009 @ 7:20 pm
Nice picture!
Comment by Lyle

March 31, 2009 @ 3:36 pm
Please do feel free, of course, to use "blogging" as a gerund.
I should have liked to order Mr Cook's Screaming Hawaiian Grass but alas, did not learn of the Eye's existence until long after said promotion had ended.
Comment by Mixmatosis

April 2, 2009 @ 10:18 am
I managed to blag over 500 issues of Private Eye from Oxfam the other day for £20, absolute BARGAIN!
I like reading them when I go for a shite, needless to say it will keep me going for a while.
Comment by Tamiflu

May 1, 2009 @ 10:22 pm
Great work, well researched
Comment by Stephen Buckley

May 14, 2009 @ 2:18 pm
Is there an accurate, up-to-date, listing of all the Eye publications and memorabilia produced since 1961? If so, how are we Eyelets able to look at it? Somehow I don't think that we can consult Wikipedia
Comment by Adam Macqueen

May 15, 2009 @ 9:30 am
There isn't – not even in the office! – but it's one of the things I'm planning to include in the book. Flexidiscs and all. One of my jobs for today is to listen to the copy of "Record Damages" (free with the Christmas 1987 edition) which is sitting on my desk. That's if I can remember how the record player works…
Comment by Chris Reynolds

October 18, 2009 @ 2:39 pm
I used to have a flexidisk back in the early 70's with a song that started; "Neasden! You won't be sorry til you've freezed in… the traffic lights and yellow lines, and the illuminated signs…" I think… As you can see, I still hum it to myself, but have long since forgotten the rest. I may even not be remembering the start correctly. Do you know if this still exists anywhere, if so, any chance of this being in the book?
Comment by admin

October 20, 2009 @ 1:56 pm
Chris – it was Willie Rushton singing it, and I don't have my notes to hand to check which of the flexidiscs it featured on, but it was at least two of them (and it was performed at one of the benefit concerts following one of the big libel payouts – gigs which also involved such unlikely names as Bob Monkhouse and Arthur Mullard). You've slightly mis-remembered the first line – it was actually "Neasden! Neasden! You won't be sorry that you breezed in!" which may be one of the finest couplets dedicated to flimsy vinyl. It will feature in the book, don't you worry…
Adam (who for some reason can only comment as Admin at the moment)
Comment by Dominic

December 10, 2010 @ 2:44 pm
Lyrics for Neasden below. A gem of a number.
Cheers,
Dominic
I've been as far as Orpington, Tufnell Park, and Golders Green,
Seen the Northern Lights of Harlesden, and visited East Cheam.
I've travelled out to Ongar, on the dear old Central Line,
I even went to Ruislip, in 1949.
I've been far South as Tooting Bec, where sheep may safely graze,
And I sometimes think it's hard to say where I'd like to end my days.
But then I shout– Oh Arthur, what a berk you are!
There's a little place you love just off the North Circular–
They call it…
Neasden! You won't be sorry that you breezed in!
The traffic lights and yellow lines, and the illuminated signs
All say Welcome to the borough that everybody's pleased in:
Neasden! Oh where the birds sing in the treesden,
And you can hear the blackbirds coo, so why not take the Bakerloo?
It'll work out that much cheaper if you buy a seasden!
Neasden! Oh where the rissoles are deep-freezed-en
Oh where there's Bingo and Boutiques, and the Wimpy's last for weeks,
And very tasty too with a slice of cheeseden!
Neasden! You couldn't want a better reasden,
Oh now I will not fake the thrill
When we hear at Dollis Hill
That the next stop on the line
Is the place that I call mine
Is it Sodom or Gomorrah?
No it's God's own Borough!
Neasden!
Comment by Nick Flowers

April 12, 2011 @ 7:28 am
I attended the Mass for Vass rally. A shy lad in my teens, I was nervous that any banner I carried en route for the rally by train would be awkward to carry, so I constructed one out of Meccano, which I assembled with nuts and bolts on site! The banner read: "Vass – for Men".
I'd love to see Barry Mackenzie back again and the Cloggies.
Comment by Ratel Flowers

April 20, 2011 @ 2:41 pm
Reader, I too attended the rally and married that shy lad although our paths did not properly cross till a few years later. As a gauche teenager bunking off school, I served Private Eye and country by addressing pro-Rushton envelopes in the beautiful Ledlanet House during the Kinross by-election. I seem to remember that my greatest thrill was to be allocated a bed recently vacated by John Wells – ah, we made our own entertainment in those days!
Comment by Peregrine Arkwright

August 29, 2011 @ 5:04 am
Andrew Osmond (who thought up the name) told me if anyone still has an original copy of Issue #1, they are so rare they command prices circa £30,000. Is that so?
I do have a signed and numbered copy of the Greek Street mural featured in Patrick Marnham's book which marked the Eye's 21st birthday. Are they rare yet? Some 800 of them were produced, versus 500 copies of issue #1.
With Picarda, Foot, Osmond, Rushton, Larry and others already dead, the Curse of Gnome has proved a cruel reaper. Bring back Barry McKenzie and all will be well.
Perry Arkwright, WOSOPIT
Comment by Martin Dunton

August 30, 2011 @ 1:52 pm
Have only been with you for the last 32 years – favourite cover remains the Jeremy Thorpe "buggers can't be losers" one after his court case against Scott in c.1980
Comment by Adam Macqueen

September 6, 2011 @ 10:06 am
I've not heard £30,000 – but £5-10,000 is the number that's usually punted around (it depends if they were one of the first batch, on very yellow paper, or the reprint, on slightly lighter paper).
The mural prints are rare enough to be featuring in the V&A exhibition which opens in October – along with an actual paste-up page from the very first edition, which much to my surprise I found lying in a dusty box in a corner of the office a few months ago!
Comment by Tim

September 7, 2011 @ 8:50 pm
My favourite Eye strip is the inspired early 70's 'Heathco' with The Grocer as the MD of a failing manufacturing company, endlessly complaining about staff failing top reach productivity targets, breaking the coffee machine etc.
The more I read about Heath, the more I realise that the Heathco character was unerringly accurate.
Great shame the strips were never published as a book (as far as i know).
Comment by Adam Macqueen

September 12, 2011 @ 12:54 pm
You're not alone in thinking that, as the book reveals – we've at least managed to rectify the ommission a bit with a whole Heathco column included to remind people of how good it was!
Comment by Ray Attfield

September 27, 2011 @ 10:39 am
Having had 50 years of pleasure it is now time to pass on the following copies, all in good condition.
Anyone interested please contact me.
(I give permission for Private eye to pass on my e-mail if they will)
Vol 1, Nos. 2,3,4,5,6,7,8,10 plus eight others from the '60's