A fine year for municipal mediocrity
Rotten Boroughs Awards, Issue 1435

FROM nepotism and election-day mayhem to swivel-eyed Brexiteering, we salute the councillors and councils who made 2016 another vintage year for municipal mediocrity and worse...

SHIT OF THE YEAR
In 2011 Carmarthenshire county council, then run by a Labour-Independent coalition, was runner-up in the Legal Bullies of the Year category of the Rotten Boroughs Awards for its despicable treatment of blogger Jacqui Thompson. She was arrested and thrown in a police cell for trying to film part of a council meeting on her phone. In 2014 she became embroiled in two libel actions provoked by council chief executive Mark James, who was unlawfully indemnified for his costs by the council. James won both cases and, as Eye 1431 reported, Thompson now faces ruin, with an award for £31,000 damages against her plus £191,000 costs, which James insists is enforced. As Thompson does not have anything like this kind of money, her home will have to be sold and her family rendered homeless. Before Christmas two Plaid Cymru councillors tried to table a motion proposing a compromise which would have allowed the Thompsons to continue to live in their home. This was blocked on spurious procedural grounds. Mark James has trashed Carmarthenshire council's reputation, wasted tens of thousands of pounds of taxpayers' money and now seeks to ruin a harmless family's lives. A worthy winner!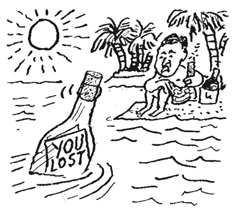 COMPLACENCY AWARD
Following the resignation in disgrace of Shropshire county council's Tory leader Keith Barrow, a by-election was held in February for his Oswestry seat. The Conservative candidate was Barrow's chum, Christopher Schofield. So confident of victory was Schofield that, instead of campaigning, he and his wife went on holiday in the Caribbean with Barrow and his wife. To the surprise of no one but himself, Schofield lost heavily to the Green candidate.


AIRBRUSHING HISTORY AWARD
Campaigning resident Gwen Swinburn won the gratitude of fellow council taxpayers when she exposed unlawful secret payments to senior staff at York city council. Swinburn registered to speak on the matter when it was debated by the council in March, but she was stopped by Lord Mayor Sonja Crisp and ejected from the chamber. All this was edited out of the council's online footage of the meeting as if Swinburn did not exist.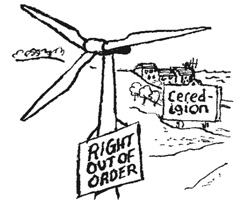 GREEN BALLS AWARD
Ceredigion council spent £48,000 on a 60ft-wind turbine to supply electricity to its offices in Aberystwyth back in 2010. It never worked properly, so in 2016 the council paid £2,720 to have it removed. The contractor then put the thing on eBay with a starting price of 99p – and received no bids.


POLITICAL CORRECTNESS AWARD
Cambridgeshire's newly-elected police and crime commissioner Jason Ablewhite came in for some flak during the campaign when an old Facebook page emerged on which he'd indulged in jolly bants about "pikeys" and asylum-seekers. One stern PC critic said being "derogatory about the traveller community" was not "the way to engage with them". Stand up Nick Clarke – the Ukip candidate!


CHARITY FUNDRAISER
Bright spark Sam Gardner was quickly promoted to deputy cabinet member in charge of finance when he was elected as a Tory member of Cheshire East council in 2015. Alas he neglected to mention that he had been banned from being a company director for four years in 2013 following the collapse of his firm Fomfest, which had made a hash of running a pop festival, losing more than £440,000 and leaving scores of people unpaid. £10,000 donated by festival-goers to a cancer charity was diverted into Fomfest accounts. When Gardner's past was exposed in April he stood down from the cabinet. Council leader Rachel Bailey said she was "sorry to lose him".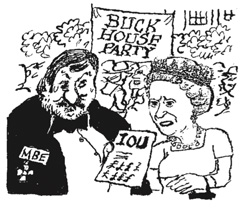 ORDER OF THE CUCUMBER SANDWICH
Tory councillor David Hymers MBE attended a Buckingham Palace garden party in May. He was invited because of the supposed export successes of his "mailrooms solutions" business, Totalpost Services Ltd. In fact, Eye 1419 revealed, his company had gone bust in March owing some £2.5m, including nearly £400,000 to his garden party hostess's HM Revenue and Customs in unpaid tax, national insurance and VAT. Hymers protested he'd done nothing wrong, but for some reason resigned his "economic development" portfolio at Eden district council and stood down as a councillor to boot.


ELECTION SHAMBLES OF THE YEAR
Tory Barnet council became a laughing stock on 5 May when electoral services staff distributed incomplete voter lists to polling stations for the London mayoral election, leading to thousands of voters, including the chief rabbi, being turned away.


SOUTHERN JESSIE OF THE YEAR
Former Bolton council chief exec Paul Najsarek was handed a £90,000 payoff when he left after only five months in the job. Najsarek, previously head honcho at the London borough of Harrow, quit because his wife and kids refused to move oop North. Happily, on his return to London he landed the top job at Ealing council – at £170,000 a year, £10k more than he got at Notlob. Nice work!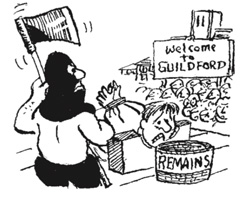 SWIVEL-EYED-BREXITEER AWARD
Guildford Tory councillor Christian Holliday called for anyone supporting EU membership to be charged with treason under the 1848 Treason Felony Act, which he wanted updated to include "offences" such as "to imagine, devise, promote, work, or encourage others, to support UK becoming a member of the European Union. To conspire with foreign powers to make the UK, or part of the UK, become a member of the EU".


NEPOTISM AWARD
Jim Andrews, deputy leader of Labour Barnsley council, announced he would stand down as chairman of South Yorkshire Fire Authority in February after it emerged he had personally and secretly approved £42,000 in overtime payments to chief fire officers for working during strikes in 2013. A vacancy was thus created for a member from Barnsley, which could have been filled by any one of more than 50 councillors. By an amazing coincidence the chosen one was none other than Andrews' partner, Sharon Howard!


KIM JONG UN AWARD
To Sir Robin Wales, elected mayor of Newham, who was been chosen as Labour's candidate for 2018 without any other names being put forward. Labour party members in the London borough had voted clearly in favour of a choice of candidates, but Wales found a stash of "votes" from trade union branches, which hadn't actually held a vote, down the back of the sofa.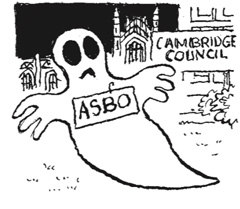 GHOSTBUSTERS AWARD
Cambridge city council banned touts for walking tours and ghost tours from the "antisocial" activity of handing out leaflets on the streets. This was thought to be not unconnected to the fact that the council's tourist information centre also operates walking tours, and this was a good way to nobble its commercial rivals.


JAILBIRD OF THE YEAR
"Independent" Tower Hamlets councillor Shahed Ali, a former henchman of the borough's disgraced mayor Lutfur Rahman, was jailed for five months in October for housing fraud. He had been the tenant of a council flat while owning at least four other properties. He denied the charge for months, costing the taxpayer an estimated £70,000, only pleading guilty at the last minute. Had he come clean initially the cost would only have been about £4,000.


WHITEWASH AWARD
To Ian Parker, called in by Norfolk county council to investigate claims of shoddy treatment of foster carers, who spent £100,000 and 18 months producing a 10-page report which managed to ignore the most serious cases which had led to demands for the review in the first place.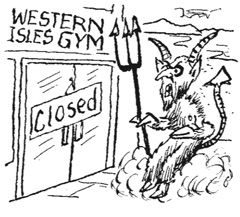 SUNDAY OBSERVANCE AWARD
Western Isles council in Scotland maintained a ban on council leisure centres opening on Sundays on the island of Lewis and Harris, so locals can't go to the gym, attend a keep-fit class or have a swim. The council has a number of Presbyterian members who believe doing Zumba on the Lord's Day is the work of Satan.