The Paul Foot Award 2017
Private Eye is once again awarding a prize for investigative or campaigning journalism in memory of Paul Foot, who died in 2004.
The winning entry will be awarded £5,000 at a ceremony in June 2017.
Download the entry form here »
Entry Details
Submissions will be accepted for material that has been published in a newspaper or magazine in the UK, or on a website, between 1st April 2016 and 31st March 2017. No broadcast material is eligible. Individual journalists, teams of journalists or entire publications may enter and entries will be considered for anything from a single piece to entire campaigns. Journalists are welcome to enter more than one campaign, but each campaign needs to be submitted using a separate entry form. Maximum of 2 entries.
Entries should be marked 'PAUL FOOT AWARD 2017' and must be submitted by POST ONLY to:

THE PAUL FOOT AWARD
Private Eye
6 Carlisle Street
London W1D 3BN


Entries to be received by 5pm on 31st March 2017. The closing date for entries is final, no extension can be offered. Submmissions received after the closing date will not be eligible for entry.

Queries should be directed to:
Tracey Jennings, Midas PR
Tel: 020 7361 7860
Email: tracey.jennings@midaspr.co.uk

Details of the short-listed entries will be published in May 2017 and the winning entry will be awarded £5,000. The judges decision is final.
Good luck!
In The Shop
Only In The Magazine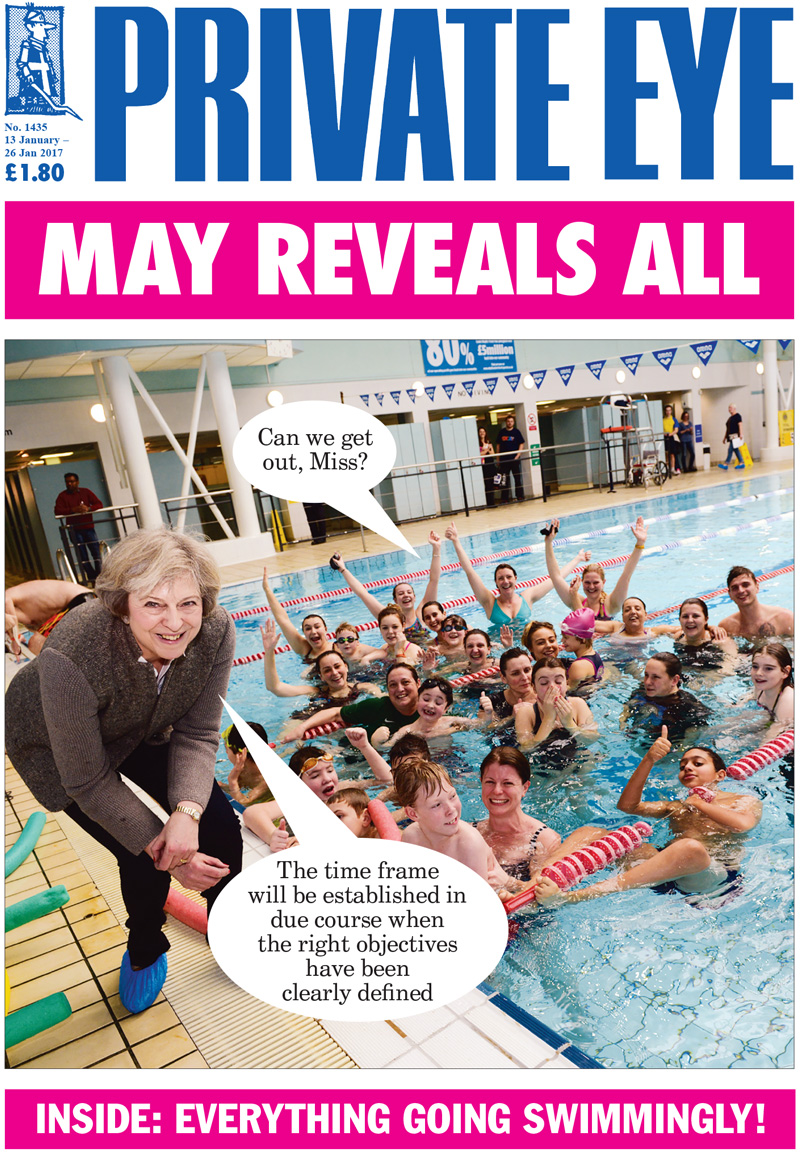 In This Issue
Health Correspondents Can't Cope with Influx of Ailing NHS Stories…
Littlejohn, Morgan, Hopkins: Why Do Arses Keep Appearing in the Daily Mail?…
Bank of England Economist Admits He May Be Wrong About Being Wrong…
Hospital beds, Seats on Trains – What We'll Share in the Shared Society…
Three Bears in Pop-Up Brothel Shock – Nursery Times Exclusive…
Much Longer Journeys Mean Passengers Getting 'Better Value Than Ever' Says Rail Chief
And also...
- Trump that: The president-elect's diary, as told to Craig Brown
- Sun tribute: The death of George Michael – a very Bizarre tale.
- Health check 2017: M.D. takes the pulse of the NHS
For all these stories you can buy the magazine or subscribe here and get delivery direct to your home every fortnight.