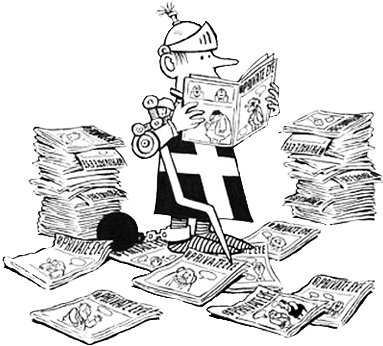 THE EYE AT 50 BLOG
From the vaults
Posted by Adam Macqueen, 30th April 2009 | 7 comments
This is the Fritzl-esque space where much of the Eye's past is stored. Everything from the background workings on scandals of yesteryear…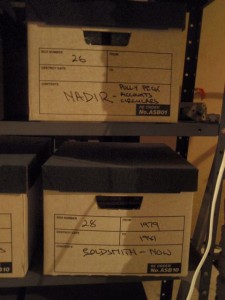 to lovingly-curated reader contributions…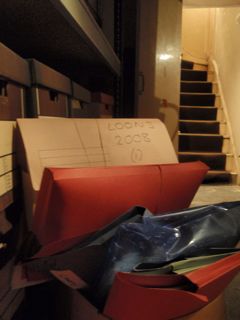 to frankly terrifying figures from the past…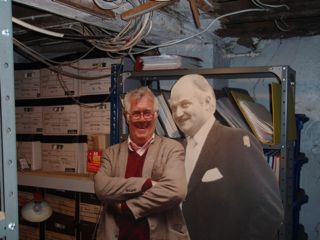 Goldsmith lived for many years in the main editorial office, frightening visitors. Richard Ingrams made his cardboard debut – alongside an equally two-dimensional Ian Hislop, Reverend Tony Blair and others – at the Eye's 45th birthday party. I've been spending quite a bit of time going through old files in this dusty cellar recently. These make me jump out of my skin with frankly pathetic frequency…
Comments
Comment by John R. Nicoll

May 8, 2009 @ 3:14 pm
Dear Adam, RE. PRIVATE EYE
Many years ago, while hitchhiking back to Scotland, I took a lift from a veteran journalist who had worked all over the civilized world and the U.S.
He reckoned that your organ was the only really investigative effective investigative tool in the U.K.
Lots of luck with your endeavours .
John R. Nicoll.
Comment by Louis Barfe

May 17, 2009 @ 1:18 am
Which cardboard cutout did Rod Liddle try to steal from the 45th birthday do? Blair, wasn't it?
Comment by Terence Eden

June 6, 2009 @ 10:55 am
Have you ever considered digitising the PE archive? I was very impressed with Mad Magazine's Absolutely Mad (http://en.wikipedia.org/wiki/Mad_Magazine#Computer_software).
I've often thought it would be a great resource to journalists, bloggers and the like to be able to search back issues. Although keeping track of who has what nick-name might be a bit complex!
Good luck with the book. It sounds like you'll have as much fun as Mark Lewisohn did with the Beatles.
T
Comment by Adam

June 22, 2009 @ 12:20 pm
They are in fact digitised, and much-used within the office – but until the neccessary second step is undertaken – that of going through them all and redacting, Fees-Office-style, all the ancient stories that resulted in lost legal actions – there's absolutely no chance of them being made available to anyone outside. That counting as "republishing" the libels, in legal terms.
It might happen, one day. Probably as part of an optional, "gold" subscription, sort of thing.
Comment by Dermot McGrath

July 12, 2009 @ 11:18 am
Looking at the last photo above, I was intrigued to note that the Eye must have hired the same electrician who recently did such a wonderful job on our villa in south-west France.
Small world indeed..hope you have a smoke alarm installed!
Good luck with the book
Comment by Adam

July 21, 2009 @ 4:59 pm
I must admit there was a nasty moment the other week when I heard on the radio about the 'office building in Soho almost entirely destroyed by fire'!
Comment by Bradley Feasey

December 6, 2011 @ 7:43 pm
I went in the cellar to read the electric meter, Ian they also made me jump ! Bradley (the EDF man)