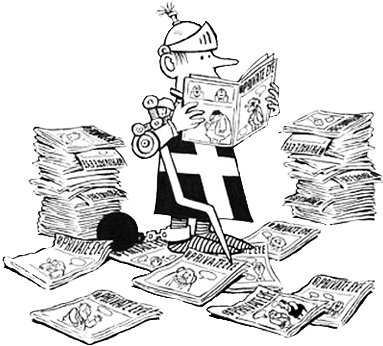 THE EYE AT 50 BLOG
April 2009
Hello fans (as opposed to Hello! fans)
Posted by Adam Macqueen, 30th April 2009
Came back to the day job last week after a month away – when I'm not working on the history of Private Eye that is the point of this bit of the website, I'm an active part of its present, writing for sections like Street of Shame, Media News, Books and Bookmen and compiling the Number Crunching column – to find, as is usual, an enormous pile of correspondence from readers waiting for me. Some of it was nonsense, some of it would have been useful if it had arrived three years earlier (eventually, people will notice we're not running the Solutions column any more), much of it was fascinating, and a few bits and pieces became the basis for things in the latest edition of the magazine.
One email in particular stood out. The guy had signed off "PRIVATE EYE TILL I DIE".
I chortled a bit, shared the flattery with a couple of my colleagues, then moved on to the next one on the pile. That one concluded:
"YES! I am a Subscriber.
NO! I will never Cancel!"
Now I can't be certain about this, but I suspect that people who send thoughtful and perfectly-punctuated whinges in to the Guardian letters page or phone up the Sun's shop-your-mates-for-cash news line don't feel the need to express quite this level of loyalty and appreciation at first contact. In fact, I don't think most of the other publications currently being used to line budgie cages, make firelighters or line train seats cross the nation inspire feelings quite like this.
I've long had the impression that regular Eye readers – and subscribers in particular – feel themselves to be part of a gang. An in-crowd who rejoice in knowing who Brenda is, why sex must be referred to as Ugandan discussions, and who go through life with one eye open at all times for opportunities to obliquely refer to Andrew Neil in a vest. It's there in the spontaneous opening of wallets when the magazine was threatened by monsters like Maxwell and Goldsmith. And it's there in the disappointed, almost parental tone of more-in-sorrow-than-in-anger of those cancelled subscription letters.
Am I right? How would you describe your relationship with the Eye? How long have you been a reader? Have you abandoned the magazine in the past, and what brought you back? And what – if anything – would make you swear never to pick up another copy again?
17 comments »
From the vaults
Posted by Adam Macqueen, 30th April 2009
This is the Fritzl-esque space where much of the Eye's past is stored. Everything from the background workings on scandals of yesteryear…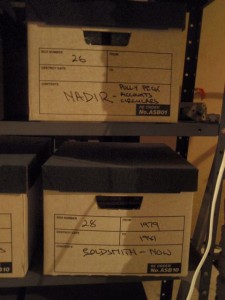 to lovingly-curated reader contributions…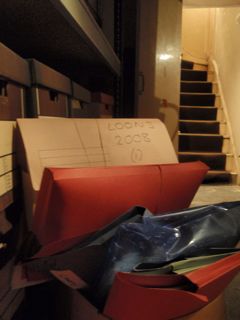 to frankly terrifying figures from the past…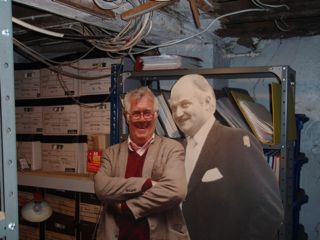 Goldsmith lived for many years in the main editorial office, frightening visitors. Richard Ingrams made his cardboard debut – alongside an equally two-dimensional Ian Hislop, Reverend Tony Blair and others – at the Eye's 45th birthday party. I've been spending quite a bit of time going through old files in this dusty cellar recently. These make me jump out of my skin with frankly pathetic frequency…
7 comments »