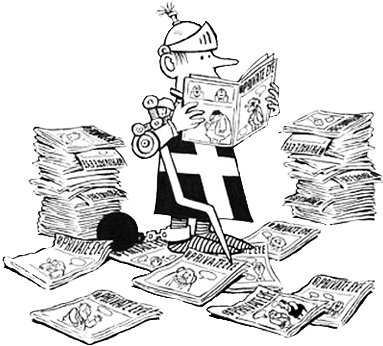 THE EYE AT 50 BLOG
Black and white and read all over
Posted by Adam Macqueen, 24th June 2009 | 3 comments
Here's a rum do. Ian Burrell, of the Independent, gets it bang-on about about the Eye's digital strategy (or pointed lack of one).
But – writing just a couple of months back – he refers to the mag's "monochrome presentation". And when I mentioned this to someone else who probably looks at the magazine as regularly as Burrell does, his reply was "it is still black and white, isn't it?"
Private Eye has been printed in colour for more than a decade now. Here – lovingly fished from a bin by me in the knowledge that they'd come in useful at some point – are some of the practice covers produced in March 1998 as the mag prepared to wave goodbye to black and white forever…

Next week: how much hacks on the Independent enjoy the Secret Diary of John Major and Jeff Bernard's racing column in the Eye each fortnight…
Comments
Comment by Phil

June 25, 2009 @ 9:16 am
The images of Eye covers you publish on this blog are always too small. Publish them large enough so we can read the captions.
Comment by Adam

June 28, 2009 @ 10:01 am
Sorry Phil. I'm a bit rubbish at computer-type stuff… to see all Eye covers from the last 47 1/2 years, in full legibility, click on the "Covers Library" link on the left-hand panel over there <——
And give up on any idea of getting any work done for the next hour or so…
Comment by Birch

July 12, 2009 @ 7:33 pm
Fucking Hell, Adam, an Eye blog? do be careful, all sorts of weirdos roam the internet…
Nowt wrong with black and white, either! Now that everyone's in colour, a bit of monochrome makes us stand out from the crowd…
Andrew (YBA cartoonist)