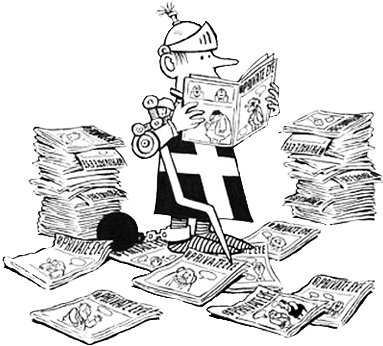 THE EYE AT 50 BLOG
Sunday Times and Eye book: get a room
Posted by Adam Macqueen, 26th September 2011 | 2 comments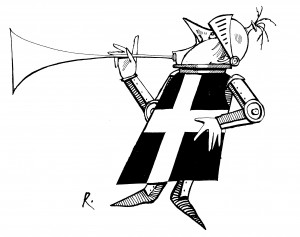 "There was a time in the late 1980s when Private Eye appeared to be heading for the same rest home that was caring for Punch. A mischievous newcomer, Viz, had taken the publishing world by storm and was selling around 1m copies. And its comic energy was beginning to make the Eye look a bit middle-aged.
Yet, as the magazine prepares to celebrate its 50th birthday next month, it seems to be thriving. The Eye sells around 206,000 copies every fortnight, a higher circulation than The Independent. And Viz? It manages just under 68,000, not much more than the Shropshire Star. So what is the secret behind the institution described in this enjoyable if slightly self-congratulatory tribute as 'Britain's first, most successful and indeed only fortnightly satirical magazine'?"
Roland White, Sunday Times, 25th September
I've been congratulating myself on this review ever since.
"There's an excellent new book out about the first 50 years of Private Eye, written by Adam Macqueen and published by Private Eye Productions Ltd. Earlier this year, Lord Gnome looked for a joint deal with some mainstream publishing companies, but they all backed out, fearing potential litigation and the cost of insurance cover. How lily-livered."
Richard Brooks, Biteback Column, Sunday Times, 25th September

They ran some extracts from the book in their News Review, too. Those are also behind the paywall – but if you go behind this paywall and wait a couple of days for delivery you can read the whole thing…
Comments
Comment by Andrew Birch

September 26, 2011 @ 7:15 pm
Is Adam Macqueen about to become to the new Lynne Truss, and make a fortune?
Comment by Stephen Buckley

October 13, 2011 @ 9:02 pm
Where are the re-views, as opposed to all the pre-views in the national papers and magazines?