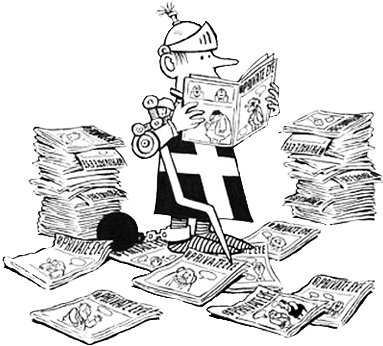 THE EYE AT 50 BLOG
What I have mostly been looking at this weekend
Posted by Adam Macqueen, 19th September 2011 | 1 comment
A very good piece about the 50th anniversary by Matthew Engel in Saturday's FT.
A piece with a very nice picture of the current staff in the Sunday Times (behind a paywall).
And a stonking review of the book by Edwina Currie in the Times.
Oh, and a long-lens shot of the author's crotch – in church – in the Independent. I'll be talking to Richard Ingrams again this coming Saturday at the Soho Literary Festival if you fancy coming along to see us – and it – in person.
Comments
Comment by Stephen Buckley

September 19, 2011 @ 7:23 pm
Note that those of us outside the paywalls and without access to newspaper hard copies can see the FT article easily but not the Times and Sunday Times ones nor their PEFFY reviews.
You could have avoided linking the word "stonking" with "Edwina Currie" – couldn't you?
Soho Lit Fest also includes Mark Lawson, Howard Jacobson, Melvyn Bragg and Gyles Brandreth amongst others – so, thanks but definitely no thanks, even if I could get there.