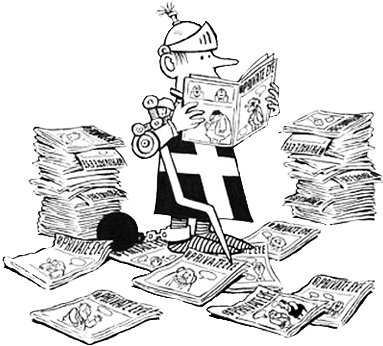 THE EYE AT 50 BLOG
Dirty sell out
Posted by Adam Macqueen, 13th September 2011 | 7 comments
Crikey. It's not even published for another week!



I blame Roy Hattersley.*
In the meantime, you can still pre-order copies (for a penny cheaper!) from Waterstones.
* For those of you allergic to paywalls: the best bit of his article in this morning's Times reads "Private Eye: the First 50 Years, an A-Z — so glossy that it dazzles the eye and packed with coloured pictures, unlike the magazine — is different from the publications that are satirised as littering the 'lounges' of suburbia. The beautifully written commentary, which holds the book together, contains less than complimentary stories about the men and women who made the magazine it celebrates. And the text dares to offend against even the most sacred of taboos. One entry in its alphabetical list of published features is headed: 'Diana — Princess, death of and subsequent lunacy'."
Comments
Comment by Stephen Buckley

September 16, 2011 @ 5:30 am
Trebles all round! (I hope that the early orderers can get their copies before reviewer's copies start appearing on Amazon, Ebay etc.).
Comment by Stephen Buckley

September 17, 2011 @ 6:16 pm
"Just fancy that": my copy arrived this morning.
I have read it in one sitting of around seven hours – and was very surprised indeed to reach the end of the book and to find myself listed in the Acknowledgements following all the distinguished names that us Eyelets have known for so long.
I'm probably too biased to give an objective review or comment thoroughly after only one reading but the format works far better that I thought it would – it answers most of the questions most people could ask (but not all of them…) – and so avoids being "Son Of The Private Eye Story Rides Again, Part Two".
Peter Ward (Designer) and Bridget Tisdall (Illustration compiler) and Butler, Tanner & Dennis (printers) have made the actual PETFFY book the best produced of all the Eye publications over the last five decades. I hope the hardback stands up to the constant use it'll get from readers like me.
A pity Adam M (and/or Ian H) couldn't write some kind of foreword or introduction and for me, as ever, the lack of a full index will be frustrating, as with the magazines (so there's plenty left to do for the next time, whenever that is).
Now let's see what else will be said about the Eye in the next few weeks – and if PETFFY provokes even a lawyer's letter, if not a writ (it would be almost disappointing if it doesn't).
Oh yeah, by the way: Private Eye – Thank you all for the last fifty years.
Comment by Adam Macqueen

September 19, 2011 @ 2:32 pm
"Hopefully, you'll get sued." It's an interesting approach to praise you've got there, Stephen… but thanks, I guess.
Comment by Stephen Buckley

September 19, 2011 @ 7:07 pm
Well I *didn't* say "Hopefully, you'll get sued" did I but merely referred to such an act being *almost* disappointing…er, you haven't been liquid-lunched today by Mr Barfe now he's in London and following my telling him of your fulsome thanks to him in PETFFY's Acknowledgements have you (watch out for broken flowerpots)?
I seem to be the lone voice wondering where the opinions of the people who really *hate* the Eye (not really described in depth in PETFFY) are at the moment – "it's too quiet…I don't like it, Sir". We shall see.
Comment by Stephen Buckley

September 19, 2011 @ 7:56 pm
P.S. I shall send a review of PETFFY to Amazon. I hope they print it as written. The opening sentences may be of use if they can be quoted (I note that Amazon's terms to its reviewers are ones that even Dr Faustus might've had second thoughts about) but then Amazon has done and will do well out of PEFFY in its various impressions from now on.
Comment by Andrew Birch

September 20, 2011 @ 7:44 pm
Are there only three people who write on Adam's blog?
Comment by Adam Macqueen

September 23, 2011 @ 12:15 pm
Yes. And all of them are Johann Hari.