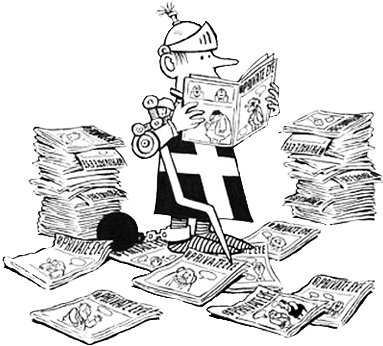 THE EYE AT 50 BLOG
Who guards the Grauniads?
Posted by Adam Macqueen, 12th September 2011 | 5 comments
Nice piece about the anniversary in today's Guardian
And here's an article about the Eye's covers from the Indy two weekends ago to keep you going till the book comes out in seven days time…
Comments
Comment by Lyle

September 12, 2011 @ 1:16 pm
Hooray about the book! Well done, Adam! (Better belated than never – I've not checked this blog in donkeys' years!)
I enjoyed the Grauniad's story today, especially because its mistakes, at least the two I twigged (1. the subhed read that Andrew Neil's vest photo appears "every week". Duh! As the Eye comes out every two weeks, the subhed should read "every issue", and 2. Pressdram Ltd, not Pressdam, publishes the Eye) reminded me that all of us Eye anoraks around the world are in on a joke that so many people, even Grauniad hacks on the media beat, simply do not get – and I pity those poor folks who are missing out on the fun.
So I sent a letter to the Grauniad in hopes they'll run it in their (decidedly drier than Pedantry Corner) corrections section. Wheee! What fun it is to be a pedant.
Comment by Adam Macqueen

September 12, 2011 @ 1:23 pm
A pedant writes: "subhead"
Comment by Kevin

September 15, 2011 @ 6:16 am
Something I have wondered about is, how many overseas subscriptions does the Eye have?
Comment by Andrew Birch

September 15, 2011 @ 1:01 pm
Expats all over the world are dozing on sunbeds with their copies of the Eye over their heads.
Comment by Stephen Buckley

September 16, 2011 @ 12:43 am
Note the number of Comments that follow each PE article in the national press – I look forward to the From The Message Boards Eye50 Special.