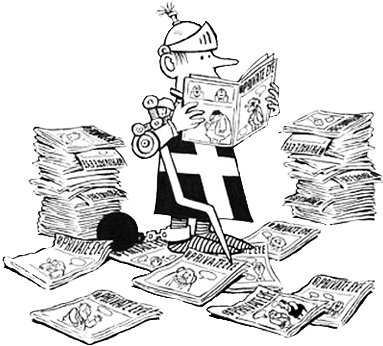 THE EYE AT 50 BLOG
What I believe the young people call the information superhighway
Posted by Adam Macqueen, 28th July 2009 | 4 comments
Aw. Sweet. In the edition of 4 November 1994 – longer ago than you might have expected – beneath the heading "Access for Anoraks," came the announcement:
"The Eye is happy to receive submissions for the letters page via e-mail. Please mark these 'FOR PUBLICATION' and send to strobes@[an email address that doesn't exist any more]"
The letters page in the following issue carried several missives appended "via compuserve" and "via demon.co.uk" where it usually says "London" or "Devon". Most of them from people complaining about being called anoraks.
Nowadays, of course, it's all about "tweets" like this:
schiaparelli: I see Private Eye refers to "Tweets" with heavily ironic inverted commas. This is the TIP of the 'why I cancelled my subscription' iceberg.
3 days ago from web · Reply · View Tweet
mumoss: Why does Private Eye feel the need to put the word 'tweets' in quote marks? It's a legitimate term when talking about Twitter, FFS.
1:08 PM Jul 24th from web
The answer, of course, is "specifically to annoy people like you."
Comments
Comment by Lyle

July 29, 2009 @ 2:43 am
Regarding your reply to mumoss's exasperated query, I am, to use an acronym my younger sisters use, positively ROTFL. Tee-bloody-hee! Take that, Twitter suckers!
We anoraks, by the way, appreciate that the Eye conceded to cyber progress as far as emails are concerned but also by hosting this blog where we can comment. Thanks for keeping us posted on the odd and interesting titbits you encounter while researching for the Eye at 50 book.
Comment by Stephen Buckley

August 1, 2009 @ 11:15 pm
I'm with your somewhat uncouth friend Mr Barfe regarding "Twitterers" and their "Tweets" (yes, the QMs are to STAPLY – if Ts don't like it they can FRO). Noticing the current raging etymological debate, perhaps there is someway we can make "Twat" stick as a collective noun for "the Tw- community".
Meanwhile, as Harry Ball-Uxs has yet to write to Pseudo Names, perhaps Lyle could help find him by dropping in at some public building in her adopted homeland whose announcer has a good American English accent and which is frequented by what she probably calls "Brits" and ask for Mr H B-U to be paged; she's sure to get a response.
Comment by Adam

August 13, 2009 @ 2:40 pm
Are you David Cameron, Spongeblip?
Comment by Tom M

September 4, 2009 @ 8:49 am
Ha ha ha ha ha! The 'Twitterers' can't handle it, this is just too good. I was going to say that Private Eye should go out of its way to offend thin-skinned anoraks, but given the skin of some seems to be so emaciated as to present no barrier at all, that's hardly necessary.
I hope those foolish enough to read this blog, let alone comment on it, are treated with the disdain we richly deserve too!
P.S. 'Tweet' can never be a legitimate term for anything, "mumoss". And while we're at it, "mumoss" is hardly a sensible way of referring to yourself now is it?!