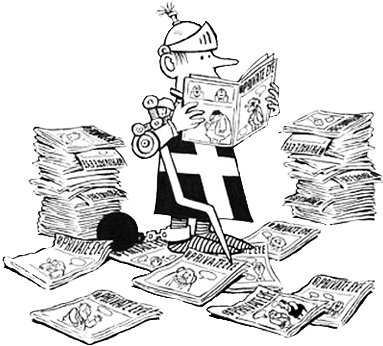 THE EYE AT 50 BLOG
What I believe the young people call the information superhighway
Posted by Adam Macqueen, 28th July 2009 | 4 comments
Aw. Sweet. In the edition of 4 November 1994 – longer ago than you might have expected – beneath the heading "Access for Anoraks," came the announcement:
"The Eye is happy to receive submissions for the letters page via e-mail. Please mark these 'FOR PUBLICATION' and send to strobes@[an email address that doesn't exist any more]"
The letters page in the following issue carried several missives appended "via compuserve" and "via demon.co.uk" where it usually says "London" or "Devon". Most of them from people complaining about being called anoraks.
Nowadays, of course, it's all about "tweets" like this:
schiaparelli: I see Private Eye refers to "Tweets" with heavily ironic inverted commas. This is the TIP of the 'why I cancelled my subscription' iceberg.
3 days ago from web · Reply · View Tweet
mumoss: Why does Private Eye feel the need to put the word 'tweets' in quote marks? It's a legitimate term when talking about Twitter, FFS.
1:08 PM Jul 24th from web
The answer, of course, is "specifically to annoy people like you."
More blog posts here »