Prime Minister's Questions
Prime Minister's 1922 Committee Meeting, Live-streamed on Fakebook, Issue 1561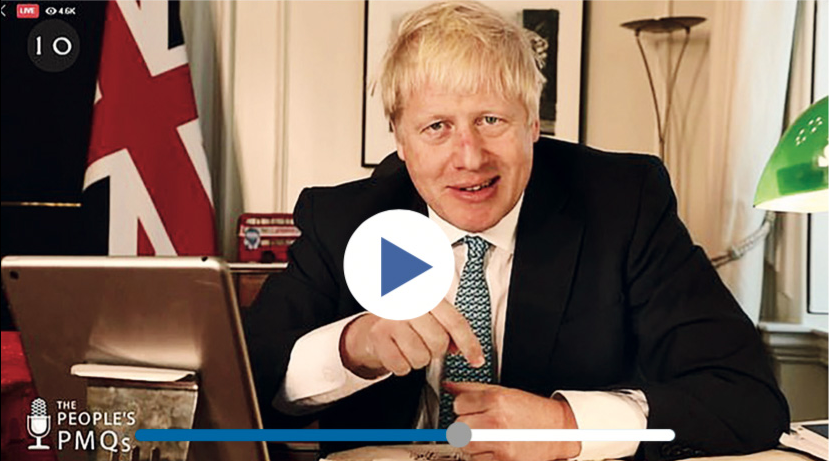 (Prime Minister enters to traditional sound of MPs thumping their fists into each other's faces, as Red Wall and Old Guard assert unity of Party)
Boris: Greetings, friends! And first, look, an admission. I know some of you are pretty angry over this sleaze business and I've got to admit that on a clear road, I crashed the car into a ditch. But, luckily, it was a soft landing because there was already a dead body in the ditch, namely mine, after I promised not to delay Brexit – which I did for a bit, and then didn't. Just like this standards malarkey. I then reversed out of the ditch, did a U-turn and unfortunately ran you all over, apart from those I'd thrown under the bus. So, it was a car crash. But this country has a long and proud history of crashes that took place but didn't really matter in the long run and we all recovered jolly quickly. Charge of the Light Brigade? Bit of a horse crash. Titanic – bit of a ship crash. Er… 1066 – bit of an arrow crash.
(Committee stop fighting briefly and reach unanimous agreement that the Prime Minister has lost the plot)
Boris: Ok, I admit it. My historical metaphor has blown up in my face and exploded Hindenburg-like in a fireball of hot air. So let's ditch the whole "car crash in a ditch" thing.
Red Wall MP: Let's ditch you instead!
Boris: Ah. Right… I can see you're pretty shirty, but I am here to reassure you that this government is back on track. You see, I shifted the metaphor there from road to rail…
Red Wall MP: Not in the bloody North, you haven't.
Boris: Whoops, time for a high-speed cancellation of that metaphor. We regret to announce the infinite delay of the HS2 analogy, in favour of a figure of speech involving a replacement bus…
Red Wall MP: Replacement boss, more like!
Boris: Hang on to your cloth cap, Mr Whippet! I do the jokes round here!
Red Wall MP: You are t' bloody joke, mate!
Boris: Cripes! Let's leave this train of thought – see what I did there? I've still got it! – and transport ourselves, if you will, back to a more comfortable topic, sleaze.
(Cheers from 30 Old Guard MPs hoping to hold on to their massive parliamentary consultancy roles)
Boris: Sorry, chaps. I'm going to have to ban all your second jobs.
Old Guard MP: Booo!
Boris: But not till next year and after lots of discussion and we probably won't do it anyway.
Old Guard MP: Hooray!!