Prime Minister's Questions
Live on Fakebook, Issue 1541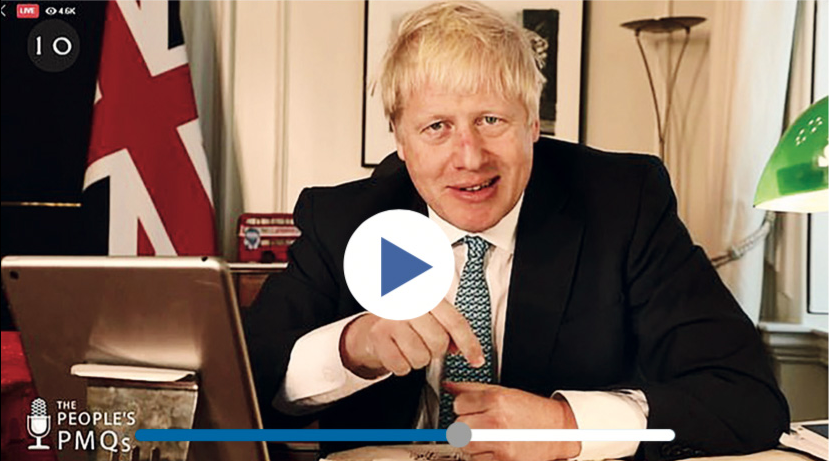 Right folks, Let's get straight on with the business in hand. First question, Laura Koronaberg, from the BBC, aka the Bashing Boris Corporation. Go on, then. Do your worst.
Laura Koronaberg: The question the public want answered, Prime Minister, is 'Can I book my summer holiday?'.
Boris: Good question. And the answer is very simple. Next question.
Prime Minister's Press Secretary (formerly Spokesperson until it became obvious she wasn't allowed to do any speaking): No, you've got to answer that one.
Boris: Well, Allegra, I shall defer to the experts here. The Health Secretary, Matt Hancock…
Hancock: Yes, I've booked up for Cornwall!
Boris: … and the Transport Secretary, Grant Shapps.
Shapps: Are you crazy? It's too early to book for anything! Stay inside. Don't go anywhere. Hands, Face, Space.
Boris: Actually, Grant, we've got a new 3-word slogan that our sloganologists have been working on, which says everything about Government policy. 'Don't Plan Ahead'. Catchy, eh? We certainly don't, so why should you? See what happens, go with the flow, coast along (though not the Cornish coast, as Hancock's going to be there).
Press Secretary: I thought we were going to cut the jokes?
Boris: No, we're keeping Hancock for a while yet. See what I did there? Top impromptu banter, there, not planning ahead, just going with the flow, coasting along…