Prime Minister's Questions
Live on Fakebook, Issue 1552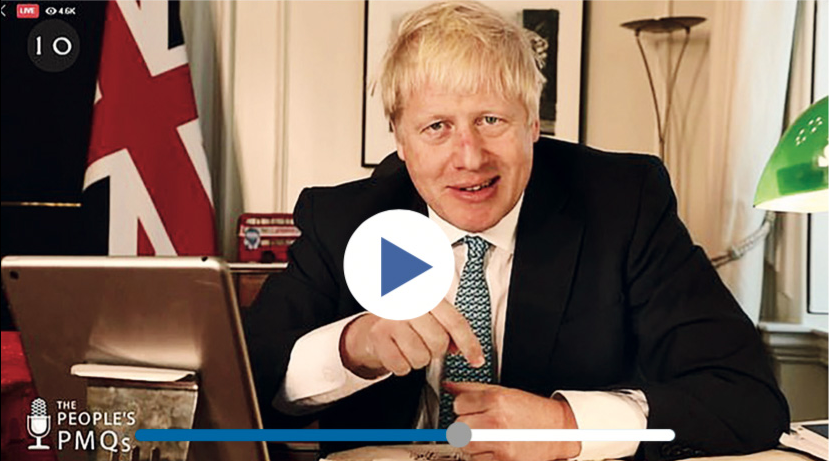 (PRIME MINISTER ENTERS TO RUSSIAN SOUND SYSTEM PLAYING RED ARMY CHOIR SINGING FUNEREAL VERSION OF "I'M FREE" BY THE WHO-ARE-YOUKIDDING?)
Boris: Greetings, folks! Yes, it's the day you've all been waiting for – the day I promised was irreversible. Not a redletter day. Even better, even safer – an amber-letter day! July 19th is "Freedom Day"!
(RED ARMY CHOIR SING "HALLELUJAH", SUDDENLY CUT OFF BY…)
Professor Scareyouwhittyless: We told you not to say the F Word!
Boris: That's what "Freedom Day" is all about. I'm free to say it! And that's just the start.
(PING! PRIME MINISTER IGNORES PHONE)
Boris: Here are some of the other freedoms you can now embrace. But not too closely, obviously. You will be free to stay indoors. Free to work from home, should you want to continue to do so. Free to wear a mask, if you so choose. Free to frown at others not wearing masks, if you think it's appropriate and they're not bigger than you. Free to catch Covid-19. Free to share it around. Free to visit A and E. Free to throw off your face mask and change it for an oxygen mask. Free to blame anyone else for this mess apart from me because from now on it's your own responsibility!
Sir Patrick Unvallanced: Prime Minister, you're also free to change your mind about "Freedom Day".
Professor Scareyouwhittyless: Which we implore you to do.
Boris: No – I've had a careful look at all the key data. All the graphs, and the figures, and one thing is blindingly clear. The Bozzter is in dire need of a boost in the polls. So "Freedom Day" it is.