Briefing from Rojava
After the Caliphate, Issue 1493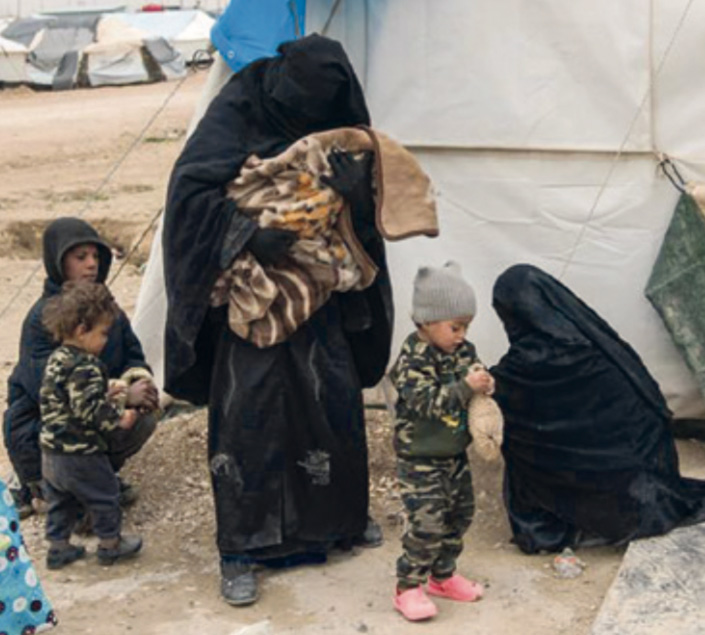 OTHER countries don't recognise Rojava, our impoverished Kurdish pseudo-state in Syria, but they're happy to leave us to deal with Islamic State (IS) members they don't want back, while we feed and clothe them at our own expense.
Since the battle to overthrow the Caliphate in Baghuz, we've become a regular United Nations of jihad – 50 nationalities are here from Americans to Uzbeks. And British – or formerly British. When home secretary Sajid Javad withdrew Shamima Begum's citizenship, he knew she wouldn't be going to Bangladesh, where her parents were born, but would stay in one of our camps.
We've imprisoned 8,000 IS fighters and are keeping in camps about 70,000 women and children. Most are Syrians and Iraqis, but 1,000 of the fighters and 12,000 of the family members are foreign.
Go home to wreak havoc
The women are not grateful that – contrary to what their leaders predicted – we haven't raped them and forced them to discard their black niqabs. In fact, they are the most fanatical and ferocious, regularly throwing rocks at the guards while yelling how much they hate the Kurds, and how they're going to restart the Caliphate. If we free them, the Syrians and Iraqis will settle nearby to indoctrinate the next generation of holy warriors, while the foreigners will either vanish or try to go home to wreak havoc there.
We're grateful for what foreign support we do have. NGOs help in the camps; and we couldn't have ended the Caliphate without US airstrikes: they dropped the bombs while we fought on the ground with guidance from mainly US and UK special forces. We lost 11,000 fighters from the YPG (People's Protection Units) and YPJ (Women's Protection Units) in the five-year battle to defeat IS. Foreign interrogators are now helping us establish which of our "guests" who emerged from Baghuz are the most dangerous.
If an army marches on its stomach, Isis bellies must have been full: 90 percent of the men we've captured say they were cooks, not fighters. The other 10 percent were, ahem, looking after orphans. One woman said her husband was an ice-cream seller – pull the other one, love, we said, it's got cornettos on.
Public Enemy Number One
Most of the foreign men follow a similar script: they're all repentant and just want to go home to resume their old lives as engineers and accountants. None was apparently in favour of enslaving Yazidi women, or beheadings, or terror attacks. Yeah, right.
We suggested an International Court could try them here in Rojava; but we're still officially part of Syria, ruled by Bashar al-Assad, and the Butcher of Damascus will never allow any international form of justice on his territory. And whether we like it or not, we may need his help in the months ahead to counter our other enemy, Turkey.
We maintain the YPG and YPJ are independent, but we don't try too hard to hide that we're an offshoot of the Kurdish Workers' Movement, the PKK, which is fighting for a separate state for Turkish Kurds and is Public Enemy Number One in Turkey. The face of "Uncle" Abdallah Ocalan, the imprisoned PKK leader, is everywhere in Rojava and we follow his teachings as if he were a guru. The Turks have already seized several of our towns, and if we declare full independence, they'll mount a full-scale invasion.
Maybe those foreign jihadi prisoners will come in handy. Under threat of invasion, we might have no choice but to release them, or hand them to Bashar for him to release. Having fought the Caliphate on behalf of the rest of the world, including Europe and the US, perhaps the rest of the world might help us in our struggle against Turkey? We Kurds are always betrayed in the end but perhaps we now have some bargaining chips.
More top stories in the latest issue:
DEFLECTOR LEWIS
Nothing to see here! Tory chairman Brandon Lewis deflects serious questions about the business record and links of party treasurer Ehud Sheleg.
GOVE ISLAND
How wannabe PM Michael Gove found time to attend a secretive shindig with a gang of billionaires, Trump deputies and neo-cons at a luxury US island resort.
JACOB'S BLATHER
Jacob Rees-Mogg challenges the 'truthfulness of some Remainiacs' – but can't grasp why his name is (legitimately) on the petition to revoke Article 50.
BEIJING NOODLES
A highly critical report on Chinese software giant Huawei is awkward reading for the business and government suits who joined the board to buff its image.
EURO TRASH
A European Commission environmental beano sees hundreds of staff and their families spend a day pretending to clean a beach that was already pristine!