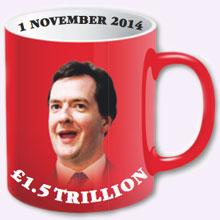 Only In The Magazine
Sheikh fake exposed… The John Lewis Sick Bucket… US midterms: Obama vows to carry on getting nothing done… T-shirt Sweat Shop Scandal: A Nation Reacts… The Record Debt Memorial Mug… First World War Commemoration 'Won't be over by Xmas' promises Cameron… The Six All-Time Greatest Conveniences In Art, as told to Craig Brown

And also...
- The Only Way Is Ethics: Questions remain over t-shirt supply chain audits.
- Supermarket Weep: Slicker on the pitfalls the Serious Fraud Office must avoid in pursuing Tesco.
- PLUS: What You Didn't Miss – A Ted Hughes Bestiary
For all these stories you can buy the magazine or subscribe here and get delivery direct to your home every fortnight.
Next issue on sale: 25th November 2014.