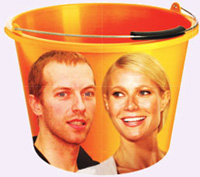 Only In The Magazine
New From Gnome Mart – the Chris & Gwynnie Sick Bucket… Stalin, Hitler, Pol Pot: Nigel Farage's Guide to Great Leaders Around the World… Those Coalition Bingo Calls in Full… Malaysian Aircraft Story Disappears… Crystal Meth User Admits Being Banker… Loch Ness Monster Demands Referendum Vote… New for Pensioners: It's the Lamborghini Mobility Scooter… Tony Benn's Diary, as told to Craig Brown

And also...
- Phoenix flights: Awkward questions for busy defence boss Robin Southwell.
- Moscow-on-Thames: Slicker on the oligarchs who help keep Putin in power.
For all these stories you can buy the magazine or subscribe here and get delivery direct to your home every fortnight.
Next issue on sale: 15th April 2014.