Prime Minister's Questions
Live on Fakebook, Issue 1544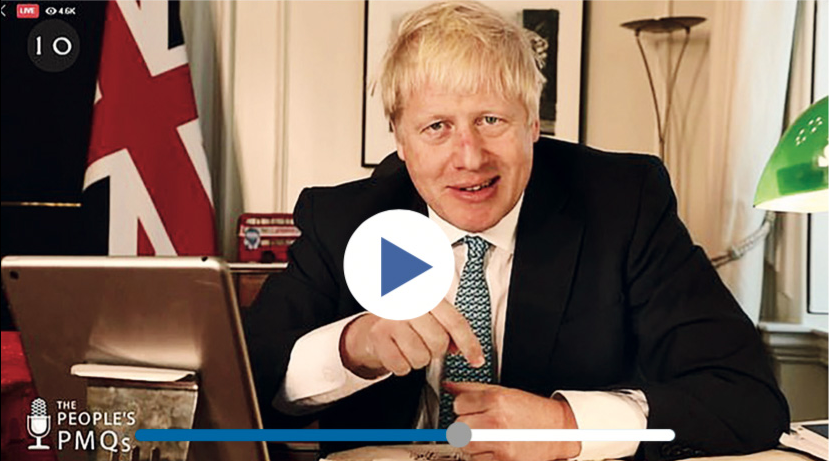 (SOMBRE MUSIC.)
(PRIME MINISTER APPEARS WITH LIGHTED CANDLE IN DESIGNER HOLDER BOUGHT BY PRIME MINISTER'S SPECIAL ADVISOR [SYMONDS, C] FROM 'I SAW YOU COMING' ORGANIC LIGHTING SHOP [£2,600 – CANDLE NOT INCLUDED]).
Boris: Serious face. Hair extra messed up. Looking like elderly version of own father. So, one year on and it's the time for us all to reflect on all those who've we lost. And let's take a minute to think about the departed, particularly Dominic Cummings and more than a minute's silence from him would be very welcome. [Wipes tears from eye, courtesy of onion from 'I Saw You Coming' Organic Grocery Shop (£260 – not including home delivery).] Who'd have thought Dom, of all people, would rewrite history to make himself look good? It's also time to pay tribute to those who have played such a crucial part in our response to the pandemic. I'm thinking of those on the front line, like Matt Hancock, who's selflessly put himself forward on breakfast television, exposing himself to the very real danger of Susannah Reid and I don't think I can say often enough how grateful I am to Matt for taking the blame. And I don't know where I'd be without Dido Harding, but then she doesn't know where I am either. But I can't name everyone, because I'd pretty soon end up naming myself. And with that sombre thought, I now must leave you.
(PRIME MINISTER EXITS INTO SIDE ROOM FOR MEETING WITH 1822 COMMITTEE OF CONSERVATIVE BACKBENCHERS. MARIACHI-STYLE MEXICAN FIESTA MUSIC PLAYS.)
Boris: What ho, chaps! That's enough of Mr Sombre, now it's Mr Sombrero. [puts on sombrero and shakes maracas] Ole! Well, it's all going incredibly well and this vaccine is going to save us all. In fact it's a vaccine passport to success! For me in the next election. And what's the lesson we learn from the vaccine? Yes, my friends, capitalism works! Greed is good!
(SILENCE)
Boris: Oh, that bit of Bozzbantz didn't get the roars of laughter I was expecting. Cheer up, Gloomsters! And why are you all on your phones? Cripes! Don't leak the greed bit, obviously. We need to contain that quote. We don't want it getting out there. It could be very dangerous and spread like, erm, what's the expression…? Well, it could go viral anyway.