COVERS LIBRARY
Viewing: Mandy Allwood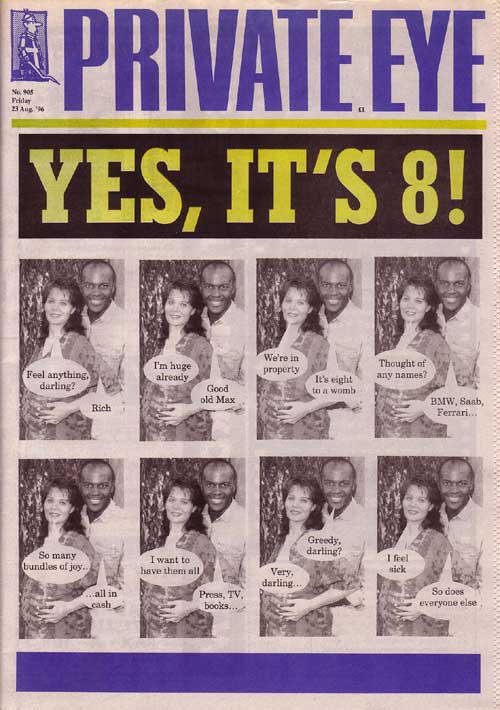 Mandy Allwood
August 1996
Issue 905
This Private Eye covers library has been transferred over from the website Ugandan Discussions. All covers and material are the copyright of Private Eye. Please email repro@private-eye.co.uk in advance for reproduction permission and details of our charges.
MORE FROM PRIVATE EYE
ONLY IN THE MAGAZINE
In This Issue
Cumberbatch Brexit Drama Divides Nation… Trump Shuts Down Brain Indefinitely… Loch Ness Monster 'Throws Doubt on Gatwick Drone'… Labour Urges Voters to Reject Empty Tory Pledges on Brexit and Embrace Far Left Fantasies Instead… Desperate Britons Cross English Channel Seeking Better Life in France… Man Who Talks Nonsense Accuses PM of Talking Nonsense – Daily Borisgraph Exclusive… Melanie Phillips's Diary, as told to Craig Brown
Greed is god
Slicker's Gnome Business Awards for 2018
Magic Circle
Allen & Overy cloud has a silver lining
Surveillance state
Dr Grim on Big Brother Xi
Read these stories and much more - only in the magazine. Subscribe here to get delivery direct to your home and never miss an issue!
ONLY £2.00
SUBSCRIBE HERE
NEXT ISSUE ON SALE
19th February 2019
WHY SUBSCRIBE?