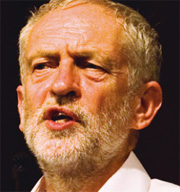 Only In The Magazine
10 Reasons Why Voting for Corbyn Will Lead to Civil War: Daily Mailograph Exclusive… It's Brillo! The 'Wedding of the Century' Memorial Plate… Labour Demand Re-Run of General Election… Those Calais Songs of Praise Hymns They Didn't Use… Santa Claus Handouts Probed by Accountants… A Level Gender Gap Widens as No Boy is Photographed Jumping for Joy

And also...
- Batman & Yentob: How neither got their stories straight in the Kids Company closure
- May day! Polls on why Labour lost the election still don't tell the whole story
- PLUS: Fleeing Eritrea; a government gamble on super-fast gaming machines; and why the Corbyn tax figures don't add up.
For all these stories you can buy the magazine or subscribe here and get delivery direct to your home every fortnight.
Next issue on sale: 1st September 2015.