Prime Minister's Questions
Live on Fakebook, Issue 1554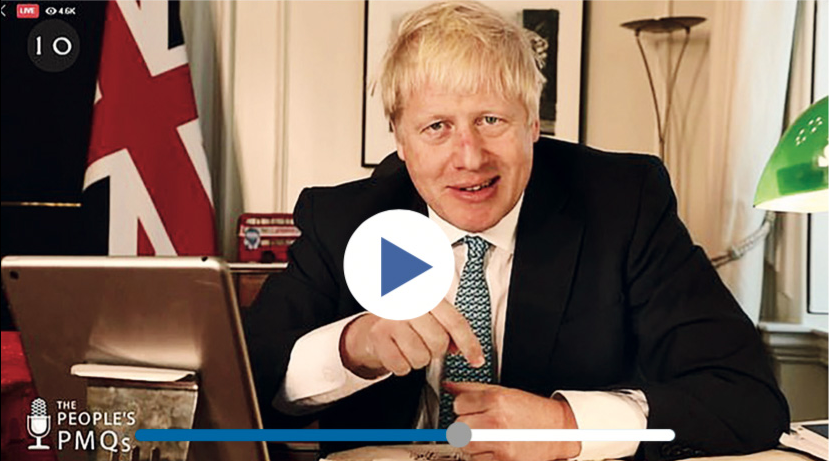 (PRIME MINISTER ENTERS TO RUSSIAN SOUND SYSTEM PLAYING RED ARMY CHOIR SINGING 'IF I WERE A RISHI MAN')
Rishi Sunak (for it is he): Hi everyone, can I just say that Britain's bouncing back, GDP's up, travel restrictions lifted, all the fiscal measures seem to be working, due to my steadying hand, and as for paying the furlough, all you guys saying "Thanks, Rishi!", it's a pleasure, all part of the job, until I get the big one, obviously.
Boris: Oi, Sunak! What the hell are you doing? The only 'big job' you're getting is at the Department of Health, which is a shit one. Geddit? I've had it with you! It's time to Kick Out to Help Out! You're finished! I'm in charge here!
First Lady: No you're not.
Boris: Dammit! I'm sick of being told what to do!
First Baby: Calm down! No need to have a tantrum and throw your toys out of the pram.
Boris: I AM NOT HAVING A TANTRUM!!!!
First Baby: Do you need a nap? It could be trapped wind.
Boris: Right, that does it! I'm going fucking tonto!!!
First Lady: Who's Tonto? And where does she work? I.T.?
Rishi: I don't think that's an appropriate cultural reference, Prime Minister, particularly as Tonto is what you would call an Indian.
Boris: Are you threatening me?
Rishi: Of course I am. Next slide please.
(SLIDE ON OVERHEAD PROJECTOR SHOWS GRAPH DEMONSTRATING ENORMOUS SPIKE IN RISHI'S POPULARITY.)
Rishi: According to Sage, if it carries on like this, I'll be Prime Minister by tomorrow afternoon.
Boris: Right, I'm on the warpath now! Time for a reshuffle. Starting at the very top.
First Lady: Don't look at me, I'm not going anywhere. And you can promote my friend Zak while you're about it. He's great, Zak. Not to mention green. And cute.
Boris: Look, if you think I'm going to promote your Ex, then you're… absolutely right. As for you, Tonto, er, I mean Rishi…
Rishi: Actually, I'm more like the Loan Arranger. See, I can do jokes too. Next slide please.
(SLIDE SHOWS GRAPH DEMONSTRATING HUGE SECOND WAVE OF RISHI POPULARITY TAKING OVER THE COUNTRY)
Boris: That's it, Rishi, I'm going to move you to…
(PRIME MINISTER'S PHONE PINGS. 100 NEW THREATENING MESSAGES ON WHATSAPP FROM RED WALL TORY MPS)
Boris: … to Chancellor of the Exchequer! Ha! See how you like that. Put that in your peace-pipe, Tonto, and smoke it! That'll show anyone looking for my scalp!
Rishi: Sorry, Boris, I've got to go. The country won't run itself.
(PRIME MINISTER IN WAITING EXITS TO SOUND OF RED WALL ARMY CHOIR SINGING TRADITIONAL NORTHERN FISHING SONG 'WE'VE GOT A LITTLE RISHI AND HE'S VERY DISHY, NOW HIS BOAT'S COME IN') …