Trash talk
Government secrecy , Issue 1522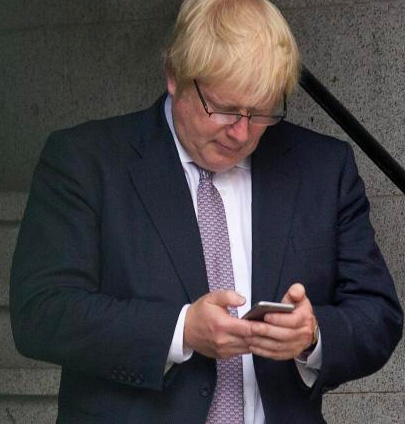 ENCRYPTED messaging app Signal is increasingly popular in Westminster. Many Tory MPs joined the network after the general election, apparently attracted by the larger group size it allows compared to WhatsApp, which is handy for a party with a big majority.
Another feature of the app, which is endorsed by none other than Edward Snowden, has attracted Boris Johnson as well as senior government officials: messages can be set to automatically self-destruct from recipients' devices any time from five seconds to a week after being read.
The encrypted nature of the system means that once messages are gone they're, er, gone, and not even a judge's order can have them retrieved. And the benefits aren't limited to making leaks more difficult. The automatic deletion suggests a perilous lack of records on key decision-making processes at a time when many in government are working remotely.
No record exists
In the short term, freedom of information requests for data can be met with the response that no such records are held as they've already been deleted. Manual deletion after a request has been made is an offence under the Freedom of Information Act (FOIA), but if the records have already been deleted, or indeed are automatically deleted after the request is made, no crime is committed.
In the longer term, public inquiries into important matters of national interest – and not just how pandemic policy decisions were made on the hoof by the current administration – may be stymied by the fact that no record exists. For example, future historians heading to the National Archives to see how the 2020 pandemic was handled, expecting a wealth of civil servant-penned minutes, may be presented with an empty box marked "Signal".
Signal isn't the first digital platform to be used by the government with an automatic deletion policy. Starting in late 2004, before the FOIA came into force in early 2005, Downing Street implemented an automatic 90-day deletion of emails aside from those specifically selected by civil servants as relevant for storage in the National Archives.
Caught out
Leaving it to ministers and spads to choose deletion periods may be problematic. Under the code of practice for the FOIA, public authorities should ensure that records "remain usable for as long as they are required" and consider "the need to refer to authoritative information about past actions and decisions for current business purposes. For example, problems such as outbreaks of foot and mouth disease… The need to explain, and if necessary justify, past actions in the event of an audit, public inquiry or other investigation."
Given that the Johnson government has already been caught out by well-kept physical records, let alone electronic ones, after the publication of No 10 memos in which Boris referred to Cameron as "a girly swot" and revealed prorogation had been planned weeks in advance, Whitehall's definition of "as long as they are required" may differ from those hoping to scrutinise government policy-making.
PS: Regarding political leaks, Signal's own guidance states: "Disappearing messages are [...] a collaborative feature for conversations where all participants want to automate minimalist data hygiene, not for situations where your contact is your adversary." So that's all right, then.
More top stories in the latest issue:
PANDEMIC UPDATE
Risk in the time of Corona – a full round-up from the Eye's medical correspondent, MD.
RISHI LIST
The Sunday Times Rich List highlights special tax treatment for the wealthiest, but will Rishi Sunak really ensure that 'we must all pay in equally in future'?
HARDING IMMUNITY
Why the appointment of political insider Baroness (Dido) Harding as chair the government's Covid test and trace programme is less than reassuring.
FIGHT GROUNDED
With the aviation industry in meltdown, the prospects for Heathrow bosses' ongoing legal fight in favour of a third runway don't look good.
COVERING TRACKS
The Department for Transport's cover-up of HS2's crazy cost spiral is just the latest episode in a project built on falsehoods.
FLIGHT OF FANCY
The repatriation of Brits stranded abroad has been an utter shambles – yet Whitehall still gives Dominic Raab's Foreign Office a gold star.
TIKTOK SCHLOCK
Along with all those complicated dance routines, the world's most popular app with the under-20s has become a vector for Covid-related conspiracy theories.
CARE-LESS…
Having funnelled squillions offshore, HC-One, Britain's largest care home group, now goes cap-in-hand to its local authority paymasters.
CASH TEST DUMMIES
Given its failings on data and habit of sucking up to foreign regimes, Deloitte's central role in the Covid testing programme should sound alarm bells.
FRIENDS REUNITED
Rather than ramp up the NHS's own capacity, Matt Hancock rewards old chums of the Tory party with contracts to run drive-through CV-19 testing sites.
SUNK WITHOUT TRACERS
The government's 15,000 unqualified Covid contact tracers, supplied by call centres, will be medically "supervised" by, er, script. So that's all right, then.
NO BREATHING ROOM
Muscular dystrophy patients say they are being denied filters for the home ventilators that keep them alive because they are needed for Covid-19 patients.
COMPUTER SAYS NO…
Small businesses applying for government-backed Bounce Back loans via HSBC have been stymied by an idiotic glitch in the bank's software.
CONSTRUCTION NEWS
Many building workers were busy during lockdown, leading to arguments over infection control and daft "15-minute" close contact guidance, now rescinded.