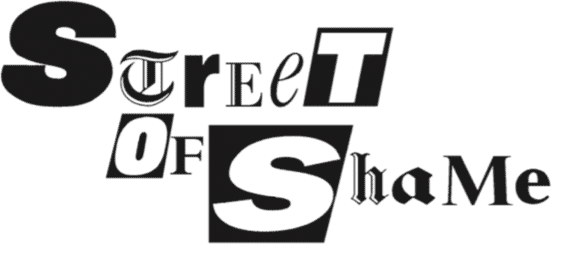 A pregnant pause…
The Sussexes and the press , Issue 1541
NO decision yet on whether Associated Newspapers will challenge last week's victory for the Duchess of Sussex over the Mail on Sunday.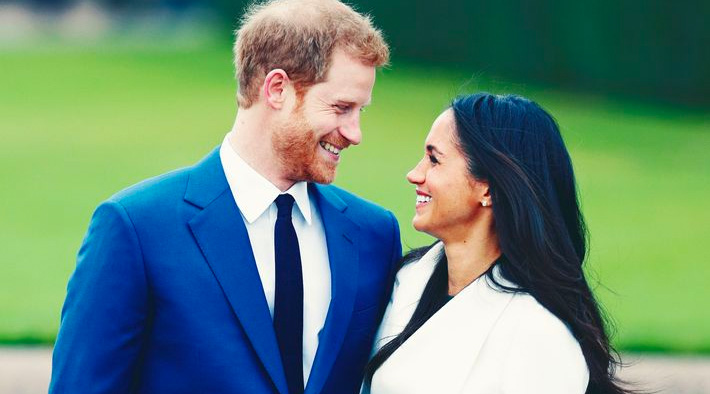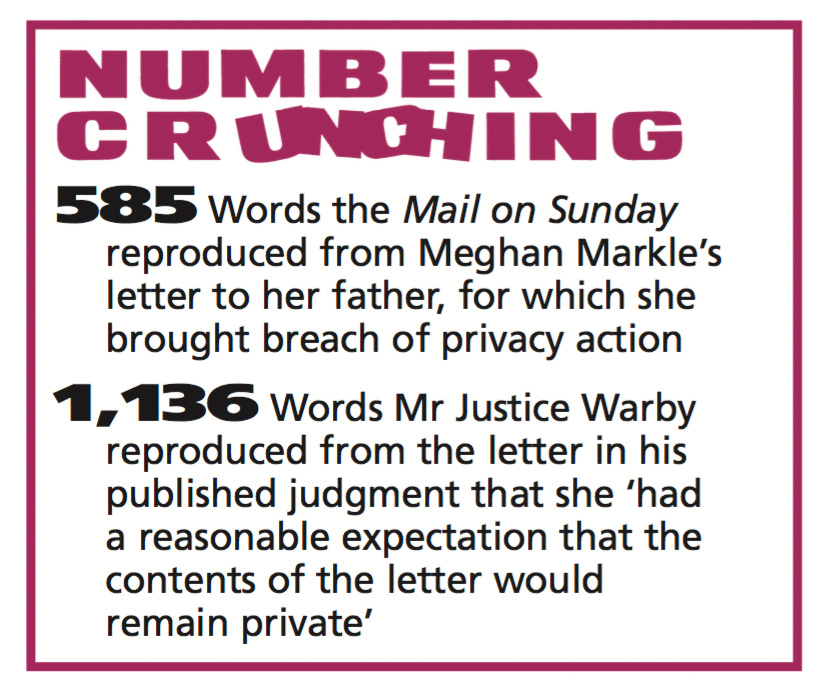 Lawyers believe there are strong grounds for appeal against Mr Justice Warby's summary judgment, which forestalled a proper trial and saved her having to testify on oath about how and why she came to write the notorious letter to her dad. Legal issues aren't the Mail's only considerations: even the announcement of her pregnancy last weekend might tilt the argument against resuming hostilities.
One thing is clear, however. The other big winner last week was Daily Mail editor Geordie Greig, who didn't share the enthusiasm of other editorial execs – Sunday editor Ted Verity, editor emeritus Peter Wright, online editor Martin Clarke – for confronting Meghan in court. The outcome may now strengthen the hand of beancounters at Associated Newspapers who want the daily and Sunday titles to be merged, with Geordie in supreme command.
Prince's ransom
DESPITE last week's legal defeat, there is at least a small silver lining for the Mail on Sunday in its separate battle with Meghan's husband – even though it concluded with the paper agreeing to apologise and pay libel damages for suggesting Harry had snubbed the Royal Marines. Thanks to over-reach by his sabre-toothed lawyers, Schillings, the victorious prince has ended up having to write a cheque to the Mail on Sunday.
As part of the libel settlement, Harry insisted on his right to a hearing, on 1 February, at which Jenny Afia of Schillings would deliver a statement in open court on his behalf. But alas! Mr Justice Nicklin made Jenny and Harry rewrite the statement, deleting its "unduly tendentious" comments on the Mail on Sunday.
"As reports of statements in open court are protected by privilege, the court will not permit them to be misused," he warned Afia. "A claimant cannot seek to use a statement in open court as a platform for collateral attacks on the defendant."
He was equally scornful of Schillings' claim that its costs for the statement were almost £35,000. "Manifestly disproportionate," snorted Nicklin. "No litigant of ordinary means would reasonably consider spending such a sum on this exercise." He said the Mail on Sunday, which had to cover the duke's "reasonable costs", need pay only £2,500 – leaving Harry himself to stump up more than £30,000 if Schillings has the nerve to stick to its assessment. More embarrassingly, Harry was also ordered to pay the Mail on Sunday's bills for the dispute about costs.
This isn't the first judicial wigging for Afia during the various Sussex-related litigations. Last October, at a preliminary hearing of the duchess's action against the MoS, Mr Justice Warby rebuked her for complaining that a previous judge in the case hadn't allowed her enough time for argument. "That is untenable," Warby declared sternly. "The assertion in the evidence of Miss Afia, that the pleas of the claimant's lawyers for a full day 'fell on deaf ears', is manifestly unfounded and that sentence should not have been written."
More top stories in the latest issue:
CRANK HYPOCRISY
The Daily Mail slams Operation Midland police and the treatment of Leon Brittan and his family – but not a word on its own lurid role in the affair.
AFFAIR COP-OUT
Daily Telegraph finally runs a grudging correction for its claims the late Rosalind Runcie had an "inappropriate" relationship while her husband was Archbishop of Canterbury.
WHITTY-SUN BREAK
The Sun slams a "TikTok Covidiot" for calling chief medical officer Chris Whitty "a liar" – but had the idiot in question perhaps been reading the Sun?
MEMORY LAPSE?
In the Spectator, Charles Moore laments China's infiltration of academia but ignores the uncritical adulation of Beijing in the Telegraph, which he once edited and where he is still a columnist.
FRIENDS LIKE THESE
The New Statesman condemns Kazakhstan's human rights crackdown – having only recently hosted a "global investment forum" to promote the country!
SPECTATOR SPURT
Andrew Neil resorts to a deft use of graphics to suggest the Spectator magazine is soaring ahead of its rivals. It isn't.
STRIKING BACK
Shrewsbury 24 survivors have their day in the appeal court, 47 years after they were convicted of picketing offences – and 44 years after the Eye's Paul Foot exposed "a vile conspiracy" to convict the men as a lesson to other strikers.
PICKLED UNION
How Rupert Murdoch, scourge of the Fleet Street print unions; created one of Britain's, er, best paid "union" barons at News UK's so-called "News Union".
QUEEN GAMBIT
Guardian "exclusive" exposing "an arcane parliamentary process known as Queen's consent" resurrected non-exclusives it first ran in 2011 and 2013.