Alok Sharma's Green tease
COP26, Issue 1560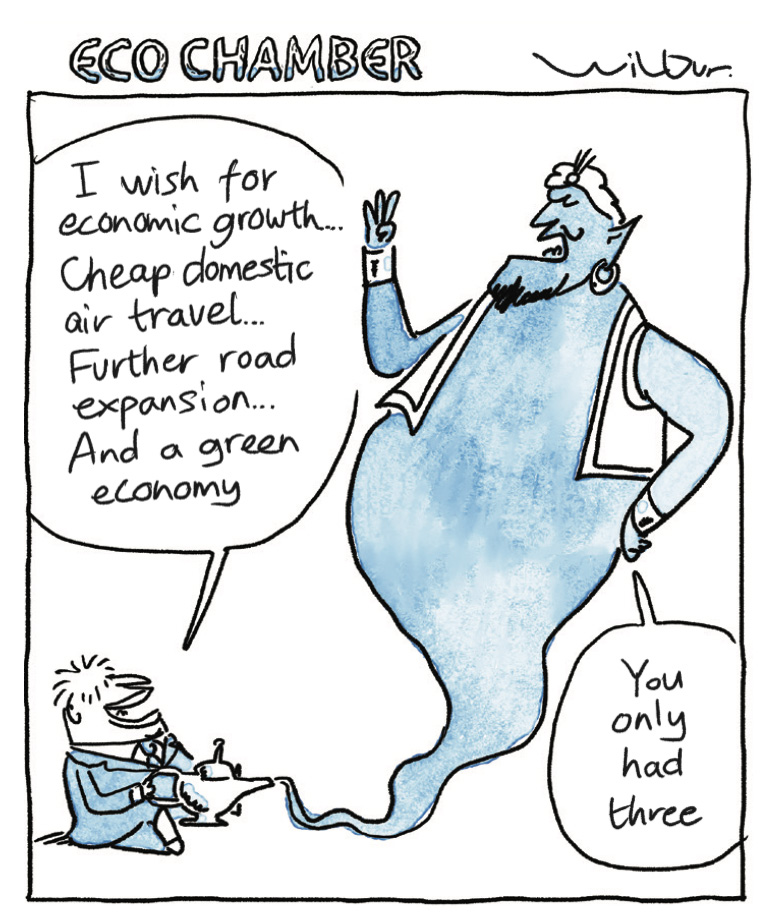 "WITH less than a decade to keep 1.5 alive," COP26 president Alok Sharma told an environmental conference a few months ago, "there is simply no room for greenwashing." Yet when it came to one of his main commercial sponsors for the Glasgow shindig, the former business secretary wasn't above a spot of environmental reputation burnishing.
"I am delighted that our principal partner, Sainsbury's, will be going net zero by 2035," he enthused in the supermarket's press release about its own plans. "This is a great example of the climate leadership we need across all sectors as we work together to keep 1.5 degrees within reach."
Alas, Sainsbury's will be nowhere near net zero by 2035. Its commitment relates merely to its so-called scope 1 and 2 emissions, broadly covering its direct CO2 output from fuel and electricity usage. The big green issue, especially for supermarkets, is their "scope 3" emissions, which are those from their supply chains and other indirect sources. These account for more than 95 percent of Sainsbury's emissions, against which the company's "own" scope 1 and 2 emissions are pretty negligible.
The plan to reduce the vast scope 3 emissions is a less ambitious 30 percent cut by 2030 and hitting net zero by 2050 – some way from Sharma's bright green endorsement of his corporate conference partner.

Smart arses
THERE was uproar in Glasgow after Eye 1558 revealed that COP26 delegates would receive smart cards allowing seamless – and free – travel on buses, trains and the Subway, since the Scottish transport authorities have spent years refusing to provide fully integrated ticketing for Joe and Joanna Public.
"The fact that the Scottish government and the UK government have pulled this out the bag – so delegates get the impression we're a normal civilised city – shows what's possible with political will and adequate funding," said Ellie Harrison of the Get Glasgow Moving campaign.
But the tone-deaf Strathclyde Partnership for Transport chose last week to withdraw the Daytripper ticket – a family travelcard – from sale, saying it was "outdated and does not work on rail ticket gates, Subway ticket gates, or bus ticket machines". Never mind that an integrated ticket using all this technology was being rolled out to get COP26 delegates to Glasgow's Scottish Event Campus (SEC) at the same moment.
But not everyone attending the COP26 secure zone got the free card. Glasgow MSP Paul Sweeney heard from a COP26 cleaner who said venue staff – outsourced, of course – were having to fork out for their own travel.
"I'm doing agency work cleaning the toilets of world leaders but I still have to pay my own train fares," the worker said. Sweeney told the Eye that while COP26 should have brought people together, "so far it's just highlighted the grotesque differences and inequalities".

North Sea toil
NICOLA STURGEON warned a COP26 fringe meeting last week that it would be "catastrophic for the planet" to carry on "drilling for oil and gas". Yet she still won't say if her government is opposed in principle to plans for new oil and gas extraction from the Cambo field near Shetland.
It's an uncomfortable political dilemma, given that more than 100,000 Scottish jobs depend on oil and gas. "It's Scotland's oil" has long been one of the SNP's most resonant slogans, a message that was crucial to the economic case for independence in the 2014 referendum campaign.
Three years later, in a speech to the 2017 Oil and Gas UK conference, Sturgeon declared: "The North Sea will continue to produce oil for decades to come. It still contains up to 20 billion barrels of recoverable reserves. Our primary aim – and I want to underline and emphasise this – our primary aim is to maximise economic recovery of those reserves."
Sturgeon's position could be all the more awkward now the SNP is sharing power with the Greens. However, despite their belief that the oilfield proposal is "absolutely incompatible" with tackling the climate emergency, her new partners are loyally refusing to put any pressure on the first minister to come out against Cambo. "It's not a devolved matter," Green minister Lorna Slater said last month, by way of explanation. "We don't have time to sit in the Scottish government and talk about matters that we don't have the powers to make decisions about."
More top stories in the latest issue:
PERKS OF THE JOB
Boris Johnson's latest foreign villa holiday – and what the former hack once had to say about Tony Blair's "utterly shameless approach to foreign holidays".
CASH TEST DUMMY
Three UN agencies find an innovative way for rich nations to help poorer ones collect vital climate data – but the UK has so far pledged, er, nothing.
TEST THE EVIDENCE
Deloitte wins the contract to help the Health Department assemble the data it will present to next year's public inquiry. Nothing to worry about there…
SAFETY CATCH
Security and safeguarding software on 1.3m laptops given to children to study remotely is about to expire, landing schools with a huge task to reset them.