OneWeb of Deceit
Satellites, Issue 1579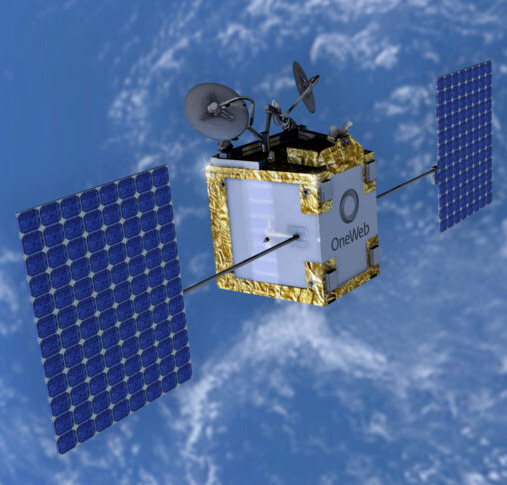 SO MUCH for what Boris Johnson and his business secretary at the time Alok Sharma billed, post-Brexit, as Britain's "first UK sovereign space capability", as their £400m investment in bankrupt satellite company OneWeb heads over the channel.
First mooted as post-Brexit compensation for the loss of a place in the EU's Galileo global positioning programme, ambitions for OneWeb, of which the government acquired 50 percent alongside India's Bharti Global group in November 2020, were soon rowed back to providing remote broadband access.
Dependence on Russian Soyuz rockets
Sovereignty quickly also became more remote as ownership was diluted by investment from Saudi-backing Softbank, French satellite operator Eutelsat and others. And as the Eye warned, dependence on Russian Soyuz rockets to launch OneWeb's satellites into low earth orbit from bases controlled in Moscow was hardly taking back control. OneWeb's plans duly hit the buffers when the Ukraine invasion put a stop to these launches.
Now sovereignty has been surrendered even more ignominiously as minority investor Eutelsat takes over OneWeb. While the deal, due to go through early next year, is presented as a "merger", in fact the company (whose name slightly embarrassingly begins "EU" and is 20 percent-owned by the French state) will buy OneWeb, with British taxpayers getting shares in the French company in return. In other words, the French will own around twice as much of OneWeb as the UK does (though the latter will retain a "special share").
Refused to sign off the initial OneWeb investment
It's not looking a great financial deal for UK taxpayers either. The UK government's proposed 11 percent stake in Eutelsat would be worth around £175m at current prices, after the company's stock plummeted on a French market that was distinctly unimpressed by the acquisition. The potential £200m-plus loss certainly bears out the concerns of business department civil servants who refused to sign off the initial OneWeb investment two years ago because it was unlikely to give value for money, necessitating a formal ministerial "direction" in order to go ahead.
The sale to Eutelsat will formally have to pass tests in the new National Security and Investment Act, though this is controlled by the very department, currently under business secretary Kwasi Kwarteng, that has already agreed to the takeover. If real scrutiny were applied, there would be some awkward questions about other parts of Eutelsat's existing business of beaming TV images around the world.
Information gathered by Paris-based Reporters Without Borders (RSF) shows the company to be transmitting channels including Russia's Rossiya 1, Perviya 1 and NTV, which RSF describes as "the spearheads of the Russian war propaganda machine", reaching up to 30 percent of that country's population. Perhaps not an operation to which the British government should be selling out its supposedly sovereign satellite capability.
More top stories in the latest issue:
MONEY AND CLYDE
Since 2015, City law firm Clyde & Co has been advising clients embroiled in one of the largest kleptocracy schemes ever exposed.
HALFWAY HOUSE
The government's "register of beneficial ownership" went live at Companies House last week, but it will take a lot more to tackle money laundering.
BET ON THEM!
While the publication of the government's gambling white paper has been delayed for a fourth time, gambling firms are busily schmoozing MPs.
ODDS SQUAD
The Eye has been contacted by a number of people whose betting has been restricted by gambling companies after they enjoyed modest success.
SECOND WAVE
Three football clubs from the original dirty dozen who planned a European Super League have not given up on their big-money dream.
A CLOSED BOOK
The inquest into the Guildford pub bombings scuppered the last real opportunity to lift the veil of secrecy over events surrounding the 1974 IRA atrocity.
BOTCH JOBS
Staff shortages and demands for "efficiency savings" are forcing hospital bosses into some desperate and irrational decisions.
HOURN OF A DILEMMA
After a council rejected salmon farming giant Mowi's request to extend its fish farm at Loch Hourn, the boss of the industry body launched a rant about locals.
LANGUAGE BARRIER
Leeds Beckett University announced the closure of its languages department last month, announcing the move just after staff had begun their summer break.