Prime Minister's Questions
Live on Fakebook, Issue 1559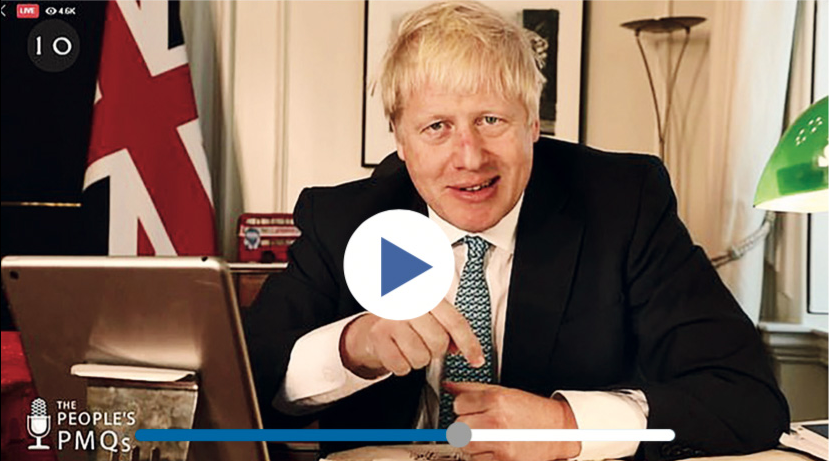 (PRIME MINISTER ENTERS IN SOMBRE BLACK TIE, BUT WITH THE TIE SLIGHTLY ASKEW TO PROVE HE'S STILL A BACK-OF-THE-BUS SCHOOLBOY REBEL AT HEART. OVER-PRICED RUSSIAN SOUND SYSTEM PLAYS SAD MUSIC FROM "FOUR WEDDINGS [HIS] AND A FUNERAL [SOMEONE ELSE'S]")
Boris: This is a very, very sad day. I can't even do my "this is another fine Amess you've got me into" joke, as the SPADs warned me to lay off the gags, even though it would have got a minute's silence. So, enough doom and gloom! Time to talk about my booster programme! You may not get a booster from the NHS, but you will get one from the Bozzster! I'm rolling out optimism like there's no tomorrow – which, to be fair, there might not be. Whoops, a bit negative!
Sajid Javid: Unlike most people's tests at the moment!
Boris: Oh, who's this gloomster?
Javid: I'm your new Health Secretary.
Boris: Cripes, yes, I forgot. It's Sajid Covid! With his misery-guts message of misjudged mandatory maskery. Altogether awesome alliteration there – I've still got it!
Javid: What? Covid? Everyone else has.
Boris: Boo! Bring back Matt Halfcock!
Javid: You tried, but the UN rumbled you.
Boris: Enough, enough, enough! Back to the boosterism. Britain's back, as I told no less a world figure than Bill Gates. Britannia is booming! Ed Sheeran's in the charts! Adele's new album isn't as thin as she is! Peppa Pig is ready and waiting to be slaughtered! Coldplay haven't got a cold, it's just man flu! It's all going brilliantly and the latest figures show that Britain is world-beating once again!
Javid: That's in deaths from Covid.
Boris: Oh, take a chill pill, the Sad!
Javid: There aren't any. There's a supply problem with chill pills, they're all in containers in Felixstowe, and even if there were some, your GP can't prescribe them as they're too busy with the new pandemic surge.
Boris: Blimey. I never thought I'd say this, but I'd rather hear from Profs Whitty and Vallance to lighten the mood!
First Lady: Get on with the green agenda. I put it on the top of your to-do list.
Boris (takes out piece of paper and reads): "Walk dog. Buy formula milk. Put nappies in brown bin. Invite Nimco Ali to come for Christmas. Solve global warming." Ah yes! There it is. And I have! Got Global Warming Done. OK, it's four words this time, but it's still one hell of a slogan – and it's partly recycled! What's not to like? And here's how we've done it. We're going to get rid of the old boilers and swap them for a new younger, greener model – like I've done! Whoops…