Prime Minister's Questions
Live on Fakebook, Issue 1556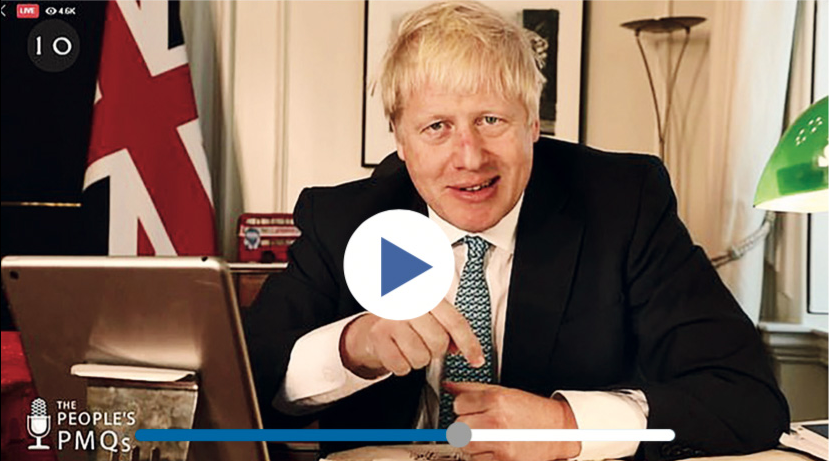 (PRIME MINISTER ENTERS TO RUSSIAN SOUND SYSTEM PLAYING RED ARMY CHOIR SINGING "WHO WANTS TO TAX A MILLIONAIRE? I DON'T")
Boris: So, good news, folks. Now I've sorted Afghanistan and Covid again with a set of announcements to see us through till the next set of announcements, I'm going to deal with Social Care. Remember I promised I had an oven-ready plan back in 2019, well, it's time to give it a whirl. Yes, that pinging sound is not me having to self-isolate again but is, for a change, a microwave, announcing a half-baked care package that I really should have put in the oven, not the microwave, details, details… Talking of which, here's the Saj and the Rish, to help spell it out.
Saj and Rish (together): Whatever you say... at least until the reshuffle's done.
Boris: But first I'll give you the broad brushstrokes. We're whacking up tax in the shape of National Insurance, or NI, not to be confused with the NI Protocol, which I also need help with when it comes to explaining what on earth it is I've agreed to.
Rishi: It's not a tax, it's a 1.25% levy which will be totally ringfenced for Social Care once we've spent it all on the NHS.
Sajid: And I promise there'll be no more tax in this Parliament. Not that it is a tax.
Boris: Well said, Saj, job safe for another five minutes. The important thing to be clear about is: it's not a tax. And no one's going to lose their home over this. Particularly not me. Not after I've had it all done up. I've taken a lot of care with my home. And I didn't pay a penny!
Rishi: Unfortunately, a few other people might lose their homes, to be honest.
Boris: Why on earth are you being honest?
Rishi: Well, the government will pay the costs of care but not of bed and board, so there may be cases where those whose assets fall within the guidelines have to liquidate those assets…
Boris: You lost me at 'the government'. I thought I promised no one would lose their homes?
Sajid: You also promised not to raise taxes.
Boris: Did I? The important thing, as I see it, is we're going to keep old people alive in their own homes, voting Tory until they have to go into care homes. These are pretty pricey and are run by off-shore hedge fund chums of ours, so it seems only reasonable that at this point the State, in the form of the hard-working, tax-paying, Corbyn-loving youngsters, will step in and pay for the crumblies' care. Pretty clever, eh?
Sajid: Can I say, that's absolutely right, Prime Minister, except for most of it...