Prime Minister's Questions
Live on Fakebook, Issue 1550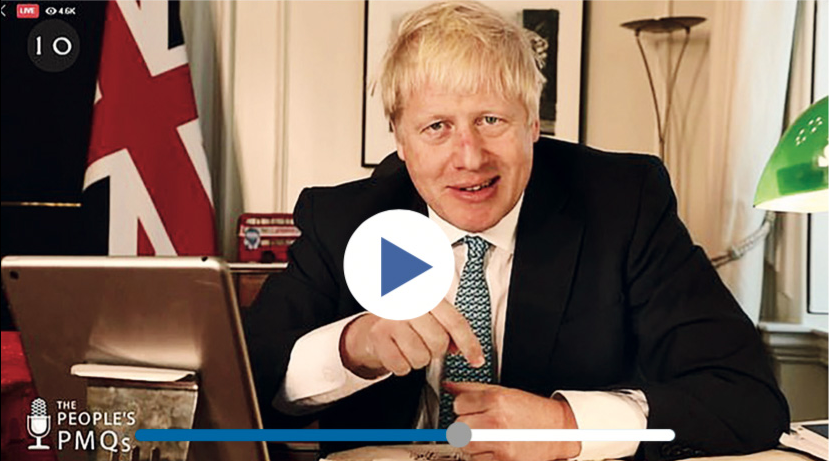 (Prime Minister enters to Russian Sound System blaring "Freedom" by St George Michael, hastily replaced by "Stayin' Alive" by the Heebeegeebees)
Boris: Yes, it's Freedom Day! Or rather, it's Terminus Day! Which means the train's been slightly delayed. And replaced with a bus. So we will reach the terminus eventually, but in the meantime we're going to ease off the accelerator, slow right down, look for somewhere to pull over, realise we're on a smart motorway, panic because there's no hard shoulder, put hazard lights on and prepare for major pile-up!
First Lady: Do you really think a polluting vehicle is a good metaphor for 2021?
Boris: Cripes, yes, quite right. How about a plane instead? Doors to manual, ejector seat, parachutes on , dive dive dive! Or is that a submarine? Great film, Das Boot. Which I'm not giving to Matt Hancock any time soon.
First Lady: You're rambling.
Boris: Yes, rambling, much better. Very green. Cornish coast, baby in the rucksack, on with the good old hiking boot – which I'm still not going to give to Matt Hancock.
First Lady: Do you want me to do this? Now Allegra's been "promoted" out of the picture, I could be the spokesperson. Given that I've come up with most of these policies, I might as well explain them.
Boris: No. Trust me…
First Lady: You've got to be kidding...