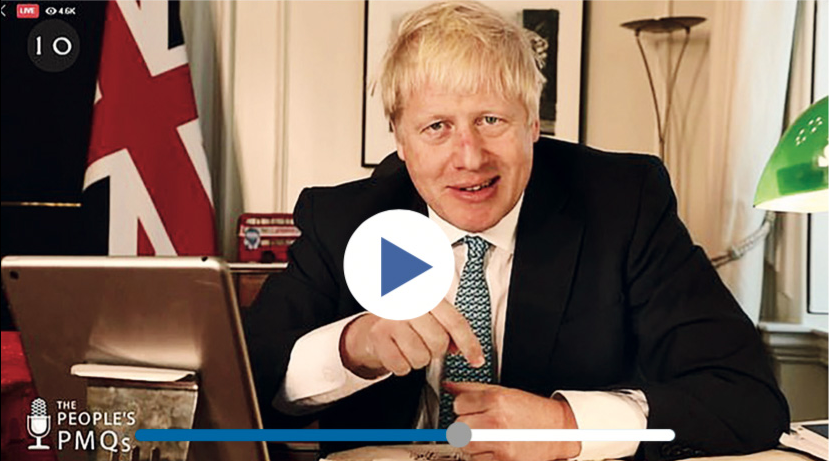 The Very Last People's Prime Minister's People's Teatime Coronavirus Daily Press Briefing…
Live on Fakebook, Issue 1525
(Enter the Prime Minister, in repainted red, white and blue suit [cost £900,000], who proceeds to wing it, as usual)
Johnson: Yes, it's all over folks!
(Scientists start sweating – even more than a heatwave merits)
Johnson: Not the virus, obviously. Just these briefings. They've been a huge success, democracy in action, calling the Government to account, so we're stopping them immediately. And that's one target we're going to hit. From tomorrow the briefing rate is down to Zero. On the BBC at least. From now on you can hear me on Mr Murdoch's excellent Happy Times Radio station. So, looking forward to that! And there's more good news. The other figure that's gone right down is the number of U-turns per day. At the weekend we reported 143 U-turns, though of course the weekend figure is always a bit low…
(Sweaty scientists look as though they would fail temperature test at car park in drive-thru McDonald's)
Johnson: But today's figure is down to three. Yes, folks, it's just 3 U-turns. Including the social distancing "one metre, or is two?" malarkey. From now on, the science tells us that the pubs are open.
(Journalists cheer. Scientists reach for strong drink)
Johnson: Yes, from July 4th and not before, because that would be madness and just throwing caution to the wind, you can pour into the pubs – and that's because of the world-beating app. Not, sadly, our track and trace app. Matt will be explaining what's gone wrong at his end in a moment. But the Wetherspoon's app, which will enable you to track your drinks order and trace your pint and potato wedges from the bar to your socially distanced table, full of yourself and three other bubbled households, not including two grandparents and no one over the age of a hundred, unless they asked "Is this chair free?" and joined you, er… Matt, would you like to take the blame, sorry... take over?