Prime Minister's Questions
Live on Fakebook, Issue 1549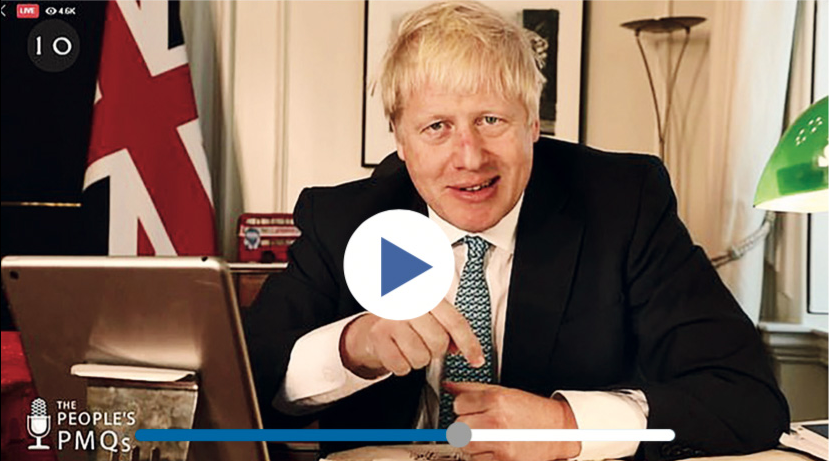 (Prime Minister enters to sound of Red Wall Army choir singing "I'm Getting Married While You're Mourning" from My Fair First Lady)
Boris: And with one bound, our hero was free! Yes folks, despite a spot of local difficulty with a disgruntled ex-employee, the Bozzter simply wheeled out the ultimate dead cat distraction strategy and rolled out a secret wedding for the papers to spaff all over the front pages. And it worked a treat. The successful nuptial roll-out came in on budget and ahead of time – a year ahead of time, actually, due to Carrie throwing a wobbly and saying "You've got to marry me tomorrow" after my old mate Dom was so rude about her just being my "girlfriend", ie top totty but not the real shebang with all the trimmings. Yes, when your back's to the wall and the ship's sinking and the rats have left to give evidence to Select Committees, only the real statesman can pull a rabbit out of the hat. So, I'm sure you've got lots of questions to ask about the service and the reception and the bride's dress and I'm not afraid to answer them. First one from our regular interlocutor, Ms Jo Public. Go, Jo!
Jo Public: Dominic Cummings has accused you of the manslaughter of tens of thousands of innocent people, due to chronic indecision, failure of leadership, dereliction of duty, culpable negligence and criminal incompetence. What do you have to say?
Boris: I'm glad you asked, good question. Carrie's dress came from the eminent Greek designer Costalottos, but obviously we didn't pay full whack, because I was paying. So we borrowed it on the cheap and returned it without any wine stains on it at all, hardly. Next question, from Ivor Question...