Prime Minister's Whatsapp Group Chat
Members Only, Strictly Confidential, Issue 1577

Hello everyone! Thanks for going on telly and sticking up for me and sorry if my people gave you a bit of a bum steer (poor choice of words, given seriousness of Mr BumPincher's bum-pinching LOL!) and left you with egg on face.
Guto Harri
Don't blame me! That's what you told me to tell them to say.
Did I? I have no recollection of that.
Jacob Rees-Mogg
You do have an enormous amount on your plate, PM, and it's no wonder you forget everything anyone ever says to you, particularly if it's an official complaint about a good friend and supporter and only occasional sex-pest.
Friend? Not sure I've ever met him.
Guto Harri
I think you might have.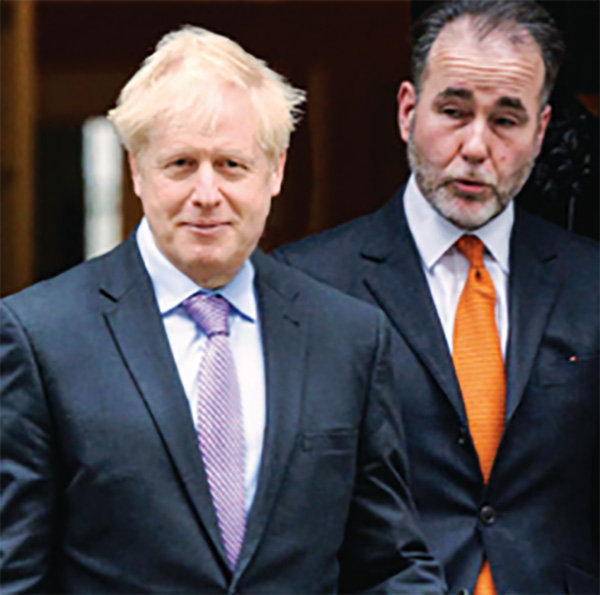 Oopsie! Me and Mr Bum-Pincher. Ouch!
Jacob Rees-Mogg
Anyway, top homosexual assault banter with the aforesaid amusingly named gentleman.
Thanks, Creepie! The main thing is, I think I got away with it.
Guto Harri
And it did take the headlines away from the blowjob.
Mm, I do remember some things. Top job application from Carrie, there. Worth £100k of the taxpayers' money, not that she ever got it.
Carrie Johnson
You promised you'd shut the story down and now it's trending on Twitter.
I don't remember that promise.
Jacob Rees-Mogg
The Prime Minister does have an awful lot on his plate, Mrs Johnson, so it's entirely reasonable that he should have totally forgotten any pledge he may have made to you, regarding the news management of this rather tawdry tale of oral gratification.
Carrie Johnson
I'm not swallowing that.
I think that's rather poor taste, actually Carrie.
Jacob Rees-Mogg
Very funny fellationic joke, sire.
The important thing is that we're moving forward, leaving these trivial issues behind us and concentrating on getting the job done that we were elected to do. Starting with 40 new hospitals, fully staffed with 100,000 policemen. Isn't that right, the Saj?
Sajid Javid
I resign.
Sajid Javid has left the group.
Cripes, why's he done that? Who'd have thought it? He's only resigned from my Cabinet once before.
Guto Harri
He's written you a letter, Prime Minister, saying you're a liar who has no integrity.
And his point is?
Jacob Rees-Mogg
Mr Javid is eminently replaceable. Health Secretaries come and go.
Matt Hancock certainly did!
Jacob Rees-Mogg
Very droll, stationery-cupboardadultery-related quippery of the highest order.
The key thing is, I'm getting on with the important job of delivering on the Cost of Living crisis, which is why Rishi and I are going to make a joint speech on the economy.
Rishi Sunak
I resign.
Rishi Sunak has left the group
Double cripes!