Prime Minister's Christmas Message
...as streamed live on Fakebook but not from the now-tainted, embarrassing, state-of-the-art communications suite, Issue 1563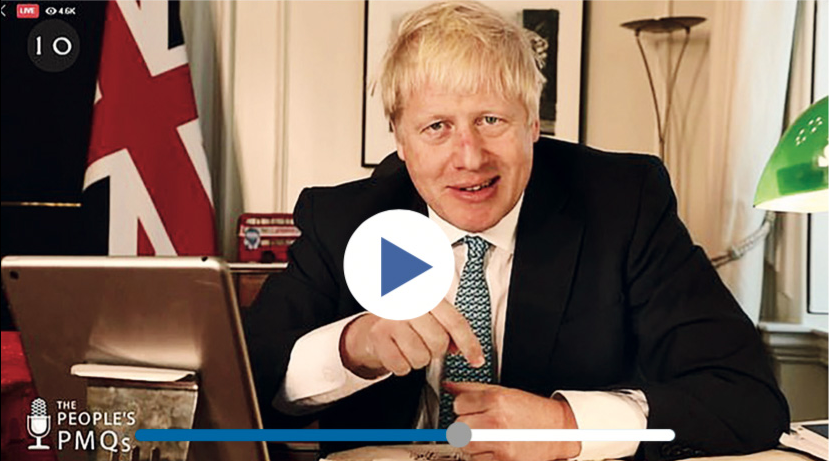 (We see Prime Minister in front of very small desk in spare bedroom with Union Jack underpants flying from pole [formerly property of Jennifer Arcuri])
Boris: Alexa, play carols that sum up the mixed message of Christmas.
(ALEXA PLAYS "Joy to the World" but also "In the Bleak Midwinter")
Boris: I've called this emergency announcement as a sort of booster announcement to all the other announcements I've been making which haven't been effective enough, and the boffins have assured me that only an extra announcement will give me sufficient immunity to survive Christmas. So Happy Cripesmas one and all! And let me tell you some good news – I'm not resigning. Hurrah for me! I knew that would cheer you all up.
(ALEXA plays "Hello Goodbye" by the Dead Beatles, as seen between hours 7 and 94 of the "Get Back" documentary)
Boris: So, have I got anything new to say in this announcement? I hear you ask. Because this announcement is about the important issue, and we all know what that is – avoiding talking about Partygate. Because that's not important. Nobody cares who won at Charades, even though I did, and I wasn't even there. As for the so-called "quiz night" which nobody's interested in, all I would say is that it was a quiz and NOT a party. You can tell that by all the tinsel we were wearing. I hope that's answered any questions with regard to the uninteresting, non-party quiz. As for the uninteresting quiz questions themselves, the answers were as follows. Question one – "Who's to blame for this scandal?" Answer: The BBC. Question two – "Who's to blame for everything else?" Answer: The BBC. Question three – "Who's to blame for not broadcasting Peppa Pig?" Once again, good old Auntie Beeb. Another relative you don't want round at Christmas. Boom Boom! That joke was in a cracker at one of the parties that didn't happen. Question four – "Is the CCTV camera in this room covered up with a bin bag so nobody can see us breaking all the rules?" Answer: Yes, it isn't. Although I would also accept "No, it is". And now, folks, I can reveal that the winner of the Grand Downing Street Quiz That Wasn't A Party is... drum roll, X-factor-style pause to heighten tension… is… Team Bozza! In other words, ME! Hoorah! Ok, so I didn't answer any of the questions, but then I never do! Ask Lord Geidt! Boom boom! Another Christmas cracker of a joke of the type we all pulled on our own when working alone and safely at our desks last Christmas.
(Prime Minister is interrupted by the First Lady and Second Baby)
Carrie: It's your turn to do the bottle, Boris. By which I mean uncork one, because the guests have all arrived.
Boris: Time to go, folks. Not me! Not for good. Just off for an important Christmas cheese and wine business meeting.
(Prime Minister puts flashing antlers on his head AND LOOKS EARNEST).