New world orders
Deliveroo, Issue 1545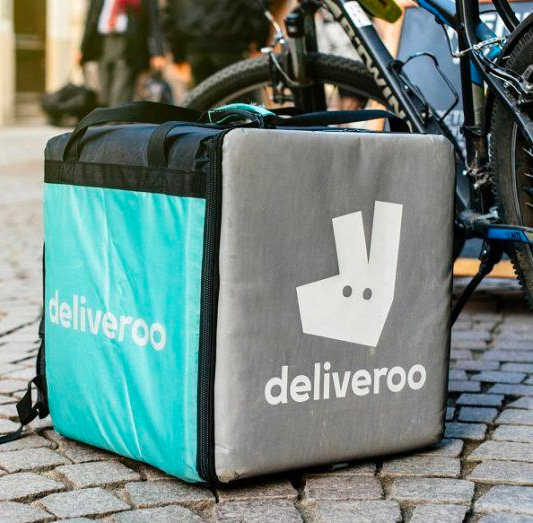 HAVING called Deliveroo a "true British tech success story" just a few days earlier, chancellor Rishi Sunak was left with egg on his face when its share price collapsed as soon as it listed on the London Stock Exchange two weeks ago. More troubling is how a company held up as an exemplar by the man in charge of Britain's economic future operates across the towns and cities of the UK.
Take the well-regarded Olive Grove restaurant in Cambridge. It has been forced to rely on the delivery company, which has around a third of the takeaway app market, to survive during the pandemic. Deliveroo officially charges the family company commission rates between 30 and 33 percent, but in practice this rises dramatically.
A statement seen by the Eye shows sales in one week of around £5,100, or £4,860 after 5 percent VAT, from which Deliveroo took £2,268, or 47 percent. The reason for the large increase is that the Olive Grove has to offer hefty discounts of 20 percent on its list prices, while Deliveroo continues to charge commission on the higher amount.
Chain reaction
"For several months now we have been trying to speak to Deliveroo," says owner George Kontakos, who relies on Deliveroo for 60 percent of his business at the moment, "but all we are getting is silence. Deliveroo is not responding to our emails." After an approach from the Eye, a Deliveroo spokeswoman said it would contact the Olive Grove and insisted it did "a huge amount to support our small partners".
One reason restaurants have to offer deep discounts is increasing competition from Deliveroo itself, in the shape of its "Editions" outlets, usually members of other chains but operating out of warehouses without the expense of maintaining restaurants.
In Cambridge an outlet of the Athenian – a chain of eight real restaurants with a further ten such "dark kitchens" and winner of Deliveroo's Restaurant of the Year 2020 – offers particularly stiff competition. Editions outlets are charged single-figure commissions in return for boosting the Deliveroo brand. (In the Athenian's case this includes, to its credit, having delivered 2,500 free meals to the NHS.)
Platform power
The Deliveroo operating model increasingly resembles that of the company that last year was allowed to take a 16 percent shareholding in it: Amazon. While outlets have no choice but to sell through its platform, Deliveroo keeps the identity of restaurants' customers, whom they might be able to target directly, secret. Since logging on to one of the delivery firms' websites is now the default takeaway ordering system, the effect is to stifle competition. And, as last week's strike by Deliveroo riders complaining of wages that can work out at as little as £2 an hour shows, it's not great for those doing the legwork.
This, however, seems to be the future Sunak is eager to usher in. Under proposals from Lord (Jonathan) Hill that he warmly welcomed last month, premium stock market listings will be available for companies using share structures that hand yet more power to figures like Deliveroo founder Will Shu. As experience in the US shows, these set-ups aren't conducive to the wide, open competition Tories used to think critical to economic success.
More top stories in the latest issue:
TRUCKING HELL
The government's new inland border facility in Kent has finally opened, but the authorities are still forking out rent for the site it was previously using.
TUGS OF WAR
A strike by Serco-employed tugboat crews left Royal Navy ships and submarines temporarily unable to enter or leave Devonport Naval Dockyard.
SHIP BREAKING NEWS
Some unscrupulous cruise ship owners have allowed their ships to end up on the beaching yards of India and Bangladesh, where the local environment is at risk.
A SURREY STATE
Cuts to night-time firefighting in Surrey are being questioned after a house fire in the early hours in which an elderly resident lost her life.
I.T. LESSONS
Schools and colleges faced a spree of cyber-attacks in March, with criminals using ransomware to gain access to personal data and ruin pupils' coursework.
IT'S A STEEL
With Brexit and Covid disrupting the steel industry, the government turned to McKinsey – which has its own powerful steel interests – to think for it.
THE BEST OF EXMOOR
Park home boss Alfie Best has bulldozed pristine countryside on the edge of Exmoor, sticking two fingers up at planners and local residents.
SOUTHERN DISCOMFORT
Nearly four years after it became subject to increased monitoring, a residential home chain is still putting residents with complex disabilities at risk.
MESS ON THE FLAW
Wales has tried to close a harmful loophole in legislation on puppy farming – but its approach has a flaw of its own.
OBSTACLE COURSE
Atos has rebranded itself as the "Independent Assessment Service", but it's still up to its old tricks over assessing seriously ill and disabled people for benefits.