It's a freeport convention!
Budget bonanza , Issue 1543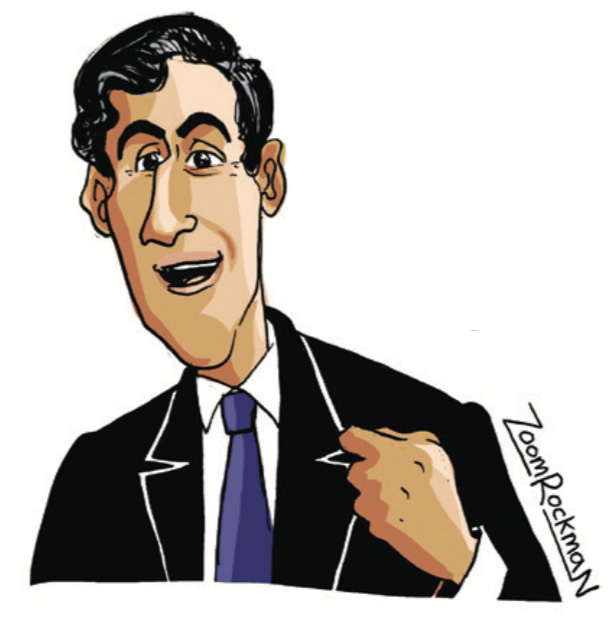 CHANCELLOR Rishi Sunak rewarded his most assiduous sycophants when announcing in the budget the eight new freeports to be ladled with tax breaks.
Most triumphant was Associated British Ports (ABP), which despite the name is controlled by Canadian and US investors. Its main UK interests are found on the Humber and in Southampton, which will form the major parts of two freeports.
The double result is a reward for some epic brown-nosing ever since Sunak launched his "Free Ports Opportunity" paper as a backbencher in 2016. ABP hosted Boris Johnson in Southampton ahead of the 2019 election, allowing him to boast without contradiction that the port wanted to "get Brexit done". Soon afterwards the same ABP bosses welcomed Sunak as he turned his freeport dream into action, launching the consultation on the scheme. As Eye 1528 revealed last year, the company brooked no criticism and sacked an employee who dared to question its position.
'Illicit financial flows'
Another big corporate winner is DP World, through its ownership of the London Gateway that, along with Tilbury docks, forms the new Thames Freeport. Since it is owned by the government of Dubai, the deal gives a boost to its daughter-imprisoning ruler, Sheikh Mohammed bin Rashid Al-Maktoum. Last year the Carnegie Endowment for International Peace reported on "the role of free zones in Dubai as gateways for illicit financial flows and… a fertile environment for a multitude of illegal activities".
Then Isle of Man-controlled Peel Holdings gets its claws further into the economy of the North-west as owner of the port of Liverpool and other areas that become the Liverpool city region freeport.
Further adding to the tax havenry is Cayman-registered CK Hutchison, whose Felixstowe operation is the busiest container port in Britain. Its recent woes, including extensive delays before Christmas, don't augur well for handling responsibilities that port operators will take over from the authorities under Sunak's "light touch" plans.
Corporate scoop
Completing the overseas corporate scoop was Teesside, whose port is owned by Canadian fund manager Brookfield through PD Ports Ltd and whose cheerleader, local Tory mayor Ben Houchen, was Sunak's most vocal northern supporter. The policy would "restore the energy and urgency of trade and industry in left-behind areas". Not, of course in areas like Tyneside just to his north, which missed out and will pay a price for his fortune.
"Eight new freeports in eight English regions unlocking billions of pounds of private sector investment," roared Sunak as the climax to his budget speech, "generating trade and jobs up and down the country." The truth is unlikely to be this levelling-up utopia. The latest expert group to point out the futility of freeports is the moderate think-tank UK in a Changing Europe, which produced a study on freeports the day before the budget.
Relocation, relocation, relocation
"The only groups that are certain to benefit from freeports in the UK are businesses (presuming they decide to relocate operations to the freeports) and high-net-worth individuals," it concluded. "The disadvantages… will be experienced more broadly in the UK due to the public cost of maintaining them [and] the necessity of providing financial incentives." The main impact is "likely to be to relocate rather than create economic activity and jobs". Of course, the job they were really always about was Rishi's. Having announced his political arrival through freeports, once he got near power they were going to happen come what may.
More top stories in the latest issue:
POUND THE STREET
Leaflets from Reclaim These Streets, which is fundraising for "women's charitable causes", seem more focused on police and "state violence" than women's public safety.
HOME COMFORTS
Health chiefs who twice had to rethink policy on care home visits after claims they breached equality and human rights rules seem to be suffering brain fog.
DEPENDENCY CULTURE
MPs examining the expensive failure of Test and Trace agree with the Eye that the government must wean itself off a dependence on outside consultants.
CENSUS SENSIBILITY
The ONS insists its census question "What is your sex?" can have "a range of answers" – quite at odds with health and other research it has published.
TANGLED FRINGE
Crossover between the lockdown sceptics at the PCR Claims campaign and right-wing fringe politics seems to be growing.
BENEFITS BATTLE
The government must answer in court for its failure to give disabled people on benefits the £20 pandemic uplift for those on universal credit.
BOUNCING CHECKS
The Covid "bounce back" loan scheme was always open to fraud – but official comments suggest the crime will go largely undetected, never mind punished.
SICK DECISION
Mitie, a leading government contractor, has not paid sick pay on key Covid-19 and NHS contracts, even when workers fall victim to the virus.
BRUSSELS SPROUTS
Panicked by its botched vaccine procurement and glacial vaccination rollout, the EU Commission resorts to spin – and worse.