A practice run
NHS not-for-sale, Issue 1543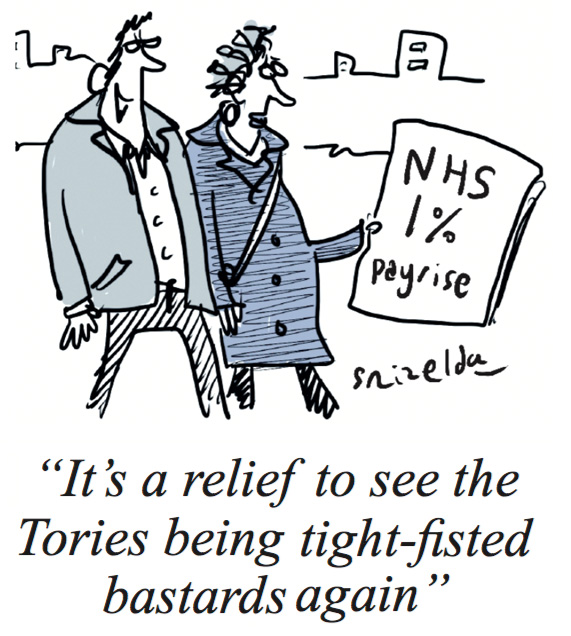 CRITICS of health secretary Matt Hancock's plans to rid the NHS of "irksome bureaucracy" say his white paper will pave the way for greater privatisation with less transparency and public accountability. The recent transfer of one of the UK's biggest GP practice networks into the grasp of US health insurance giant Centene Corporation, they say, is but a taste of health services to come.
Operose Health, a UK subsidiary of Centene, has taken over privately run AT Medics, which ran 37 GP practices across London – adding to the 22 primary care services Operose already runs around the country. It now has half a million patients on its books, paid for by the taxpayer. Operose also provides 12 community ophthalmology and dermatology services in England.
Court challenge
Via another subsidiary, MH Services International Holdings, Centene also owns a 40 percent stake in Circle Health (Eyes passim), with 50 hospitals, clinics and specialist centres across England, Scotland and Wales. Thus Centene – one of the US's highest-earning Fortune 500 companies, which has endured controversy in the US over lost records and issues with access to healthcare – now has its fingers in NHS primary, community and hospital care and treatment.
Doctors, academics and campaigners are investigating whether Centene's acquisition of AT Medics – which has pocketed a £35m profit from the London GP practices over the last five years – can be challenged in the courts. In the meantime, a coalition that includes Doctors for the NHS, Keep our NHS Public and the NHS Support Federation has written to Hancock asking for an investigation, alleging a lack of transparency, breaches of procedure and misrepresentation. They say the deal was nodded through at a virtual meeting to which the public were not invited.
It was stated during the meeting that the directors at AT Medics would not change – but all six directors subsequently resigned and three Operose directors took over. They included Samantha Jones, Operose chief executive and ex-head of West Hertfordshire's Hospitals NHS Trust, and Prof Nick Harding, Operose chief medical officer and formerly NHS England senior clinical adviser for integrated care systems and a founding GP partner of Modality Partnership, one of NHS England's vanguard practices for its new model of care, the "multi-speciality community provider".
Under cover of Covid
Allyson Pollock, clinical professor of public health at Newcastle University and author of the book NHS plc, told the Eye: "These deals are bad news for patients. The shareholders want a return on their investment. If the US experience is anything to go by, they pave the way for closure of surgeries, fewer GPs, lower staffing levels, reduced access to services, and erosion in quality of care and coverage."
Prof Pollock and fellow campaigners are not holding their breath for Hancock to "consider the matter objectively in the light of the evidence". After all, if his Health and Care white paper goes through, under the cloak of his trailed joined-up health and social care provision, profit-driven providers could earn an influential voice on the decision-making boards of the new integrated care systems.
Contrary to claims that the white paper will reduce privatisation, they say plans to eliminate the need for competitive tendering "where it adds limited or no value" could result in the opposite. As Prof Pollock told the Eye: "Little wonder that such root-and-branch reform is being carried out all under the cover of Covid."
More top stories in the latest issue:
AN EVILLE FAILING
Why Lord Frost drove a coach and horses through the Northern Ireland protocol and extended the "grace" period for checks on trade across the Irish Sea.
SMELTER RATS
Taxpayers north of the border are directly on the hook after the Scottish government fell under the spell of financial wizard Lex Greensill.
ACID TEST
The Passport Office wrongly told British parents it would only accept DNA evidence to confirm their kids' nationality from its own commercial partner.
WATER TORTURE
After promising to deal with river pollution six years ago, the Environment Agency and Defra have completed reports for only four of 37 sites.
NO SAFE SPACE
A London mental health home and its manager have been fined for a "boot camp" regime that led to the death of a vulnerable 19-year-old patient in 2016.
CROFT ORIGINALS
Scotland's largest landowner is on a collision course with the crofters on one neighbouring estate – over rival plans for commercial spaceports.
LONDON'S NOT CALLING
Newcastle has become the latest university to announce the planned closure of a London "campus", six years after opening.
CURBED APPEALS
A two-year parliamentary investigation has concluded that the risk of serious miscarriages of justices has actually increased since law reform to minimise it.
DRONE DANGER
The Civil Aviation Authority has been heavily criticised for failures that contributed to a racing drone flying out of control into Gatwick's airspace.
DAMNED SHORE
Protected seabed habitats off the coast of Scotland have shrunk in at least five large areas, prompting fresh calls for an inshore limit on bottom-trawling.