Prime Minister's Questions
Live on Fakebook, Issue 1540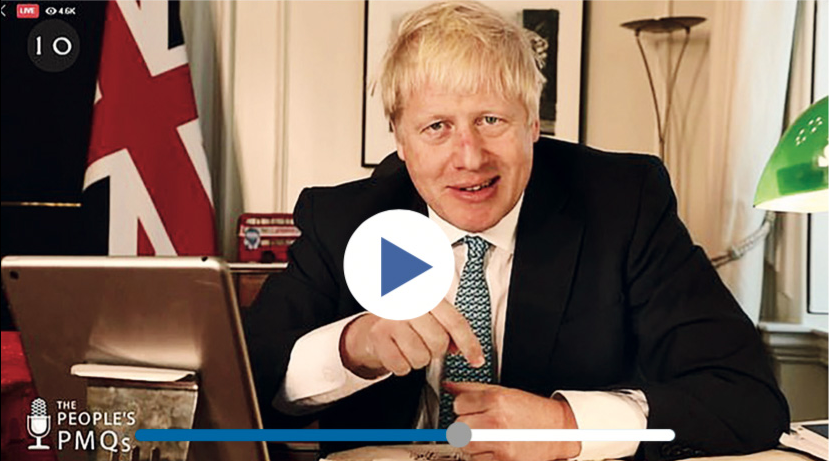 Hi folks, hi photographer!
(Andy Lenscapp [photographer] in corner of room takes photo of Prime Minister spontaneously saying hello)
Boris: This is a sobering moment and the figure of 100,000 is not one I take lightly. It means I have to put on my most serious face yet.
[Andy takes 100,000th photo of Prime Minister attempting to look serious]
Boris: 100,000 people is enough to fill Wembley Stadium. Though not at the moment. Obviously. That would be irresponsible. And I am responsible. Not for all the deaths, clearly, as we did everything we could.
[Andy takes picture of Prime Minister trying to appear as if he actually believes this]
Boris: Personally, I did all I could, shaking hands, missing COBRA meetings, delaying decisions, eating out to help out, Christmas as normal, PPE failure, Test and Trace fiasco, sending pupils back to school for one day before closing the schools down again…
Prime Minister's Spokesperson: That's the list of things not to mention. That's why I wrote it in red. Why don't you let me do the talking? It is what you're paying me £100,000 a year to do.
Boris: 100,000. A grim milestone. And deeply regrettable.
Prime Minister's Spokesperson: Get on with the bit in green.
Boris: People are saying it's poor decisions that are behind the UK's high death rate. And I'm sorry to say that they're right. You, the public, have made several poor decisions. You eat too much, you live too long, you voted for us, whoops!...