Deliverance from Eville
Meat exports , Issue 1540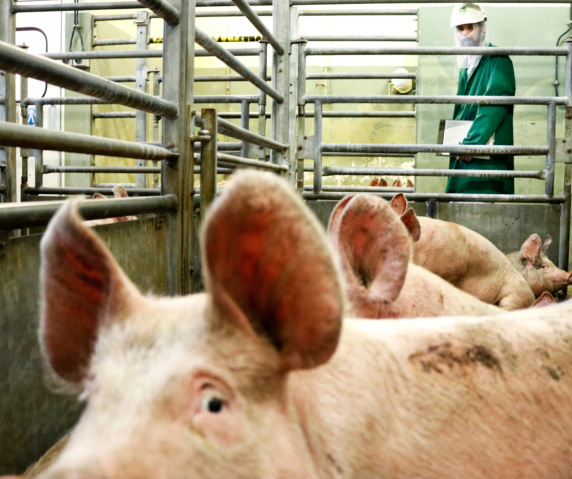 AS the task of ensuring high standards in the meat industry becomes ever more demanding – with hundreds of thousands of additional EU export certifications required – the company with a monopoly on the service is up to its neck in tax avoidance disputes that cast doubt on its future.
In England, Wales and Northern Ireland, all meat production inspection, performed by specialist veterinary professionals, is in the hands of Leeds-based Eville & Jones. It was formed in the late 1990s after EU regulations first required "official veterinarian" approval of abattoirs and John Major's government outsourced most of the work.
The company has since achieved dominance through aggressive pricing, tempting the Food Standards Agency (FSA) to give it ever larger slices of the meat pie regardless of the dangers of monopolisation. Nor has it bothered the FSA that Eville & Jones could low-ball because it scrimped on pay (first mentioned 21 years ago in Eye 991) and dodged every tax possible, both for the vets it employs at cut-price salaries and its much better-rewarded founders and owners, Peter Eville and Robert Jones.
On the books
One company ploy over the years, the Eye has learned, has been to recruit junior vets, usually from the EU, and pay them just £10 per day for weeks while they're trained to work in the UK. Latest accounts for Eville & Jones (GB) Ltd report that it has "received enquiries from HMRC in relation to the minimum pay regulations".
Also incurring the wrath of HM Revenue & Customs was the treatment of around 60 full-time inspectors as self-employed contractors when they should have been on the books paying PAYE income tax and national insurance. Many have since been asked by the firm to set up their own service companies to distance themselves from the business.
Most controversial of all is a scheme known as Matrix, used by around 30 senior figures including Messrs Eville and Jones. For around a decade they received what the company claimed were non-taxable loans from Guernsey-registered International Services Benefit Trust, in a set-up similar to that used by Rangers Football Club and defeated in the courts. HMRC, say the company accounts, is looking at "certain payments and deductions from payments made to employees", noting that "the number of employees… and the length of period under review [mean] completing this process will take considerable time".
Huge bills
While Eville & Jones is picking up the back-taxes tab for current employees, former ones – many pressurised into the scheme – face huge bills under punitive "disguised remuneration" legislation.
Peter Eville and Robert Jones, plus managing director Juan Avila, have meanwhile opted for another advantageous way to pay themselves, taking £785,000 in the most recent year for which figures are available via a limited liability partnership for "key management services". Unlike taking dividends, this reduces (and all but eliminates) the company profits that play a large part in determining the rates it receives from the FSA.
All told, the Eville & Jones group and its directors are thought to be on the tax hook for around £10m, outstripping the group's £1m net assets. Its owners have, however, repeatedly "novated", or transferred, the business to new corporate entities, leaving those with the legal liabilities as shells. At the start of 2018 the business, including the key FSA deal, was transferred from Eville & Jones (UK) Ltd to Eville & Jones (GB) Ltd. The former company had itself acquired the contract from the original Eville & Jones Ltd in 2010. Thus the two companies with the serious potential tax bills now have no assets. Why the FSA allowed these games with taxpayer-funded contracts is anyone's guess.
A legal shimmy
In addition, a couple of years ago Peter Eville and Robert Jones performed a legal shimmy of their own, passing control of the company that now has the business into the hands of Wakefield-based chartered accountant Ian Parsons, as trustee for unspecified beneficiaries (thought to be the dynamic duo's families).
Since then, the clueless FSA has given Eville & Jones (GB) Ltd a new £84m contract, cementing its control on meat inspections until at least 2023. FSA chief executive Emily Miles, previously in charge of EU exit preparations at the Department for Environment, Food & Rural Affairs, seems not to have noticed that with extra demand looming, a company that prefers cost-cutting and tax dodging and is now frantically seeking recruits might not be the ideal service provider.
"If we had a proper market we could have prepared," one industry veteran told the Eye, "but Eville & Jones have a monopoly and they're not ready."
More top stories in the latest issue:
SMALL CATCH
Despite the government's £23m compensation package for seafood exporters hit by Brexit red tape and border delays, many will still slip through the net.
WALL OF SHAME
A repeatedly convicted fraudster has been revealed to be yet another dodgy customer of Tory party treasurer Sir Ehud Sheleg's Halcyon art gallery.
EMPTY CHAIRS
The Grenfell Tower inquiry is resuming with virtual hearings – something survivors and those bereaved by the 2017 fire oppose.
VIRAL PAYLOAD
East End "regeneration specialist" Henry Smith has a lucrative sideline renting out temporary accommodation to homeless people in London.
FATHER FORGIVE
Another shocking case of senior Church of England clergy – in this case Justin Welby – giving the benefit of the doubt to paedophile priests has been revealed.
SEA CHANGE
An survey shows shipping companies are considering even longer contracts for seafarers already battling fatigue and stress thanks to Covid chaos.
BROKEN TRUST
Nearly a year on from a damning Ofsted inspection report, the Griffin Schools Trust has been stripped of Stantonbury International School in Milton Keynes.
SITE CHARGES
A park home site owner has been charged with threatening, conning and coercing pensioners into buying mobile homes in Arbroath and Blairgowrie.
GONE GOOLE
Hull College Group, previously criticised over bizarre digital marketing, is closing Goole College, two years after Harrogate College went its separate way.
UNFAIR COP
The organisers of Glasgow's global climate conference later this year have decided to use unpaid volunteers, like at the 2014 Commonwealth Games.
BACKLOG JAM
More on the government's growing bill to cover just the existing backlog of essential maintenance on its crumbling NHS hospital estate.