Prime Minister's Holiday Question Time
Live on Fakebook, Issue 1529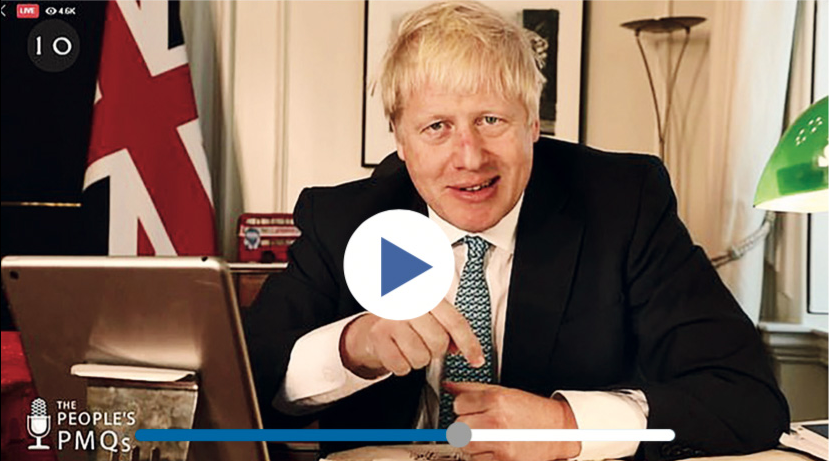 Dominic Cummings:
The first Question for the Prime Minister comes from a Miss Tree...
Where are you?
Hello…? Anyone there?
Why won't you answer?
Cummings: He's not here, he's gone to Scotland, you can't talk to him.
Is that the reason he went to Scotland?
Cummings: Fuck off. Let's have a question from someone else. This is from Miss Bea Tec. Williamson, you're a tosser, you deal with this.
Gavin Williamson: Yes, Mr Cummings, sorry, Mr Cummings. Hello, Bea? Or shall I call you A? Because that's what you deserve and I'm incredibly sorry for the mess that Ofqual made of this, it's unforgivable. What's your question?
Are you going to resign?
Williamson: If I may answer that directly. I'm very, very sorry… about Ofqual, and Mr Al Gorithm, the Head of IT at Ofqual, is seriously going to have examine himself and then probably accept his assessment that he did a good job and…
Cummings: Al Gorithm isn't a real person, you fucking idiot!
Williamson: Isn't he? Then I blame myself… for trusting Ofqual who've clearly been appointing fictitious heads of IT, which is very serious. So, can I make it clear that I'm very, very sorry to have to apologise. Have I said that? What was the question again?
Why don't you resign?
Williamson: Why should I? No one else does just because they've messed everything up. Has Mr Hancock resigned? Has Mr Jenrick resigned? Has Mr Cummings resigned after his trip to Barnard –
Cummings: Shut the fuck up, fuckwit! Move on…